ENMU, which opened in 1934, celebrates 75 years of student success in 2009.
Students choose Eastern New Mexico University for its personal touch, accredited academic programs and affordable costs. ENMU offers a variety of services to help students succeed in their academic, personal and professional lives. That's why our slogan is "Student Success-that's what it's all about!"
Over these 75 years, ENMU has built several traditions which are still important today.
Greyhound Mascot
Early on in the school's history, students rallied around the need for a mascot. There are a few stories that float around the halls as to why the Greyhound was chosen.
Ralph and Roxy
Ralphie joined the Greyhound tradition in the 1950s. A student has anonymously filled the shoes, of the costume, over the years.
Vic and Tory (Victory)
ENMU adopted two former racing Greyhounds on Dec. 1, 2009. Vic and Tory regularly attend events on campus and in the community. They are good-will ambassadors for ENMU and also for Greyhound adoption.
Green Friday
ENMU has a standing tradition of wearing green on Fridays. Students, faculty and staff all show their Greyhound Pride throughout the week and especially on Friday.
Lil' Hound Pound
ENMU Athletics sponsors the Lil' Hound Pound. Children under age eight are eligible for membership; they receive a free T-shirt, membership and entry to athletic events.
Hound Hands
Made by touching your thumb, middle and ring fingers together with your pinky and index fingers extended. This symbol shows your Greyhound spirit.
Homecoming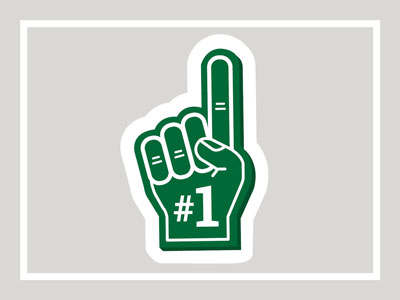 Homecoming is traditionally celebrated in October of each year. The bonfire on Friday night, the parade, luncheon and football game on Saturday are annual events which bring current and former students, the community and friends together on the ENMU campus.