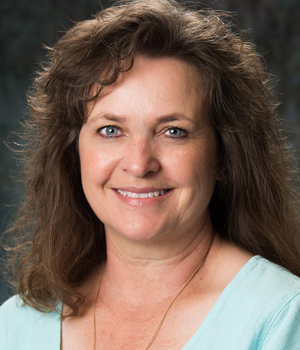 Nikie Bonner
Title: Administrative Secretary
Office Location: Student Academic Services (SAS), Room 232
Phone: 575.562.2211
Email: This email address is being protected from spambots. You need JavaScript enabled to view it.
Education
BBA Eastern New Mexico University
Bio
God is my source of strength and hope. Seeking and serving the Lord and loving His people is my passion.
My husband, David and I have been sweethearts for 34 years. We celebrated our 32 year wedding anniversary in January.
Faith, family, friends, crafts, reading, sewing, gardening and playing with our grandson are some favorite activities. I enjoy animals and being outside. Walking outside is my favorite exercise. Eastern New Mexico University is a big part of my story as there are others in my family who have attended here. The first that I am aware of was my maternal grandmother, Marie Shadix Wall who began attending the Teacher College in 1934. Joquetta Wall attended ENMU in the early 1960's. David and I met while attending the Portales campus in 1981. Both of us graduated with degrees from ENMU as well as our two sons Jacob and Clay. Our daughter Haley also completed many classes here, she earned her bachelor degree from Wayland Baptist University. Thankful and blessed!
Katy Kelliher
Title: Wellness Counselor
Office Location: Student Academic Services (SAS), Room 232
Phone: 575.562.2211
Email: This email address is being protected from spambots. You need JavaScript enabled to view it.
Susan Larsen
Title: Director, Counseling and Career Services
Office Location: Student Academic Services (SAS), Room 232
Phone: 575.562.2211
Email: This email address is being protected from spambots. You need JavaScript enabled to view it.
Office Hours: 8:00 am - 5:00pm
Education
Eastern Michigan University, Master of Arts, Counseling
Eastern Michigan University, Master of Arts, Special Education - Emotional Impairment
Eastern Michigan University, Master of Arts, Counseling
Eastern Michigan University, Master of Arts, Special Education - Emotional Impairment
Madonna University, Educational Endorsement in Learning Disabilities (K-12)
Madonna University, Bachelor of Arts, Major: English/Speech Minor: Elementary Education
Schoolcraft College, Associate of Applied Arts
Dr. Paul Lockman
Title: Counselor
Office Location: Student Academic Services (SAS), Room 232
Phone: 575.562.2211
Email: This email address is being protected from spambots. You need JavaScript enabled to view it.
Alisha O'Donovan
Title: Career Counselor
Office Location: Student Academic Services (SAS), Room 232
Phone: 575.562.2211
Email: This email address is being protected from spambots. You need JavaScript enabled to view it.