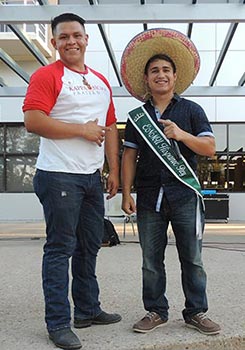 The Office of Hispanic Affairs is all about people! Estamos aqui para ti! This office offers many opportunities.We are completely dedicated to helping you achieve your goals.
Opportunites
Our main purpose is to provide you with the tools you need for success: financial and academic assistance, moral support, and a comfortable environment where you can properly function as a student and as a person.
We will help you feel at home in an area where you can interact with people of similar experiences and backgrounds so your culture is preserved.
We have the responsibility to serve as a bridge between you and the bureaucracy of the University. Also, one of our most important functions is to help professors, advisors, counselors and any ENMU staff understand the needs and diversity of every student.
Remember, Hispanic Affairs is here para ti! If you have questions about financial aid, tutoring, scholarships or organizations you can join, or if you just want a friendly person you can talk to, come by the Office of Hispanic Affairs. We are all part of a big familia! We look forward to meeting you.¡Hablamos Español!
Hispanic Heritage Month
National Hispanic Heritage Month is from Sept. 15 to Oct. 15. Celebrating the histories, cultures and contributions of American citizens whose ancestors came from Spain, Mexico, the Caribbean and Central and South America. The observation started in 1968 as Hispanic Heritage Week under President Lyndon Johnson and was expanded by President Ronald Reagan in 1988 to cover a 30-day period starting on Sept. 15 and ending on Oct. 15. It was enacted into law on Aug. 17, 1988, on the approval of Public Law 100-402. The fifteenth day of September is significant because it is the anniversary of independence for Latin American countries Costa Rica, El Salvador, Guatemala, Honduras and Nicaragua. In addition, Mexico and Chile celebrate their independence days on Sept. 16 and Sept. 18.
Get more information in the Hispanic Affairs portal >
Rey Y Reina Competition
During Hispanic Heritage Month we host the ENMU Hispanic Rey y Reina Competition! Contestants present their Hispanic Heritage through talents, cultural knowledge, or any avenue they choose. There is one male (Rey) and one female (Reina) student crowned. The Hispanic Rey y Reina hold their titles for an entire academic year (September to September) and receive a scholarship for their attributions to Multicultural Affairs and the University community.
---
Social Media
---
Hispanic Affairs
ENMU Station 38
1500 S Ave K
Portales, NM 88130
Phone: 575.562.2451
Fax: 575.562.4918
Email: This email address is being protected from spambots. You need JavaScript enabled to view it.