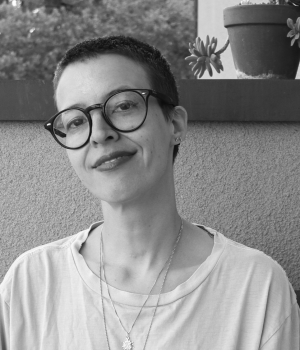 Dr. Catherine Czacki
Title: Assistant Professor of Art (Art History, Studio Art)
Office Location: Art and Anthropology (AA), Room 107
Phone: 575.562.2652
Email: This email address is being protected from spambots. You need JavaScript enabled to view it.
Education
PhD, Art History, Theory and Criticism (Concentration Art Practice), University of California San Diego, (2019)
MA, Art History, Theory and Criticism, University of California San Diego (2016)
MFA, Sculpture and New Genres, Columbia University (2008)
BFA, New Genres, San Francisco Art Institute (2003)
Bio
Dr. Czacki is an artist and writer whose work intersects materiality, stories, histories and philosophies in sculptures, paintings, drawings, photography, and book projects. Her poetry, essays, and academic writing have been published by Line Script Diary, Haunt Journal of Art at UC Irvine, Resolving Host, and Interactions Journal of Education and Information Studies at UCLA. Her art has been exhibited nationally and internationally at galleries and museums including Sculpture Center in Long Island City, JOAN in Los Angeles, and Best Practice in San Diego.
Dr. Czacki teaches art history, art appreciation and studio art.
Research Interests
Material Reuse
Animacies
DYI Gardening, Herbalism and Healing Practices
De/Anti/Post Colonialisms
Poetry
Radical Redistribution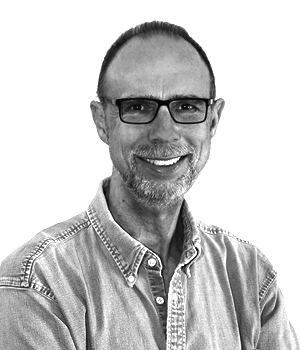 Scott Golem
Title: Assistant Professor of Art (Graphic Design)
Office Location: Art and Anthropology (AA), Room 108
Phone: 575.562.2162
Email: This email address is being protected from spambots. You need JavaScript enabled to view it.
Website: golemcreative.com
Education
M.F.A., Graphic Design, University of North Texas (1993)
B.A., Graphic Design, Michigan State University (1981)
Bio
Influenced by his childhood in industrial Detroit, Scott describes his work as digitally abstracted and photographically-based collage with recurring subject matter such as distressed architecture, substrates, machinery and typography. His professional credentials include in-house packaging and visual merchandising design for Fortune 500 companies such as Dr. Pepper and J.C. Penney & Co. His publishing background encompasses both children's book designs for Pearson Education and art direction for technology trade magazines in the Richardson, T.X. Telecom Corridor.
Scott teaches graphic design, motion graphics, publication design, senior portfolio, and web design.
Research Interests
-Photography
-Graphic Design in Print
-Environmental Design
-Motion Graphics
-Community Art and Workshops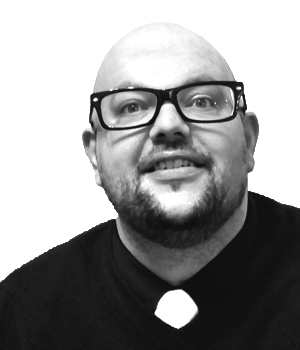 Bryan Hahn
Title: Runnels Gallery Manager
Office Location: Administration Building (ADM), Room 218
Phone: 575.562.2189
Email: This email address is being protected from spambots. You need JavaScript enabled to view it.
Education
M.A., Communication Studies, Eastern New Mexico University (2012)
B.F.A., Theatre: Dance Studies, Eastern New Mexico University (2004)
Bio
A native New Mexican, Bryan has lived on the west and east side of the state. He called Dallas-Fort Worth home for a several years, working for a dance and cheerleading company as an instructor and in the marketing department, until his love of family and the Land of Enchantment called him home. Creativity is at the core of his being and can be seen in his design, choreographic, directing, writing and gallery work. To-date, Bryan has managed/curated over 50 gallery exhibitions, choreographed 29 dances and one full dance concert, directed several stage shows, written four one-act plays, and designed numerous promotional print pieces. In addition to his role as administrative assistant for the Department of Art and manager of the Runnels Gallery, Bryan teaches part-time at the university.
Bryan teaches digital media, freshman seminar, interpersonal communication, publication design, and senior exhibition.
Research Interests
-Promotional Print Design
-Community Art Projects
-Experimental Painting
-Directing for Stage
-Choreography/Creative Movement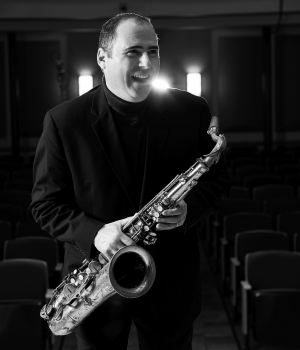 Dr. Richard Schwartz
Title: Associate Professor of Music; Chair, Art Department
Office Location: Music Building (MB), Room 203
Phone: 575.562.2471
Email: This email address is being protected from spambots. You need JavaScript enabled to view it.
Gregory Senn
Title: Professor of Art (Three-dimensional Studio Art)
Office Location: Art and Anthropology (AA), Room 103
Phone: 575.562.2687
Email: This email address is being protected from spambots. You need JavaScript enabled to view it.
Website: gregsenn.com/art.shtml
Education
M.F.A., Studio Art: Ceramics, West Texas State University (1985)
B.S., Comprehensive Art, University of Wisconsin-Platteville (1982)
A.S., Art, University of Wisconsin-Marathon County (1977)
Bio
Greg grew up in a rural area in northern Wisconsin where he developed a lifelong interest in the outdoors, and specifically fishing with the flyrod and "poppers" - surface baits which he makes himself. He has built custom rods as well as developed custom patterns in his pursuit of both bluegills and bass, and has been a confirmed catch and release fisherman since 1974. He is also an addicted scuba diver and skin diver - even though this seems a little silly considering he lives on the high plains desert.
Greg teaches three-dimensional design, sculpture, and jewelry.
Research Interests
-Portrait/Figure Sculpture in Concrete, Glass, and Iron
-Commission Jewelry/Metal Casting
-Fiberglass/Resin Casting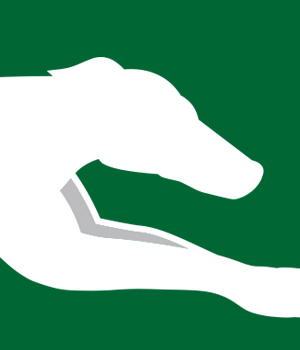 David Silva
Title: Admin Asst, Art, Art Adjunct
Office Location: Art and Anthropology (AA), Room 111
Phone: 575.562.2778
Email: This email address is being protected from spambots. You need JavaScript enabled to view it.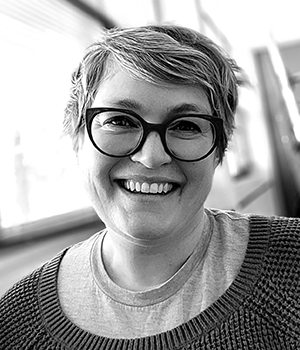 Britta Urness
Title: Asst Professor, Art
Office Location: Art and Anthropology (AA), Room 105
Phone: 575.562.2515
Email: This email address is being protected from spambots. You need JavaScript enabled to view it.
Education
Micro-Credential Online College Teaching, College of Education, Michigan State University,(2020)
MFA, Painting and Drawing, Printmaking minor, University of Iowa (2008)
MA, Painting and Drawing, University of Iowa (2007)
BFA, Studio Art, Painting emphasis, University of Wisconsin-Madison (2004)
Bio
Britta Urness investigates drawing, painting and printmaking language, often combined to layer ideas, atmospheres, and figures within two-dimensional works (and sometimes ventures to the third-dimension). She has shown her work in the Midwest in places such as St. Ambrose University, the Ann Arbor Art Center, Delta College in Saginaw, MI, the Grand Rapids Art Center in Grand Rapids, MN, The Scarab Club in Detroit, Buckham Gallery in Flint, and the University of Nebraska-Omaha. Britta often participates in national print exchange portfolios, an accomplished community workshop instructor and a lifelong student of all art processes. She is a self-professed Word Nerd consumed by crossword puzzles and trivia, strength sports enthusiast, and an avid traveler thrilled to be living in the Southwest.
Prof. Urness teaches all levels of painting and drawing courses.