Distinguished Service Award, Dr. Gay Su Pinnell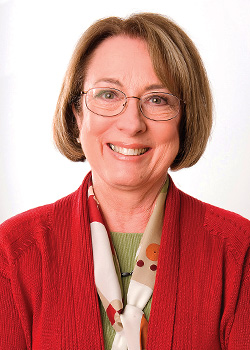 Dr. Gay Su Pinnell (BA 66), of Dublin, Ohio, grew up in Portales and became a world-renowned early childhood literacy education expert. She purchased the Casa Del Sol property south of the ENMU campus in October 2017, having fallen in love with the adobe-style home built in 1948 and designed by famous Santa Fe architect John Gaw Meem.
She employed Portales sisters, ENMU alumnae Megan Hamilton (BS 05) and Cassidy Self (BBA 07), to help renovate the property. They worked to stay true to the architect's original aesthetics while reconfiguring the space for ENMU to host seminars, small gatherings, receptions, poetry readings, and many other education-related events. Dr. Pinnell was on hand to officially dedicate the facility on Friday, May 20, 2022.
This isn't the first transformational gift this alumna has made to give back to ENMU. In 2021, she donated $1 million for ENMU to expand a coteaching initiative with the Portales Municipal School District. The coteaching project is designed to recruit, train and retain teachers within ENMU and the Portales school system, utilizing a system in which a prospective teacher is paired with a clinical teacher. The teaching duo focuses on co-planning, co-teaching, and co-assessing in a classroom setting. This way, mentor teachers and prospective teachers can learn more about their chosen profession while incorporating teaching strategies best administered as a team.
In 2017, Dr. Pinnell's grant of $310,000 to the ENMU Child Development Center (Portales campus) expanded services to include a new two-year-old pre-school, enhancing the Birth to Pre-Kindergarten students' hands-on learning, and hundreds of new books and materials for the early childhood literacy library.
Dr. Pinnell was the 2019 ENMU Foundation Philanthropist of the Year and an inductee to the Educator Hall of Honor in 2014.
Outstanding Alumnus Award, Dr. Dwight T. Pitcaithley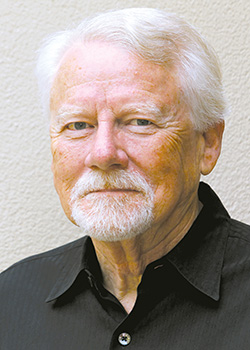 An early interest in music at ENMU didn't lead to a career in performance or education for Dr. Dwight T. Pitcaithley (MA 71, BA 70). Indeed, he wasn't able to finish a degree in either of those pursuits, but he did return to Eastern to pursue degrees in history, and eventually embark on a public history career with the National Park Service, retiring in 2005 after holding the position of Chief Historian for ten years. In his 30-year career with the NPS, he served in Santa Fe, Boston, and Washington, D.C., where he focused on historic preservation and the interpretation of historic sites.
Following his retirement, Dr. Pitcaithley taught at New Mexico State University from 2005 until 2019. He is the author of The U.S. Constitution and Secession: A Documentary Anthology of Slavery and White Supremacy, numerous chapters in books dealing with slavery, civil rights, and historic preservation, and is currently editing a series of books for the University of Tennessee Press documenting the secession crisis of 1860-1861 in individual states. Pitcaithley is the recipient of a Distinguished Service Award from the Organization of American Historians, and an honorary Doctor of Laws degree from the University of North Carolina. His notable experiences include rappelling into Carlsbad Caverns, climbing the scaffolding surrounding the Statue of Liberty, running the Boston and New York marathons, and participating on historic preservation study teams in Tasmania and England.
---
For More Information
ENMU Foundation
ENMU Station 8
1500 S Ave K
Portales, NM 88130
800.FOR.ENMU (800.367.3668)
Phone: 575.562.2412
Fax: 575.562.2022