Outstanding Alumni Award, Donald Bonner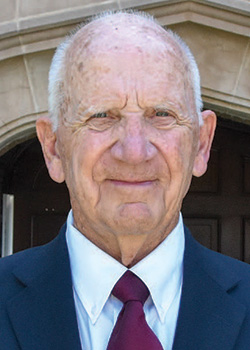 Donald Bonner (BBA 62) came to Clovis as an airman in the Air Force in 1954. He attended ENMU and graduated in 1962. He married Gustenia Johnson, and they have two married daughters, five granddaughters, and two great-granddaughters. Don and Gustenia live in Clovis and have been very active in the community.
Don's early career started at New Tex Outdoor Advertising in Clovis. Don later acquired the Clovis Pepsi Cola Bottling Company. After a few years, he acquired Dr. Pepper and Seven-Up. He operated both for many years before selling. Then he acquired two New Mexico ranches that needed updates. One was between Clovis and Portales. The other was southeast of Raton. He operated both as cattle ranches for several years and turned both into first-class operations.
Don served as a city commissioner for eight years. He was on the board of the local Sunwest Bank and the statewide Sunwest Bank. He was one of the founders of the Clovis Community College Foundation and continues to serve on the foundation board. The ENMU grad also served on the board of the Mountain States Mutual Insurance Company board of directors.
Don and Gustenia have generously supported the Clovis Community College and the Lighthouse Mission. In appreciation, both Clovis Community College and the Lighthouse Mission named buildings in the couples' honor. They are very active in the First Methodist Church, and until recently Don volunteered by driving a van for after school kids programs. Don assists the New Mexico Christian Children's Home in Portales with many of the organization's projects and plans to continue doing so for many years to come.
Outstanding Alumni Award, Dr. Lawrence Minks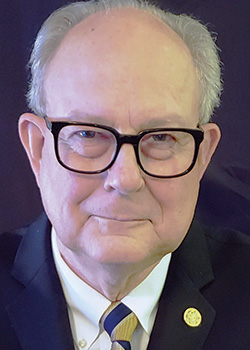 Dr. Larry Minks' journey from student to president emeritus was made possible through the constant love and support of his late wife Joan and his children Laura, Amanda, Joy and Aaron. He'll be the first to tell you that. Dr. Minks has been involved in higher education for over 40 years teaching and mentoring thousands of students as well as leading economic and community service/outreach, organizational change and leadership development.
Minks received his B.B.A. (1969) and M.B.A. (1970) degrees in business administration from Eastern New Mexico University and a doctorate in business teaching (1980) from the School of Business at the University of Northern Colorado. He completed post-doctoral seminars at the Harvard Graduate School of Education in the Institute of Educational Management (IEM) and the Harvard Seminar for New Presidents (HSNP).
After graduating from Eastern, he spent a year as an instructor at Ohio Northern University. He then moved to corporate management with Miles Laboratories for five years. Minks returned to higher education in 1976 where he would advance from assistant professor to president. During the span of his academic career, he worked in Ohio, Virginia, Kentucky and Oklahoma universities with positions as professor and department chair, division chair, MBA graduate program director and vice president for Academic Affairs. He was instrumental in transitioning Rogers State University in Oklahoma to regional university status. He then served as executive vice president for Academic Affairs before his appointment as president of Southeastern Oklahoma State University.
Minks served as the president of Southeastern Oklahoma State University from 2009–14. His tenure culminated as President Emeritus and Distinguished University Professor of Leadership, and director of the Transformational Leadership Program. Following retirement in 2017, he formed Lawrence C. Minks and Associates to continue commitment and dedication to transformational leadership and change.
Outstanding Alumni Award, Karen Salb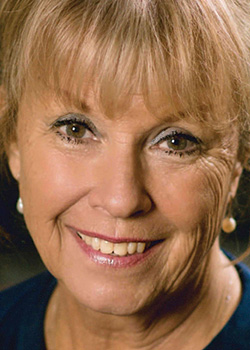 As an ENMU undergraduate, Karen Salb (BS 76) represented Portales in the 1968 Miss New Mexico Pageant, and in September of that year represented New Mexico in the 1969 Miss America Pageant in Atlantic City bringing home the Miss Congeniality Award. Rounding out her college career, Karen was awarded the President's Award, Who's Who in American Universities and Colleges and Outstanding Young Women in America.
With experience running a dance studio in Portales while attending ENMU, Karen decided to open a studio in Hobbs. Karen and her husband Dr. Thomas J. Salb (MS 72 BS 70) built the Maciolek School of Dance on the corner of Michigan and Jefferson in Hobbs in 1978, one year before their daughter, Teri Elizabeth Salb was born.
The Hobbs Jaycees named Karen Outstanding Young Woman of Hobbs in 1980. She was also instrumental in sponsoring several ballet companies to perform in Hobbs and in 1989 she founded the Maciolek Fine Arts Scholarship Trust.
Karen served on the board of directors for the Southwest Symphony, Viva Santa Fe Productions, Hobbs Rotary Club, Miss New Mexico Scholarship Pageant, Lea County Commission for the Arts and the Salvation Army. In 1992, Karen was a special guest on the Oprah Winfrey Show and published a recipe in the Miss America Cookbook.
Karen became a Rotarian in 1990 and received the Rotarian of the Year Award in 1992. In 2000 Karen became the second female Rotarian president in the Hobbs Rotary Club, and in 2002 she was named a Rotary Paul Harris Fellow.
---
For More Information
ENMU Foundation
ENMU Station 8
1500 S Ave K
Portales, NM 88130
800.FOR.ENMU (800.367.3668)
Phone: 575.562.2412
Fax: 575.562.2022