Distinguished Service Award, Rose Robbins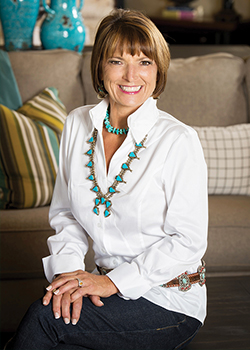 Having never been away from her hometown of Ennis, Texas, Rose Robbins (BS 81) was grateful to be greeted with welcome arms at ENMU. Many people made her feel at home and mentored her.
Duane Ryan, ENMU's director of broadcasting, worked tirelessly with her voice and diction abilities, knowing the difference it would make in her future success. Robbins credits Don Criss and Clyde Powell at KENW-TV for spending countless hours with her to hone her broadcasting skills and opening her eyes to career possibilities. Her mentors imparted a valuable education, but her true learning was in acquiring her passion for volunteering. More than anything, Robbins came to understand the importance of helping others.
Throughout her 25-year career in corporate communications and event marketing for Texas Instruments and Radio Shack, Robbins prioritized volunteering. After her marriage to Gary Robbins (BBE 70) and returning to Portales, she has volunteered as an active member and leader in the Greyhound Club, Main Street Portales, the Roosevelt County Chamber of Commerce, the Military Affairs Committee and the Catholic Daughters. She is also committed as a Zia Mom for ENMU's women's basketball and volleyball teams.
This proven workhorse even jumped in to assist with planning and logistics for an alumni football reunion in September. When the group needed help, Robbins was there to make it all come together. You might even describe her as the "pinch hitter" because she knows exactly what to do when projects, organizations or reunions are struggling.
Besides being willing to roll up her sleeves and take on the sometimes unglamorous and time-consuming volunteer duties, she is most proud to share her career wisdom and mentor the college students. "I want ENMU students to understand that where there is a will, there is a way," Robbins says. "Opening their eyes to even more career opportunities and providing the kind of encouragement I received is very rewarding. It complements what they are learning in class at ENMU."
Among the many volunteer opportunities and awards she's garnered over the years are ENMU Greyhound Club Member of the Year in 2019, Cannon AFB Honorary Commander from 2015-2017, member of Leadership Portales in 2016, ENMU Volunteer of the Year in 2014 and Portales Chamber of Commerce Volunteer of the Year in 2013. Robbins Robbins embodies the spirit of volunteerism. She knows first-hand the difference that giving back to the community can make, and she hopes others follow suit and "pay it forward."
Outstanding Alumni Award, Dr. Joseph Gallegos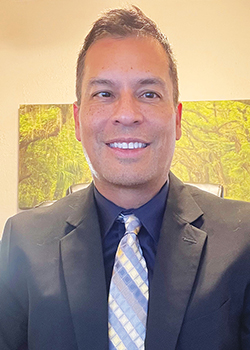 In his 30-year career as an educator, Dr. Joseph Gallegos (MED 98, BS 91) has served as an instructor, assistant principal and instruction services director at schools throughout Texas. He returned to Portales in 1998 to serve as assistant superintendent for Portales Schools before moving back to Texas in 2000. Since his return to the Lone Star State, Gallegos was superintendent of schools in the Sierra Blanca Independent School District, where the administration's greatest accomplishment was bringing a low-performing district into recognized status in a short time. He returned to the Odessa area in 2006 and served as chief academic officer.
What makes Gallegos' story unique is in 2006, he created an online high school, Orion High School, and founded Orion Online Learning, Inc., intending to open additional digital schools in the future. Since then, Orion Online Learning has added two other schools – All Gifted School in Singapore and New Mexico Trinity Prep, an online school for New Mexico students.
Long before the COVID pandemic made online learning commonplace around the globe, Gallegos knew that helping students achieve their goals of high school graduation and beyond didn't need to only be in a "brick and mortar" environment. In fact, his online schools grew significantly during the pandemic because students and their parents were searching for premier and proven online education programs.
From 2006 to 2015, Gallegos also worked at the Charles A. Dana Center at the University of Texas as a senior project director and interim project director for K–12 Services. In that role, he worked with state and local systems to implement the Common Core State Standards. Gallegos has been involved in researching digital education since 1999 while working as an adjunct at one of the first online, accredited universities in the nation. He explored different digital universities to create a high school that could follow the best practices. Orion High School is now in its 15th year and has graduated more than 12,000 students internationally.
Outstanding Alumni Award, Dr. Gregory Sawyer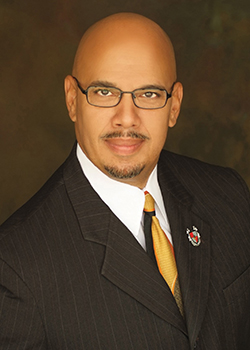 After a very brief retirement, Dr. William Gregory Sawyer (MA 78) was appointed vice president for Student Affairs at Sonoma State University in 2018. Before joining Sonoma State, Sawyer was the founding vice president for Student Affairs at California State University Channel Islands, where he established a nationally recognized division. Under his leadership, Channel Islands' Division of Student Affairs was recognized as one of the nation's Most Promising Places to Work in Student Affairs for four consecutive years.
Dr. Sawyer, or "Doc" as most know him, began his professional career in Student Affairs at the University of North Texas (UNT) as a residence hall director. He later served at UNT as coordinator of Intercultural Services, assistant and associate dean of students and finally as dean of students.
Later, he was named the founding dean of students and senior student affairs officer at the newly-chartered Florida Gulf Coast University. After seven years there, he was offered another chance to be on the ground floor of a new state university, California State University Channel Islands.
Sawyer served as the founding vice president for Student Affairs before retiring in 2017 and "un-retiring" in 2018 to lead the Division of Student Affairs at Sonoma State. Dr. Sawyer served two terms as a Governor-appointed commissioner for the California Student Aid Commission and served as a co-director and faculty for the National Association of Personnel Administrators' African-American Male Summit.
Among the awards Sawyer has earned in his career are the NASPA Pillar of the Profession, Diamond Honoree and Senior Student Affairs Practitioner of the Year by the American College Personnel Association. He was also selected by the Trustees and Chancellor of the California State University system for the Wang Family Award as the Outstanding Administrator of the Year in 2008.
Other notable recognitions include the President's Award from the National Association for the Advancement of Colored People, Notable African-American award from the Black American Political Association of California, Barrier Breaker Award for being the first African-American Dean of Students at UNT, and a Lifetime Achievement Award from the National Tutoring Association.
Sawyer earned his Ph.D. in Higher Education Administration from UNT, his master's degree in Organizational Communication from ENMU, and a bachelor's degree in Communication and English from the University of Mount Union in Alliance, Ohio. Doc and his wife, Dr. Rita Gloria Sawyer, have been married for 25 years and currently reside in Petaluma, California.
---
For More Information
ENMU Foundation
ENMU Station 8
1500 S Ave K
Portales, NM 88130
800.FOR.ENMU (800.367.3668)
Phone: 575.562.2412
Fax: 575.562.2022