If you have a sound mathematical background and are interested in solving problems pertaining to the design, analysis and implementation of electrical and electronic circuits and systems, you should consider majoring in electronics engineering technology (EET) at ENMU. You'll find the learning environment, competent staff and modern laboratories produce graduates who can compete successfully in: computers, controls, electronics, communication, instrumentation, robotics and other related challenging fields.
The Bachelor of Science in Electronics Engineering Technology will provide you with knowledge and experience in electronics technology and applications in computer systems design, research and development, and manufacturing and testing.
We also have a Bachelor of Applied Art and Science (BAAS) degree designed to combine technical course credits if you have earned an associate degree in a specific area of vocational or technical emphasis.
Special Services and Opportunities
Our electronics engineering faculty is committed to responsible academic advising. Both faculty members in the program have a Ph.D. in electrical engineering, and understand what courses you need to take and the right time to take them. Opportunities for internships within your chosen area of interest are available if you qualify. The small class sizes for EET courses at ENMU give you a constant inflow of personalized attention and interaction. Our programs have established a reputable record for graduates with Lockheed Martin, the United States Air Force and other local industries.
Scholarships and Financial Assistance
ENMU is committed to helping you defray the cost of your education. Various avenues of financial assistance are available: grants, loans, work-study and monetary awards.
Career Opportunities
Major companies like Lockheed Martin, Raytheon, and ONCOR have hired past graduates in electronics engineering. Our students have been actively sought out for summer internships and jobs by ONCOR. Starting positions at ONCOR provide an excellent starting salary and financial contributions to graduate school. The bottom line is: we prepare you for life beyond college.
If you have a degree in an EET field, you'll have the knowledge and training to pursue a career that is in in high demand. Our program offers you the opportunity to prepare for a career in electronics technology, computer technology and related areas. The electronics engineering technology bachelor's program will help you become a highly trained engineering technology professional who can work as a team member with engineers and scientists. You'll learn how to apply scientific and engineering knowledge and technical skills to make educated career decisions and compete successfully in the following fields:
Electronics
Computers (test and troubleshoot hardware)
Instrumentation (maintenance and testing procedures)
Controls (build and test control systems)
Electrical circuits (design, simulate, and assemble)
Communications (design, simulate, and assemble)
Industrial control (PLC programming)
Manufacturing and testing
High Earning Potential for EET Majors
According to the U.S. Department of Labor Statistics, the median annual wage of electrical and electronics engineers with a bachelor's degree was $96,270 in 2017, with a projected growth rate of 7% through 2026 for the profession.
High School Courses to Take if You Want to Major in EET
We offer EET 131, Intro to Engineering with MATLAB, as a dual enrollment course (online). EET 131 will give you an introduction to various engineering programs and is offered every spring. You should also include the following courses in your high school curriculum: algebra I and II, geometry, trigonometry/pre-calculus.
Other Electronics Engineering Technology Programs at ENMU
If you are looking for a different type of electronics engineering technology program, check out our other degree options:
Additional Degree Information
Find additional information about the Bachelor of Science in Electronics Engineering Technology degree, including the courses you'll take when you're an electronics engineering technology major at Eastern.
EET Bachelor's Degree Plan Checklist
---
Connect with us on Social Media
Advisor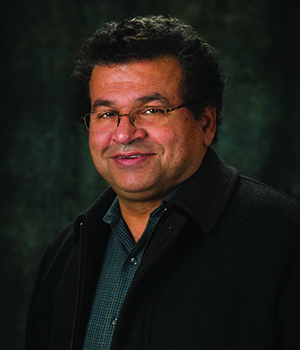 Professor of Electronics Engineering Technology
Office Location: College of Business (COB), Room 161
Phone: 575.562.2073