You can work in many of our studio and lab spaces outside of regularly scheduled class time, making access to essential equipment, supplies, software and space much more convenient and supportive of your education.
Ceramics Studio
Learn hands-on techniques in hand-building and wheel throwing in our ceramics studio. This ample, multiroom industrial space features two electric kilns, gas kiln and raku kiln, throwing wheels and multiple surfaces with varied heights for hand-building. For those interested in reclaiming clay, our studio provides access to a pugmill.
Design Studio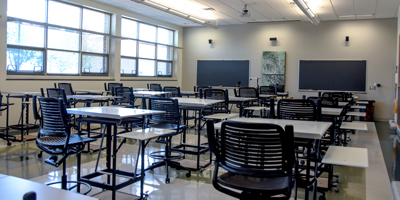 Our design studio is a chameleon of a space. This spacious and well-lit studio allows you to explore the principles of two-dimensional design, color theory and watercolor, to name a few examples. The studio features 18 portable drafting tables and innovative classroom technology, including a projection and sound system.
Drawing Studio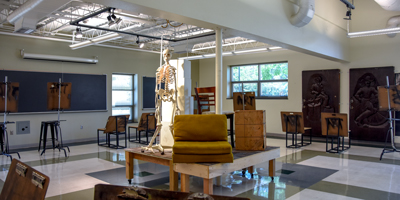 Our drawing studio is a great space to explore many drawing techniques, whether you are a novice or advanced drawer. With drawing easels and horses that quickly move and a mobile still-life/modeling platform, the studio easily transforms to meet your needs. With multiple lighting options, you can create a dramatic still-life setup to draw. The studio features privacy options allowing for the exploration of figure drawing.
Finishing Studio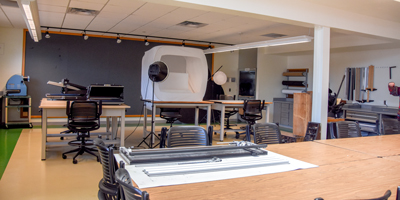 As you complete your masterpiece, you can use the tools and equipment in the finishing studio to make your work gallery/presentation-ready or archive in your portfolio. This space includes access to a large and small dry mount press, matte cutting and paper trimming equipment, spray booth and essential photography lighting. Hang your masterpiece on the wall, photograph it for your portfolio and then cut your matting and frame your work.
Industrial Workshop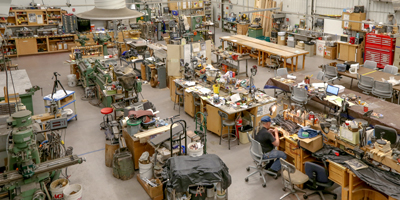 Explore three-dimensional art in our industrial workshop, where your imagination only limits the possibilities. The size of a small gymnasium, our bright and open workshop features equipment and tools for metal and woodworking, including table saws, an electric kiln and welding stations. In this space, you can explore the art of jewelry making, body casting and metalworking, to name a few.
Lecture Hall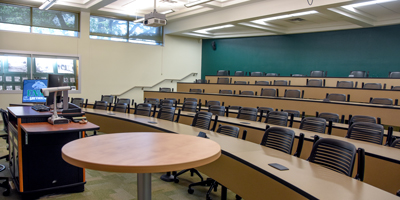 Used primarily for lecture classes, guest artist talks and departmental gatherings, our lecture hall is a welcoming space to all that come into it. The room is equipped with a dual projection system and surround sound, elevating your visual and auditory experience. Custom built-in tables provide you with power hookups for your laptop and other smart devices. You can also access wireless internet within the hall.
Macintosh Lab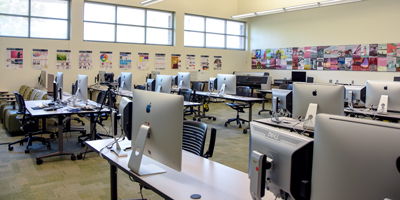 Develop and refine your visual literacy skills in our premier Macintosh Lab. Our bright and spacious facility features 24 iMacs, Adobe software, a video projection and sound system and access to printers that can process letter-sized prints and prints up to 44" wide.
Mini-Workshop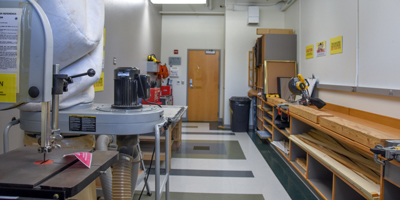 The mini-workshop is perfect for smaller tasks like building custom canvases or other small and quick jobs not requiring our industrial workshop.
Painting Studio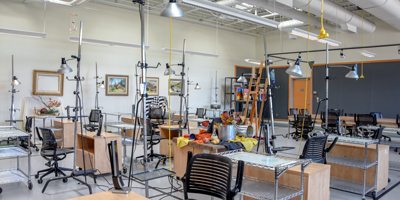 You can explore a variety of painting techniques in our large and well-lit painting studio. With north-facing windows, you'll find any number of spots to set up your painting station. Our painting studio features modular and mobile equipment and furnishings that allow painters to explore numerous different-sized painting surfaces and still-life setups.
Student Lounge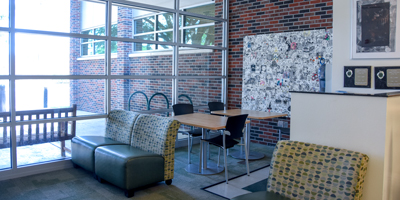 The student lounge is a casual and open space for you to gather and connect with students, faculty and staff. Our student lounge has you covered if you need a place to eat your lunch between classes or want somewhere comfortable to sit and reflect.