Bachelor of Science in Nursing, BSN Completion Program
100% online, ACEN accredited program with rolling admission and no application fee
Complete the form below to get more information about the BSN Completion Program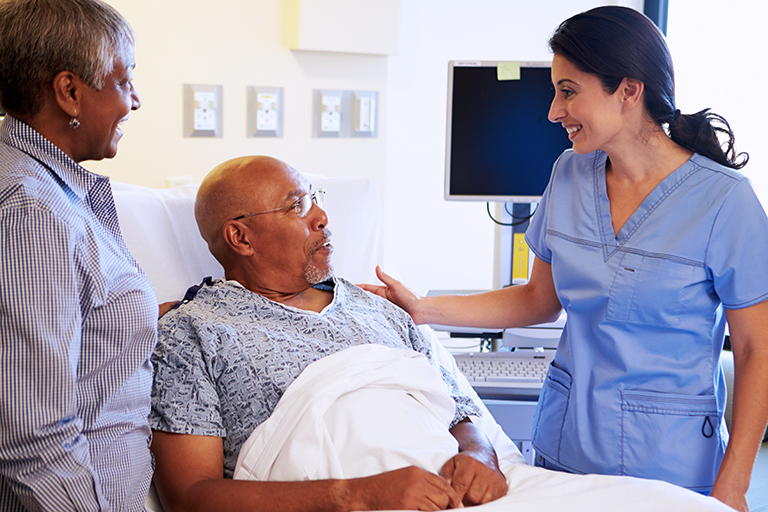 BSN Career Advancement
Our BSN Completion Program is a practical, streamlined way for you to simultaneously advance your career with a bachelor's degree without sacrificing the quality of your education.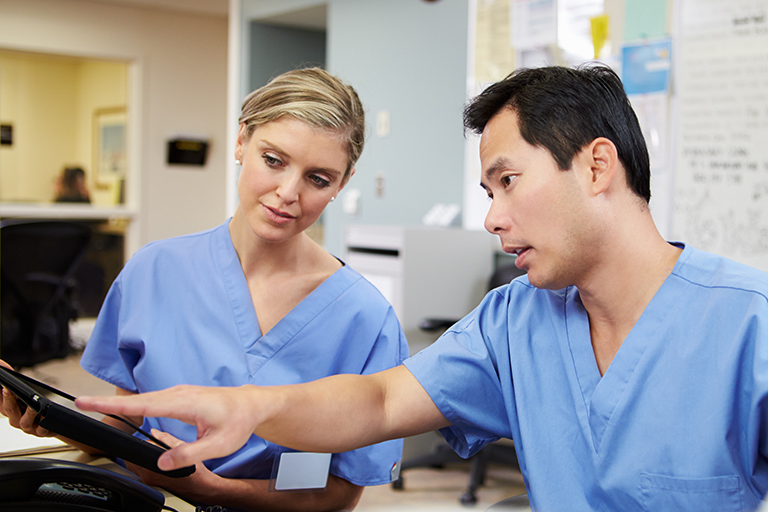 Fast, Flexible, Convenient
All classes in our program are 8-weeks long and we have rolling admission so you can start any semester. Full-time students can complete the BSN in just four semesters.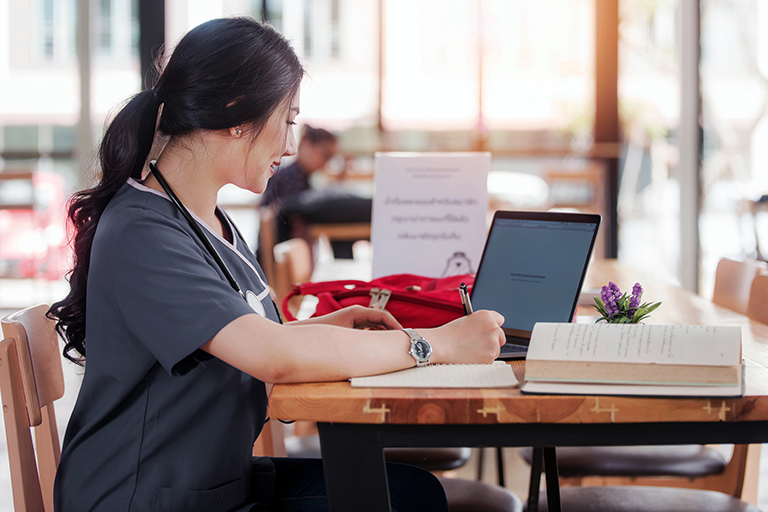 100% Online Program
Our 100% online ENMU BSN Completion Program is ACEN accredited and is designed with the working professional in mind. Our Nursing Program Faculty care about your success.
Student Success! That's What We're About!
Get Started Today!
Contact us to see if the BSN Completion Program will help you achieve your career goals.
Nursing Program Director

Dr. Kristin Kuhlmann, PhD, RN, FNP-BC

Director of Nursing

Office Location: College of Business (COB), Room 173

Phone: 575.562.2672
---
Connect with us on Social Media

Nursing is a wonderfully diversified profession, offering opportunities for service, altruism, personal and professional fulfillment, advancement and success. Our Bachelor of Science in Nursing (BSN) Completion Program, offered exclusively online, uses theoretical principles of nursing to enhance your critical thinking, natural curiosity, experiential awareness and enhanced clinical judgment.
In order to enter the BSN program, you need to apply for ENMU admission and also apply to the Nursing Program. The RN to BSN Completion Program does not give you an RN license. An RN license is required for entry into this program.
Program Learning Outcomes
By the end of the program, ENMU BSN graduates will:
Accept personal accountability for ethical and expert nursing practice, as well as for continuing professional and personal development.
Base clinical practice on methods of scientific inquiry and evidence-based practice to meet the client's need for increasingly complex health care in various settings.
Apply concepts from nursing theory, research, cultural competencies, the sciences, and the humanities to assess and meet the health needs of individuals, families, and communities.
Collaborate with clients, communities, and other health care professionals to plan and deliver holistic, patient-centered care.
Communicate and manage knowledge effectively, using contemporary information technology to integrate contextual nursing principles into nursing practice.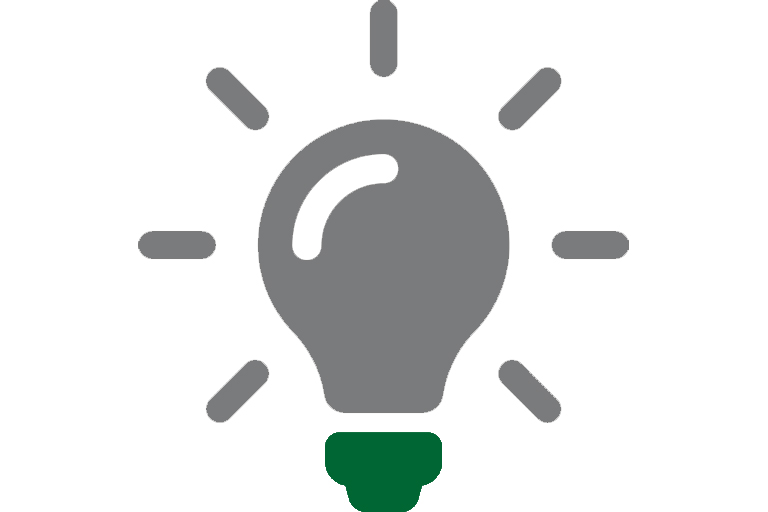 Additional Resources
Scholarships and Financial Assistance
We are committed to helping you finance your education. In addition to grants, loans and scholarships offered by Financial Aid and Enrollment Services, there are also many scholarships for current students available through the ENMU Foundation.
Learning Format
Our program is designed to be completed online, in person or with a combination of online and in-person, providing a flexible learning schedule that will work for you. You'll be completing assignments, readings, papers, tests and projects throughout the semester.
This concentration includes the following course format(s):
Courses where recorded and live lectures via Mediasite connect you with professors and other students on your own time (labeled "AW")
Courses that are completely online and offered through Canvas, with no recorded lecture or in-person students (labeled "WW")
Faculty and Advising
The program faculty are committed to responsible academic advising. This means we help you schedule the right courses at the right time to help you take the next step in your professional career. Faculty members are specialists in their areas of advising and are current with requirements for admission into the programs they advise so you get the academic advice you need, when you need it.
Academic Help and Resources
We want to make sure you get the support you need. We offer flexible tutoring services, including the ENMU Writing Center which is available to help you improve your writing and help you clearly communicate for written, school-related projects and assignments.
We also have online databases, journal article, and eBooks accessible through the Golden Library. ENMU librarians are available virtually, via phone and email to provide assistance, so you'll always have the help you need to take advantage of library resources, even if you're sitting in front of your computer at home.
Service and Mutual Interest Organizations
At graduation, you can become a member of Sigma Theta Tau, the honor society of nursing. You can also become a member of the American Nurses Association, a national organization devoted to increasing nursing knowledge and nursing concerns in the field of healthcare.
Career Opportunities with a Bachelor of Science in Nursing
When you major in nursing, you can look forward to advanced career opportunities. This degree may open the door to managerial positions and higher earnings or increase your chance for advancement.
Career Services for Students
Career Services offers free job placement assistance to all ENMU students, so if you are looking for a job, we can help you find it.
We offer many resources including various workshops throughout the year covering topics like resume writing, interviewing for jobs, and more! As an ENMU student, if you're interested in individual help for things like networking, social media for success, resume writing, and mock interviews, our staff is available to help.
Accreditation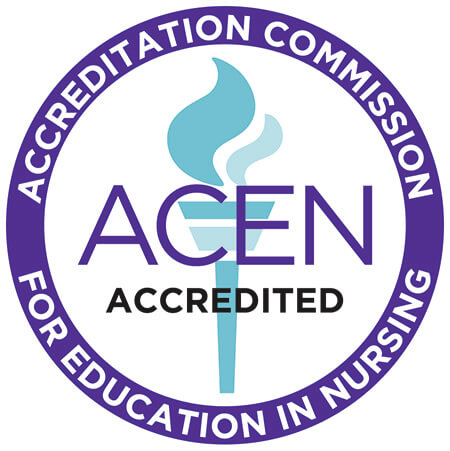 The Eastern New Mexico University Baccalaureate (BSN Completion) nursing program at 1500 S. Ave K., Station #12, located in Portales, NM 88130 is accredited by the:
Accreditation Commission for Education in Nursing (ACEN)
3390 Peachtree Road NE, Suite 1400 Atlanta, GA 30326
404.975.5000
The most recent accreditation decision made by the ACEN Board of Commissioners for the Baccalaureate (BSN Completion) nursing program is: Continuing Accreditation.
View the public information disclosed by the ACEN regarding this program
BSN Completion Program – Student Achievement Data
Data shown below is for students who completed the program during the 2019-2020 academic year.
Registered Nurse (RN licensure):
Students in the BSN completion program are required to hold an RN degree upon admission to the program. No additional licensure or certification is required.
Students Completing the Program:
Graduates complete the BSN program within an average of 4.4 years. (72.2%)
Part-Time enrollment: 72%.
Full-Time enrollment: 28%.
The BSN completion program offers 8-week courses. If you are a full-time student, this means you can complete your BSN degree in 16 months (once your general education credits are completed).
Employment:
100% of the students who received their BSN degree in the 19-20 academic year were employed as RNs upon graduation.
Courses You'll Take
You can find additional information about the Bachelor of Science in Nursing (BSN) degree, including the courses you will take when you're a nursing major at Eastern.
BSN Course Rotation
Note: Degree information shown on this page is based on the 2021-23 Undergraduate Catalog.
Course
Fall
First 8-Weeks
Fall
Second 8-Weeks
Spring
First 8-Weeks
Spring
Second 8-Weeks
Summer
Nursing 312
Yes
Yes
Yes
Yes
Yes
Nursing 315
Yes
No
No
No
No
Nursing 317
Yes
No
No
No
No
Nursing 319
No
No
Yes
No
No
Nursing 329
No
Yes
No
No
No
Nursing 360
No
Yes
No
No
No
Nursing 413
No
No
Yes
No
No
Nursing 415C
Yes (16-week course)
Yes (16-week course)
Yes (16-week course)
Yes (16-week course)
No
Nursing 416
No
No
No
Yes
No
Nursing 417
No
No
No
Yes
No
Nursing 425C
Yes (16-week course)
Yes (16-week course)
Yes (16-week course)
Yes (16-week course)
No