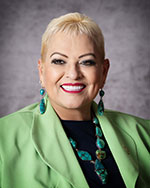 Trish Ruiz
Trish Ruiz, a resident of Hobbs, New Mexico, attended ENMU before completing her bachelor's and master's degrees at the University of the Southwest. She is a counselor at Hobbs High School and a former adjunct professor at the University of the Southwest. She was a co-chair of the Workforce Solutions team. She was also a member of the Workman's Compensation and State Personnel Office committees for Governor Lujan Grisham's transition team.
Ruiz has extensive experience in public service. She has held many positions in the public sector.
She served as a member and officer of the board of directors for the National Education Association New Mexico (NEA-NM). She was the former vice chair and treasurer for NEA-NM's National Hispanic Caucus. She was also a member of the New Mexico Public School Insurance Authority (NMPSIA).
Additionally, she was vice president of the board of trustees for Con Alma Health Foundation. Finally, she was chair of the Lea County Democratic Party. Ruiz recently completed a term on the New Mexico Public Education Commission, District 9, serving as the commission's vice chair.
---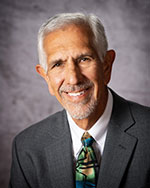 Phillip Bustos
Phillip Bustos is the retired vice president for Student Services at Central New Mexico Community College (CNM). A native New Mexican, he attended ENMU from 1975 through 1978. Bustos' career started in drug and alcohol counseling. He then served in student affairs at the University of North Texas.
After that, he worked at the Auraria Higher Education Center in Denver, Colorado. After Colorado, he served at CNM He is involved in numerous volunteer and aid organizations in the Albuquerque area.
---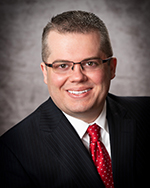 Lance Pyle
Lance A. Pyle was confirmed as an ENMU regent in March 2019. He currently serves as Curry County Manager, a position he has held since December 2007. After graduating from Melrose High School, Mr. Pyle earned an associate degree in Business Administration with honors from Clovis Community College in December 2001.
He earned a Bachelor of Business Administration with distinction from ENMU in December 2004. He served on the Melrose City Council and was elected mayor of Melrose (2006-10).
Serving first as interim Curry County manager, he was named the permanent county manager two months later. In 2017, Pyle received designation as a credentialed manager through the International City/County Management Association (ICMA) and is only the third New Mexico County Manager to reach that designation.
Mr. Pyle serves on several boards and committees at the local and state level. He is the chairman of the New Mexico County Insurance Authority Workers Compensation Pool Board, a member of the New Mexico County Insurance Authority Multi-Line Insurance Pool Board, and a member of the New Mexico Amigos Goodwill Ambassadors for the State of New Mexico. Mr. Pyle married his wife in 2010; he and his wife have two daughters.
---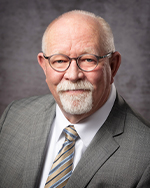 Ray Birmingham
Ray Birmingham is a highly successful educator, having spent 43 years in New Mexico's public and private learning institutions. Birmingham has a long history as an educator in New Mexico, and he has brought state and national recognition to each institution he has served.
Birmingham's accomplishments as a baseball coach at Mayfield High School (Las Cruces), the University of the Southwest (Hobbs), New Mexico Junior College (Hobbs), and the University of New Mexico (Albuquerque) are nationally acclaimed. Birmingham has won numerous national, regional, state, and conference championships, and each institution Birmingham has coached has been ranked in the top 25 teams in the country multiple times. He has also coached team USA abroad in Asia, Europe, South America, and Cuba.
Birmingham is a 1973 graduate of Hobbs High School and a 1975 graduate of New Mexico Junior College. He earned a Bachelor of Education in 1978 from New Mexico State University and a Master of Education in 1999 from the University of the Southwest.
A devoted New Mexico educator, Birmingham served on numerous boards and committees in communities throughout the state, from Farmington to Hobbs to Las Cruces. The Albuquerque Journal has labeled Birmingham as one of New Mexico's "Top Ambassadors."
Birmingham has been named a regent for a six-year term through Dec. 31, 2028.
---
Logan O'Brien
Logan O'Brien, from Rio Rancho, New Mexico, will graduate with their Bachelor's degree from Eastern New Mexico University in May 2023. O'Brien will then begin pursuing a Master's in communication with an emphasis in journalism, public relations, and content.
O'Brien has been a dedicated student leader throughout their educational career, having held various student officer positions in multiple student organizations. O'Brien is the President of Bored Geeks Board Games and ENMU Gaming. He was Vice President of the Forensic Science Society and the Japanese Animation Research Club, and the Secretary for the ENMU Chemistry Club and ENMU Justice League.
As a leader, O'Brien has played a significant role in organizing various events, including the Annual Trunk or Treat event, sponsored by the Forensic Science Society and the Annual Charity Live Stream, sponsored by ENMU Gaming. In addition, O'Brien has been part of innovative projects such as the Artificial Intelligence Neural Network Research Group for Student Retention, Virtual Reality Research Group, VR campus integration initiative, and the creation of the VR Student Ambassador on Campus Job.
O'Brien has been named as a student regent to a two-year term through Dec. 31, 2024.