Trish Ruiz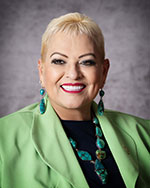 Trish Ruiz, a resident of Hobbs, New Mexico, attended ENMU before completing her bachelor's and master's degrees at the University of the Southwest. She is a counselor at Hobbs High School and a former adjunct professor at the University of the Southwest. She served as the co-chair of the Workforce Solutions, Workman's Compensation, and the State Personnel Office committees for Governor Lujan Grisham's transition team.
Ruiz has extensive experience in public service. She has served as member and officer of the board of directors for the National Education Association New Mexico (NEA-NM), former vice chair and treasurer for NEA-NM's National Hispanic Caucus, member of the New Mexico Public School Insurance Authority (NMPSIA), vice president of the board of trustees for Con Alma Health Foundation, and chair of the Lea County Democratic Party. Ruiz recently completed a term on the New Mexico Public Education Commission, District 9, serving as the commission's vice chair.
Phillip Bustos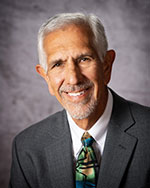 Phillip Bustos is the retired vice president for Student Services at CNM. A native New Mexican, he attended ENMU from 1975 through 1978. Bustos' career began in drug and alcohol counseling, followed by service in student affairs at the University of North Texas, the Auraria Higher Education Center in Denver, Colorado, and finally, CNM. He is involved in numerous volunteer and aid organizations in the Albuquerque area.
Chandler Head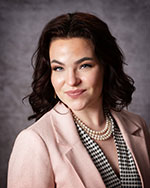 Chandler Head is a vocal performance major at ENMU. A 2018 graduate of Levelland High School in Levelland, Texas, Head enrolled at Eastern in August 2018 and has distinguished herself in both her academic program and service to the University. Among her many honors and awards, Head was recognized as the first-place award recipient of the Rio Grande National Association of Teachers of Singing (NATS) in 2019, and was a Vocal Artist Art Song Festival finalist in 2019 and 2020. Joining the Student Government Association (SGA) to help address student concerns, Head serves on student senate, on the Student Fees Board and in the SGA Shadow Program.
Lance Pyle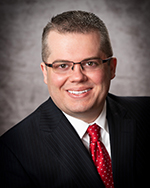 Lance A. Pyle was confirmed as an ENMU regent in March 2019. He currently serves as Curry County Manager, a position he has held since December of 2007. A graduate of Melrose High School, Mr. Pyle earned an associate degree in Business Administration with honors from Clovis Community College in December 2001 and a Bachelor of Business Administration with distinction from ENMU in December 2004. He served on the Melrose City Council and was elected mayor of Melrose (2006-10). Serving first as interim Curry County manager, he was named the permanent county manager two months later. In 2017, Pyle received designation as a credentialed manager through the International City/County Management Association (ICMA) and is only the third New Mexico County Manager to reach that designation. Mr. Pyle serves on several boards and committees at the local and state level, including chairman of the New Mexico County Insurance Authority Workers Compensation Pool Board, board member of the New Mexico County Insurance Authority Multi-Line Insurance Pool Board and a member of the New Mexico Amigos Goodwill Ambassadors for the State of New Mexico among many others. Mr. Pyle is married (2010); he and his wife have two daughters.
Dr. Dan Patterson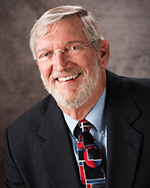 Dr. Dan Patterson was appointed to the ENMU Board of Regents in April 2015. Dr. Patterson is a noted educator and human resource professional in New Mexico and Colorado with 48 years in education that includes terms as superintendent or assistant superintendent. He has previously served on the Board of Directors of the New Mexico Public School Insurance Authority and as a regent for Western New Mexico University. Dr. Patterson was twice named as Personnel Administrator of the Year by the New Mexico Coalition of Educational Leaders. He has been recognized by numerous governmental agencies, civic organizations and professional associations for his contributions to communities and education in New Mexico and Colorado. In 1998, he was recognized by Gov. Gary Johnson for his anti-violence education program in the Las Cruces Schools. Dr. Patterson also served on the Board of Directors of the El Pomar Foundation, a philanthropic organization in Colorado Springs. He holds a Bachelor of Science in English and Speech from Edinboro University in Pennsylvania, a Master of Education Degree in Secondary Education from Northern Arizona University, an Educational Specialist degree in administration from the University of Arizona and a Doctorate of Educational Administration from California Coast University of California. Dr. Patterson is also a U.S. Navy veteran.