The Speech and Hearing Rehabilitation Outreach Center at Eastern New Mexico University, affectionately known as the "Speech Clinic" by the CDIS students, provides high quality and affordable services to clients of all ages. We serve as a regional diagnostic and treatment center to help clients with a variety of communicative disorders. Our clinical services are available to the general public and are provided by both ENMU faculty, and CDIS graduate students under the supervision of a certified and licensed CCC-SLP (Speech-Language Pathologist) or CCC-A (Audiologist).
Clinical Mission
The Speech and Hearing Rehabilitation Outreach Center operates as a teaching clinic to provide an active learning environment in which undergraduate and graduate students observe and participate in the assessment and management of communication disorders through supervised clinical experiences.
Our mission is twofold:
To meet the needs of the community and to better serve those having communicative impairments by providing high quality but affordable diagnostic and rehabilitative services.
To provide an educational venue whereby CDIS students may obtain active learning practicum experiences within certification guidelines as specified by the American Speech-Language-Hearing Association
Speech, Language and Swallowing Services
The ENMU SHROC provides diagnostic and rehabilitative services to clients with hearing impairments, deafness, autism spectrum disorders, language and literacy disabilities, learning disabilities, cognitive impairments, and developmental delays, as well as those who have suffered a brain injury, stroke or other acquired progressive neurological disorders such as Parkinson's. We also provide services to those who stutter, for those who have difficulty pronouncing words, for clients who are having trouble with their voice, and for clients who have been affected by cleft lip or palate. Services are provided on campus or via telepractice. We also run aphasia, and social skills support groups. We house an augmentative and alternative communication lab, a speech science lab, and can also provide an endoscopic and stroboscopic assessment of voice, swallowing, and resonance. Our speech-language services include diagnosis and treatment of the following disorders and difficulties:
Articulation: Difficulty pronouncing sounds or words due to apraxia, dysarthria, structural/anatomical differences, traditional/phonological delays or disorders, and/or other etiologies.
Receptive/Expressive Language: Difficulty understanding and using language due to developmental delays, learning disabilities, or aphasia due to a stroke or brain injury.
Literacy: Difficulty with reading, including dyslexia, reading comprehension, and difficulties relating to spelling, composition, and written language.
Swallowing: Difficulty chewing or swallowing due to developmental delays, structural/anatomical differences, or following a stroke or accident.
Fluency: Difficulty with fluent expression of speech, to include stuttering and cluttering.
Voice and Resonance: Difficulty with pitch, quality, loudness, or hyper/hyponasality of the voice.
Aural Habilitation/Rehabilitation: Learning to use your hearing to the best of your ability and/or learning to compensate for a loss of hearing.
CAPD/LPD Training: Learning to process auditory and/or linguistic input.
Accent/Dialect Reduction: Reducing native dialects to approximate General American English pronunciation.
Endoscopic and Stroboscopic Assessment of the voice, swallowing, and resonance.
Augmentative and Alternative Communication Services: Learning to use assistive technology to communicate.
Cognitive Communication: Difficulty with any aspect of communication that is negatively affected or disrupted by cognition and may include difficulties with attention, perception, memory, organization, and executive functioning skills.
Social Skills Training: Difficulty interacting and communicating with others; This may include verbal and non-verbal challenges that interfere with educational progress, professional development, and positive and meaningful social relationships.
Audiology Services
Audiological services available include:
Hearing screening
Hearing testing (pure-tone audiometry)
Otoacoustic emittance
Tympanometry
Hearing aid selection, fitting, adjustment and maintenance
Educational audiology consultation
Location
The Speech and Hearing Clinic is located on the second floor of Lea Hall on S. Avenue K on the ENMU campus. The elevator is located near the west entrance to the building.
Parking
Parking is available on the street in front of Lea Hall or in the parking lot in front of the Campus Union Building. Handicap parking is available in the parking lot and on the Campus Union circular drive next to Lea Hall.
Visitors need to secure a parking pass from the ENMU Department of Public Safety to avoid ticketing. Please contact the CDIS Support Specialist, This email address is being protected from spambots. You need JavaScript enabled to view it. at 575.562.2156 for additional information, or if you experience difficulties with parking.
Hours of Operation
The ENMU SHROC is open Monday through Friday, from 9:00 am to 5:30 pm. The clinic is closed on days that the university is also closed. In the event of weather conditions, ENMU may be closed. Weather closing information is available on the ENMU Information line at 575.562.4636.
Clinic Fees
| Service | Fee |
| --- | --- |
| Audiology Screening | Free |
| Audiological Evaluation | $50 |
| Hearing Aid Evaluation | $75 |
| Hearing Assistance Technology Evaluation | $75 |
| Speech/Language Screening | Free |
| Speech/Language Evaluation | $50–$250 |
| Speech/Language Therapy 1x week | $65 per semester |
| Speech/Language Therapy 2x week | $120 per semester |
| Speech/Language Therapy during Summer | $70 per semester |
Payment is expected at the time of service. We accept cash, checks or credit cards. Please make checks payable to the Speech and Hearing Rehabilitation Outreach Center. There will be a $30.00 fee on any returned check. Therapy will be discontinued for non-payment of services or three consecutively missed therapy appointments. Payment is non-refundable.
To keep our services affordable, we also offer a sliding fee scale based on income, for individuals who need financial assistance. Download the application here or contact the CDIS Support Specialist, Ms. Turner.
View the Sliding Fee Scale Application
Accreditation Status
The Master of Science (M.S.) education program in speech-language pathology at Eastern New Mexico University is accredited by the Council on Academic Accreditation in Audiology and Speech-Language Pathology of the American Speech-Language-Hearing Association, 2200 Research Boulevard #310, Rockville, Maryland 20850, 800.498.2071 or 301.296.5700.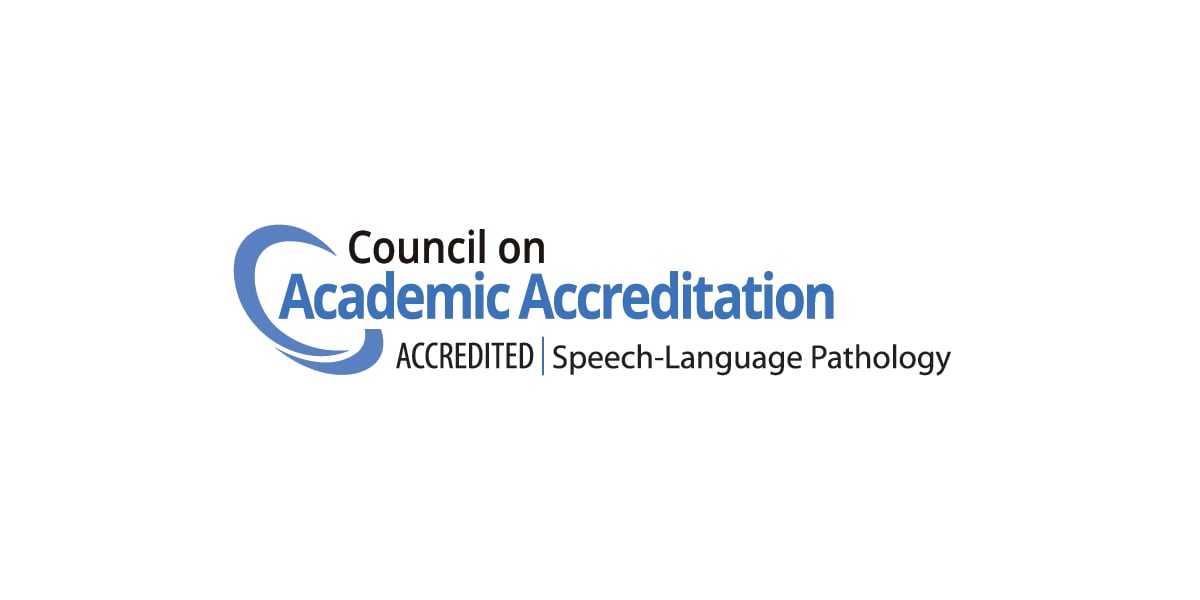 Licensing
All supervisors hold the Certificate of Clinical Competence from the American Speech-Language-Hearing Association as well as a current license to practice in the state of New Mexico. All student clinicians and supervisors carry liability insurance as recommended by the American Speech-Language-Hearing Association.
ADA Compliance
Students, faculty, staff, and clients of the ENMU Communicative Disorders Program are treated equitably without regard to age, citizenship, disability, ethnicity, gender identity, genetic information, national origin, race, religion, sex, sexual orientation, and veteran status. The institution and program comply with all applicable laws, regulation and executive orders, and we will not discriminate based on any category prohibited by applicable law.
Confidentiality and ASHA Code of Ethics
All faculty, student clinicians, and licensed supervisors are bound by the ASHA Code of Ethics. The guidelines ensure that competent and high-quality services are provided in a manner that is consistent with the professional code of ethics. All supervisors, student clinicians, and staff maintain client confidentiality in accordance with HIPAA requirements, and all records are kept in a secure location. All student clinicians sign a confidentiality statement each year stating they understand the terms of confidentiality and will abide by these terms. If you know or suspect that your personal health information has been handled improperly, please contact Wendy Turner, CDIS Support Specialist, room 121 Lea Hall, verbally or in writing to report the breach of confidentiality.
Patient Bill of Rights
The Right to a Reasonable Response to Request/Needs for Treatment or Service
Patients must be scheduled for evaluation within a reasonable period of time or given the option of being referred elsewhere.
Following evaluation, patients must be scheduled for treatment within a reasonable period of time or given the option of being referred elsewhere.
Requests for copies of reports to be sent to other professionals must be complied with within a reasonable period of time.
The reason(s) for not honoring a patient's request for treatments for services must be given and if the patient challenges the decision, he or she must be informed about procedures for appealing it.
A patient of another health-care professional (e.g. a physician) who request a referral to a speech-language pathologist or audiologist has a right to receive a prompt response to his or her request.
A patient who request funding for speech-language pathology or audiology services from a third-party payer has a right to receive a prompt response to his or her request.
The Right to Considerate and Respectful care
The clinician must be sensitive to and respect any attitude toward treatment a patient has that arises from his or her cultural background and differs from the clinician's attitude towards it.
The clinician should be on time for appointments.
The clinician should really "listen" to what the patient has to say.
The clinician should not communicate with the patient in a manner that is condescending or patronizing.
The clinician should involve the patient and possibly his or her family in the treatment planning process if the patient is not a young child or an adult who is severely cognitively impaired.
The clinician should answer any treatment and prognosis-related questions honestly.
The Right to Make Decision, in Collaboration with the Physician (and Other Involved Health-Care Workers), Involving Health Care
The patient has the final word with regard to his or her healthcare or that of his or her minor children (assuming that the patient has legal custody of them).
The patient has the right to refuse or to accept any or all of the recommendations made by the clinician for treatment.
The patient has the right to pursue treatment options that are not recommended by the clinician.
The Right to Information Necessary to Make Treatment Decisions That Reflect Wishes
The Patient has the right to expect the clinician to provide sufficient information about treatment options available to enable them to make such decisions.
The Right to Information at Admission on Grievance Procedures and Specific Patient Rights
The patient should be informed of his or her rights before beginning treatment, as well as whom to contact if he or she believes that at any time they were ignored.
The Right to be Informed of Any Human Experimentation or Research Affecting Treatment
If at any time the treatment that a patient will be receiving could be regarded as "experimental" or if some of the data that the clinician collects from the patient while he or she is in treatment will be used for research purposes, the patient has the right to know, and these regulations must be compiled with --- particularly the requirement to obtain the patient's (or his or her legal guardian's) informed consent.
The Right to Personal Privacy within Law's Limits and to Personal Privacy and Confidentiality of Information
A patient has the right to expect any information that he or she gives a clinician orally or in writing to be treated as confidential under almost all circumstances.
A patient has the right to expect any reports that are written about him or her to be treated as confidential under most circumstances.
The Right of the Patient's Guardian, Next of Kin, or Authorized Person to Delineate the Patient's Wishes Should He or She Become Incapable
If a patient has communicated certain wishes regarding treatment to a family or other authorized persons before losing the ability to communicate, the patient has the right to have his or her wishes honored.
---
For more Information
This email address is being protected from spambots. You need JavaScript enabled to view it.
Clinic Director, Speech and Hearing Rehabilitation Outreach Center
Location: Lea Hall (LH), Room 203
Phone: 575.562.4232