Online or On-Campus Master of Arts in English
Our 100% online master's English Program is affordable, flexible, and gives you skills that apply to a variety of careers.
Complete the form below to get more information about our M.A. in English
Student Success! That's What We're About!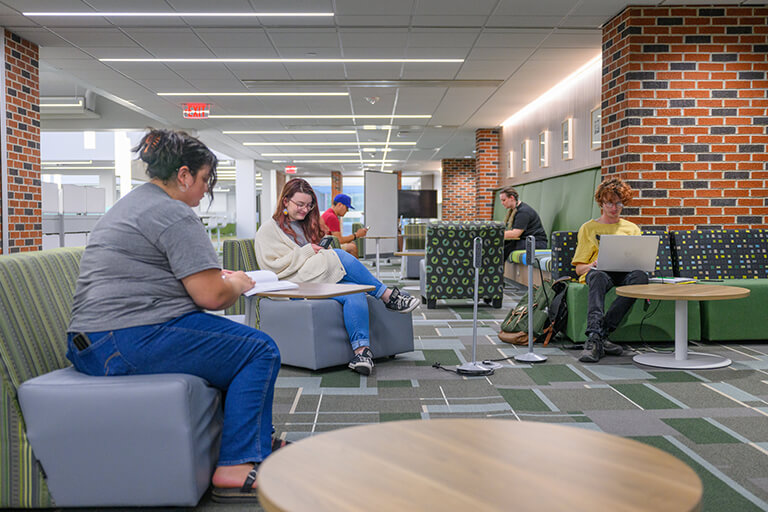 Thesis Options
Personalize your learning experience; write a traditional literary thesis or a creative writing thesis in fiction, poetry or creative nonfiction.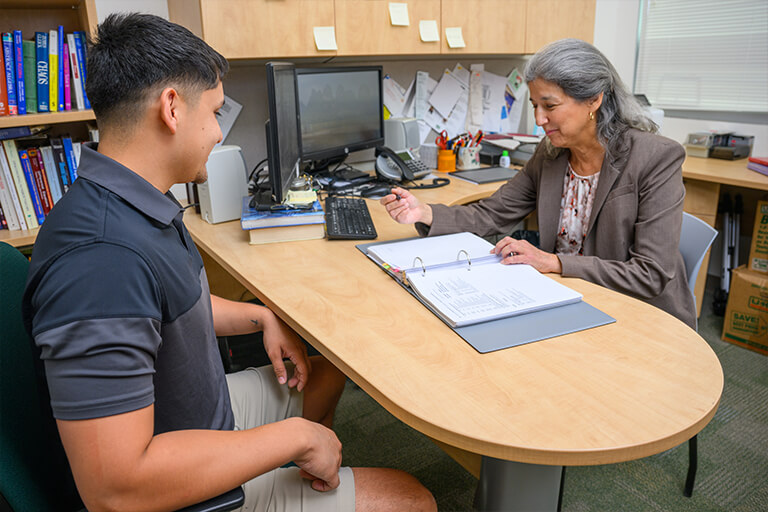 Teaching Path
If you have a master's degree in another field, you can take 18 hours of English through this program then you'll be qualified to teach English at a community college.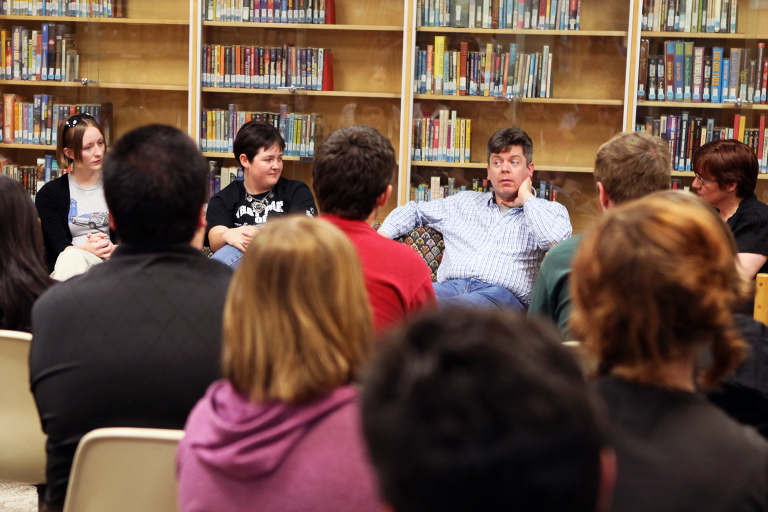 Unique Resources
The father of science fiction Dr. Jack Williamson taught at ENMU and provided us with the third largest science fiction collection in the U.S., including many original documents.
Ready to take the next step?
Apply today or fill out the form to contact our English graduate coordinator to see if the Master of Arts in English is a good fit for you.
Complete the form below to get more information about our M.A. in English
Master of Arts in English Program Overview
Critical thinking, research tools, time management and project organization are skills you will learn while pursuing a Master of Arts in English at ENMU. We work to help all our students stay engaged with course material and are experienced in accommodating the unique schedules associated with working professionals and active duty military personnel.
Our department's small size lends itself to intimate classes, with advisors and committee chairs working one-one-one with students. Our faculty has a diverse range of research interests including:
American literature
Literature of the Southwest
Medieval and Renaissance Studies
Victorian literature
Gender Studies
Rhetoric and Composition
Science Fiction
Creative writing, including fiction, poetry, and creative non-fiction
Literary theory
To complete the MA in English, you will: take a minimum of 27 hours of coursework and 6 thesis credit hours and pass comprehensive exams.
Graduate students in English study literary texts, film and historical records, as well as critical and cultural theory. The graduate program involves extensive reading of prose, poetry, visual media, and drama, as well as writing and research activities.
In addition to a traditional track of literary study, you may study creative writing and prepare a creative thesis as your final project or choose our "inclusion and resistance" focus, a study of the social and artistic areas used by minority groups to shape history.
Career Opportunities with a Master of Arts in English
This program will prepare you for more than teaching. The skills you learn apply to many career fields, including:
B2B content editing
Direct response copy writing
Digital copy writing
Technical writer
Public Relations
Corporate Blogger
Marketing Researcher
Policy Analyst
Editing
Publishing
Public service
Law
Doctoral programs in English and other fields.
Hands-On Experience for English Master's Students
We offer both face-to-face and online graduate assistantships where students can get experience tutoring, teaching freshman composition, and/or running our literary magazine, El Portal.
Graduate assistants not only receive a stipend and in state tuition rates, but gain teaching experience. Many graduate assistants begin by working in the ENMU Writing Center and later divide their time between the ENMU Writing Center and teaching composition and rhetoric courses.
Communication Resources and Academic Support for MA in English Students
On-Campus and Online Writing Center

We want to make sure you get the support you need. We offer flexible tutoring services, including the ENMU Writing Center which is available to help you improve your writing and help you clearly communicate for written, school-related projects and assignments.
We also have online databases, journal article, and eBooks accessible through the Golden Library. ENMU librarians are available virtually, via phone and email to provide assistance, so you'll always have the help you need to take advantage of library resources.
See our distance learning library services
If you have questions or concerns about your homework assignments, projects or grades, you also have the option to email or call your professor.
Advising
If you are taking the time to complete an advanced study program, we know you want not only the benefits from our classes, but also our faculty's professional experience. To support you, we offer advising meetings in person, or via email and phone. We want you to feel connected and prepared to complete your degree.
Master of Arts in English Coursework (33 hours)
Master of Arts in English students must complete a minimum of 27 credit hours of coursework and 6 thesis credit hours. Before beginning work on the thesis, you must pass a written qualifying exam based on a reading list set by the graduate faculty.
Note: Degree information shown on this page is based on the 2020-22 Graduate Catalog.
| Course | Credits |
| --- | --- |
| ENG 500 Literary Theory | 3 |
| ENG 502 Bibliography and Methods | 3 |
| ENG 504 Writing for Publication | 3 |
| ENG 511 Inclusion and Resistance: Americas | 3 |
| ENG 512 Inclusion and Resistance: Europe | 3 |
| ENG 501 Pedagogy of College Writing | 3 |
| ENG 503 Graduate Survey of British, American and Global Literature in English | 3 |
| ENG 513 Fiction Writing | 3 |
| ENG 514 Inventing Realities, Fabricating Truths | 3 |
| ENG 526 American Authors/Genres/Themes | 3 |
| ENG 530 British Authors/Genres/Themes | 3 |
| ENG 547 Literary and Cultural Studies | 3 |
| ENG 569 Workshop in English | 3 |
| ENG 579 Individual Research | 1–3 |
| ENG 593 Topics in English | 1–3 |
| ENG 599 Master's Thesis | 6 |
Admission Requirements for Master's in English
If you are seeking a Master of Arts in English, you are expected to have a bachelor's degree from an accredited institution. All students seeking admission must apply to the English program in addition to making formal application to the Graduate School.
Possess a Bachelor of Arts in English (Well-qualified applicants from other disciplines are eligible, but may be required to take leveling courses.)
No GRE required
Application Procedure:
Submit an academic writing sample to the Graduate School.


Graduate School
ENMU Station 24
1500 S Ave K
Portales, NM 88130
Phone: 575.562.2147
What's Next?
Once you are admitted to the Graduate School (apply today!), the graduate coordinator for English will evaluate your transcripts to determine your admission status, foreign language proficiency, and whether or not you'll need any leveling coursework.