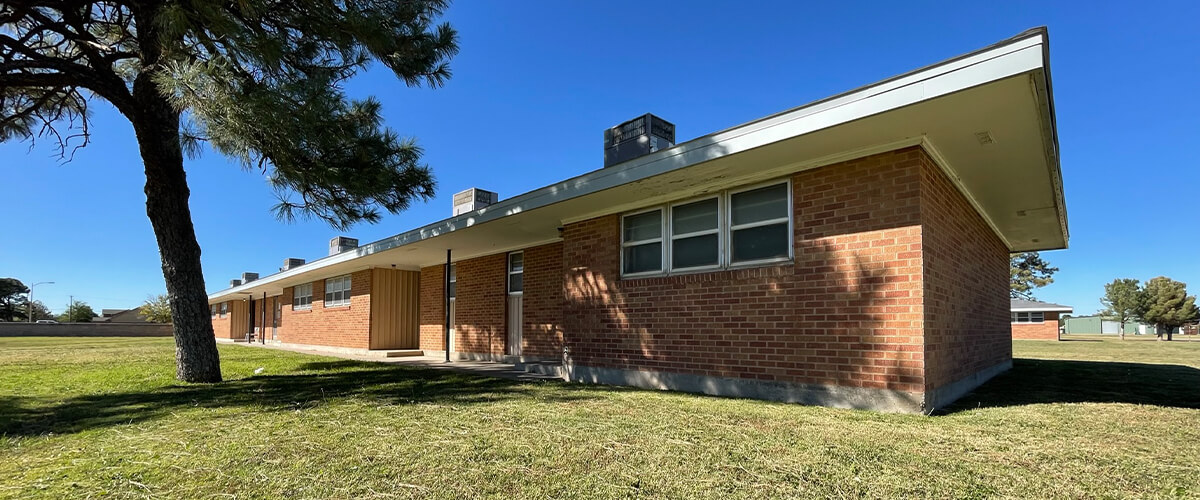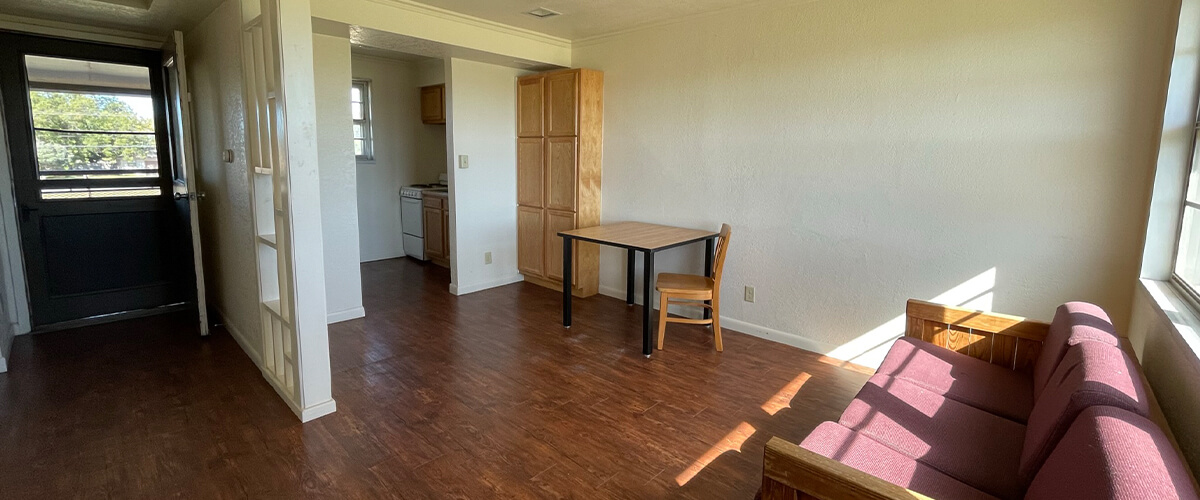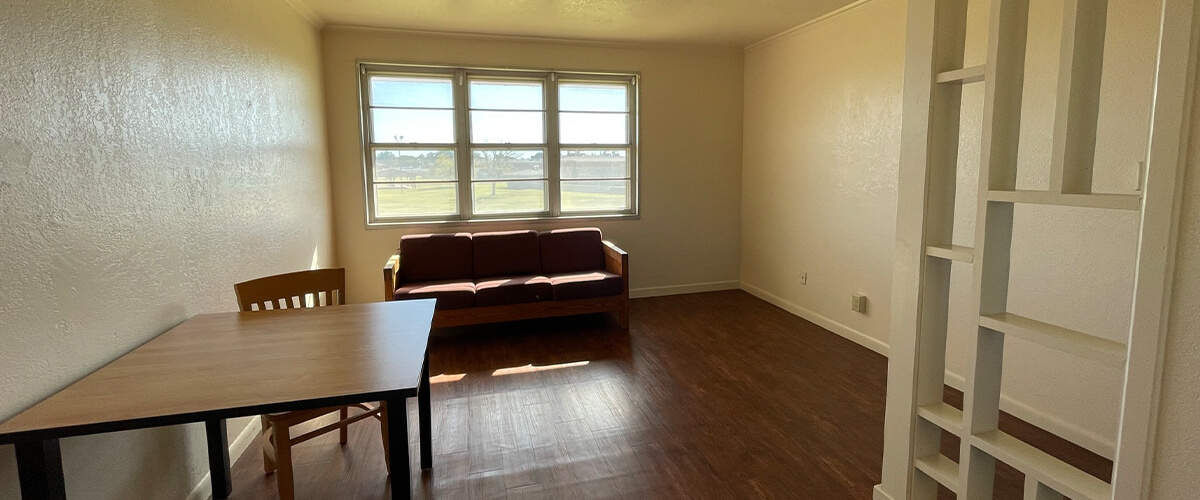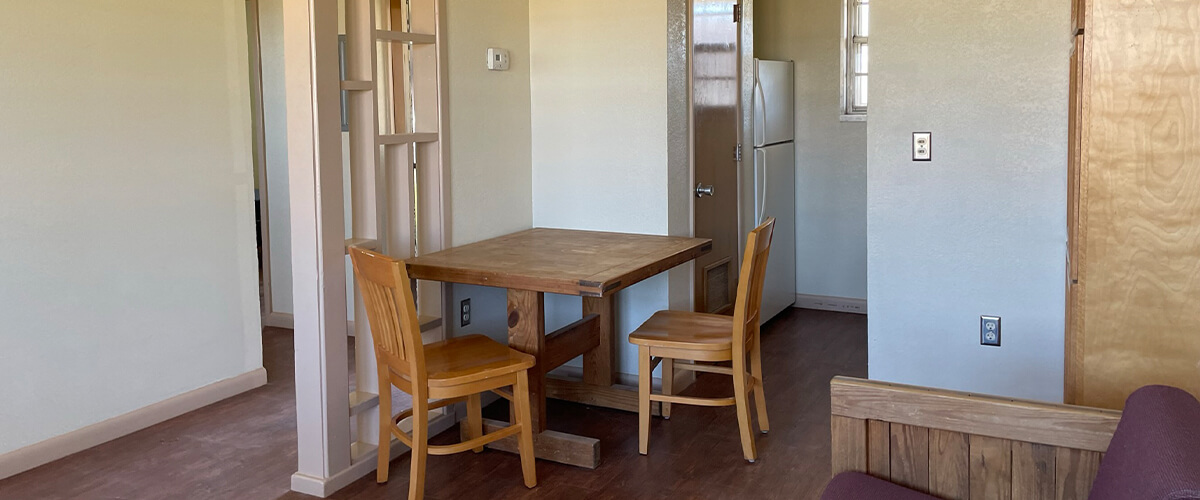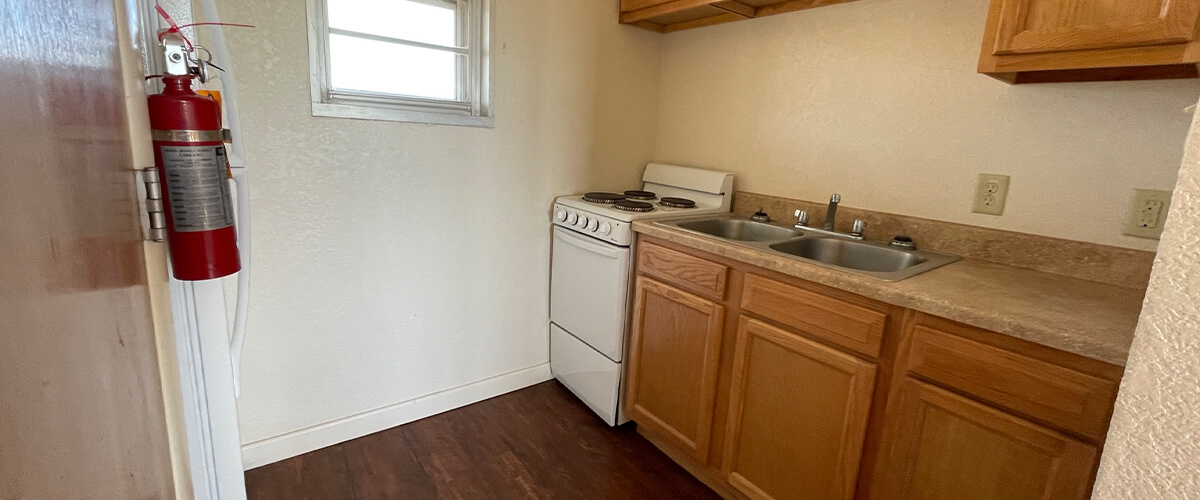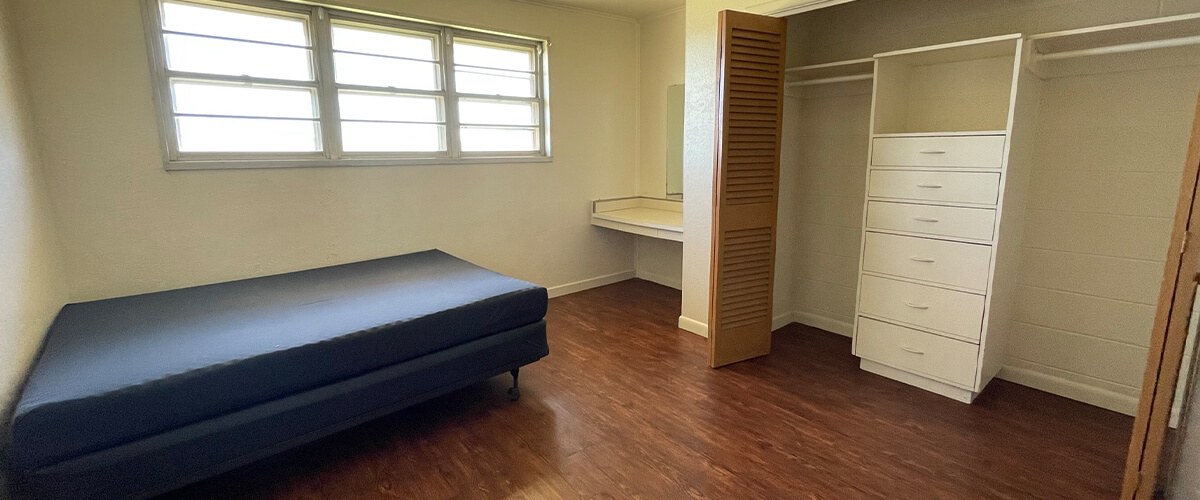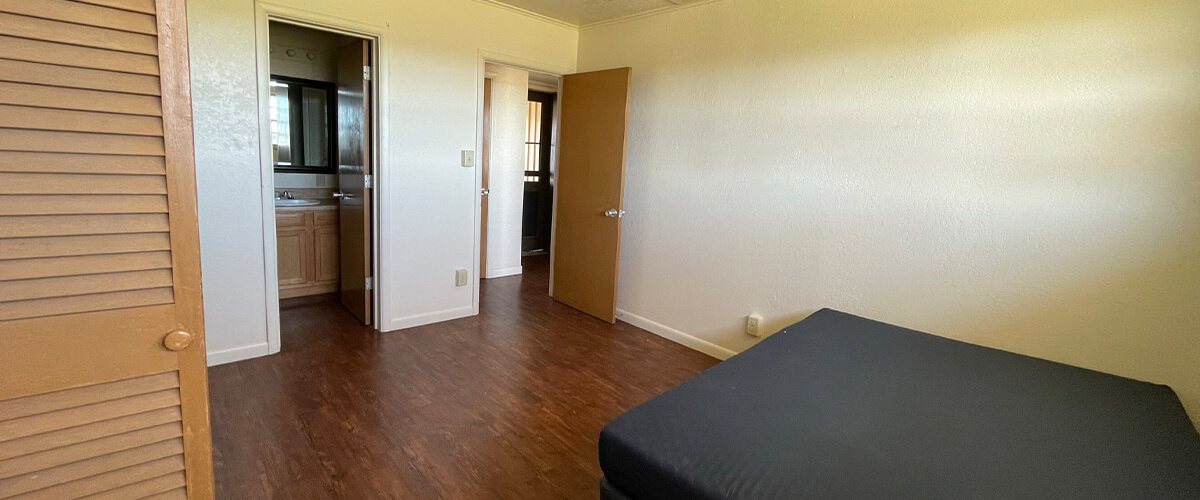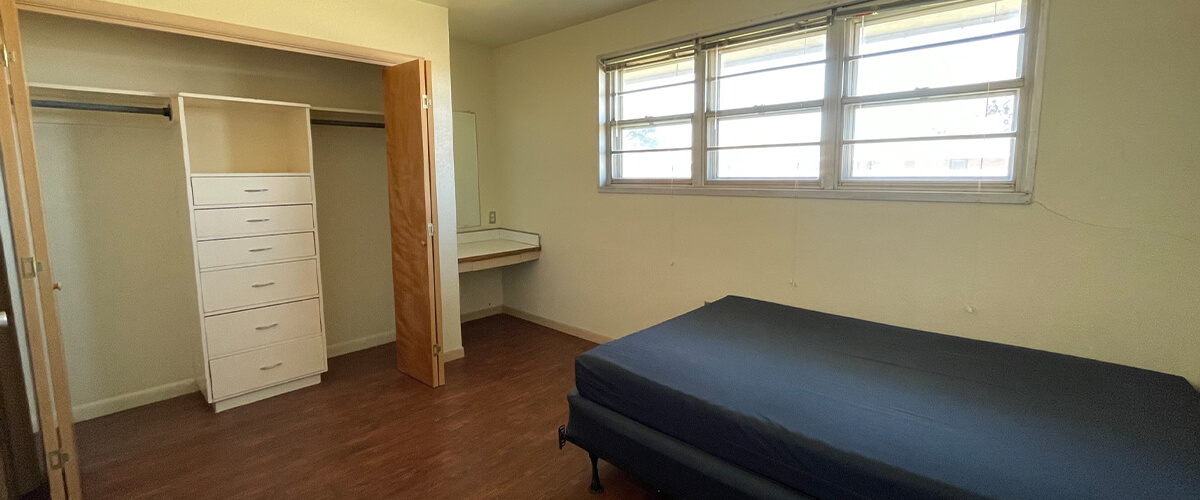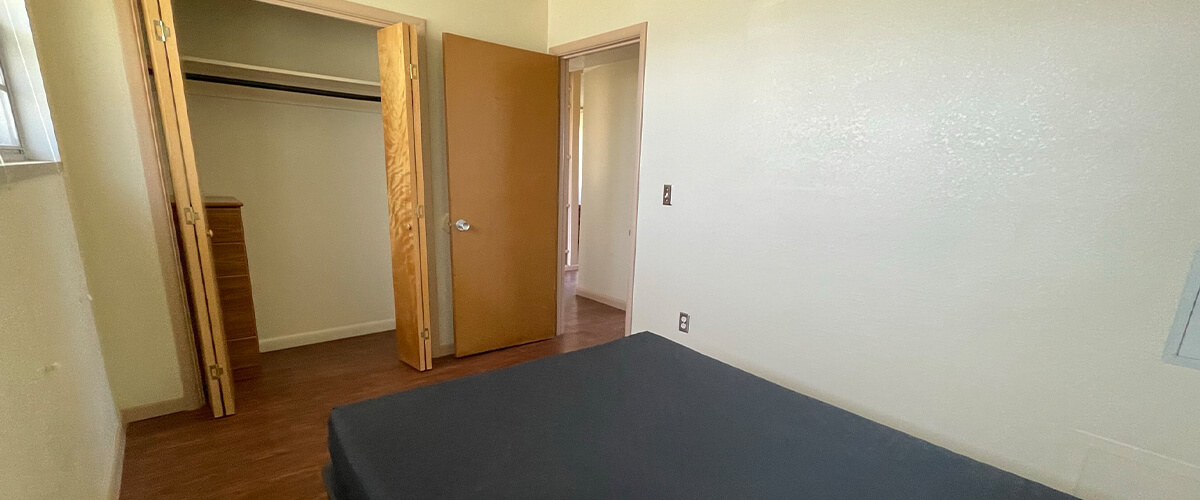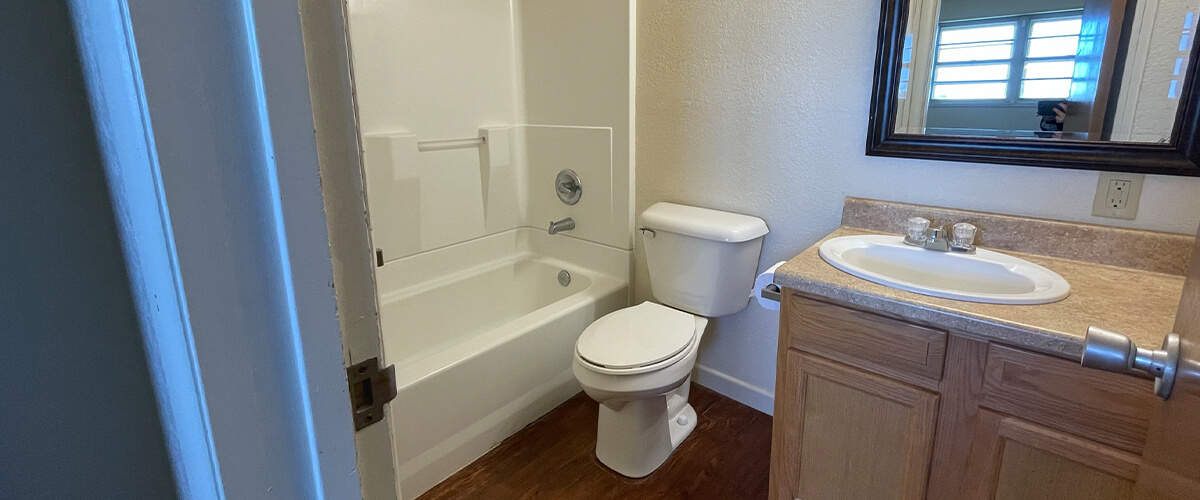 This apartment complex is University owned and operated, and features:
30 one-bedroom units
66 two-bedroom units
Playground area on site
One- and two-story buildings
Located 1/4 mile west of central campus
To qualify for a two-bedroom unit, you must have at least one child residing in the apartment for more than half of the year, or you must live with a roommate of the same sex.
Unfurnished apartments are available upon request.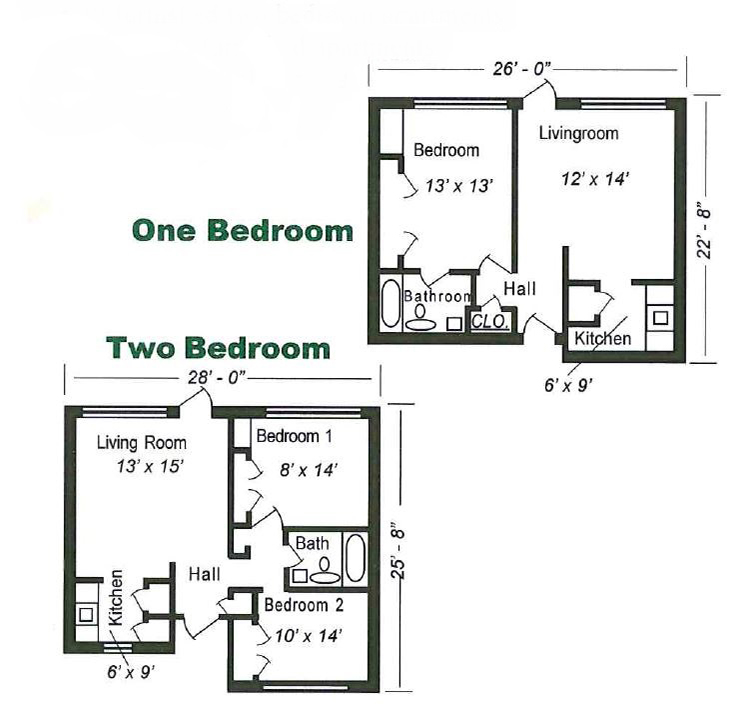 Monthly Rates
West Campus one-bedroom renovated: $657
West Campus two-bedroom renovated: $746
Monthly rates include all utilities, basic cable and local telephone service.
Deposit
The $150 security deposit you pay holds your apartment until you officially check out. It may not be applied as a partial payment of rent. You will forfeit your deposit if:
You check out of your apartment before the end of the contract period.
You do not vacate the apartment by the time noted in the contract.
You fail to check out properly.
The apartment needs cleaning or repairs.
Check-In Procedures
Check in with your apartment manager.
The apartment will have an inventory sheet completed for you to read and confirm.
The manager will have you sign the rental contract and give you keys.
You will be given a copy of the completed University Apartment Rental Contract, which lists your apartment number, rental charges, and official check-in date.
You may move in as soon as you receive your keys or at your earliest convenience.
Rent Payment
Your rent for the whole semester is charged to your student account at the start of each semester.
You may pay your rent in full or by making monthly payments. Payments are due between the first and tenth of each month with a credit card, check, cash or money order at the Cashier Window in the Administration Building or with cash, check or money order at the Office of Housing and Residence Life.
Be sure to check the date and rental charge on the lease when you check in.
Please note: Rent payments are separate from any payment arrangement you may have with ENMU for tuition or other University charges.
Failure to pay rent constitutes a breach of the rental contract, and you will be subject to eviction.
Eligibility
Eligibility to rent and occupy University housing is limited to full-time students of Eastern New Mexico University.
All rental leases are terminated when either you or the University terminate your status as a full-time student.
Apartments may not be rented for multiple family use.
Assignment to University housing does not include the right to use the housing for any business or professional purpose, for storage of commodities for sale or for any purpose other than a personal residence.
Apartment Manager
Student apartment managers live in each University apartment complex. These professionally trained Housing and Residence Life staff members are available to assist you during your stay at Eastern.
Managers:
Conduct check-ins and checkouts.
Submit any necessary maintenance requests.
Enforce housing department regulations.
Plan occasional community activities.
Managers serve as liaisons with the Office of Housing and Residence Life. Please feel free to contact them with any questions or concerns.
Furnished Apartments
Each unit is provided with:
Full size bed(s)
Sofa
Chairs
Refrigerator
Air conditioning
Electric kitchen stove
Dinette set
Access to app-operated laundry facility
You will need to supply your own curtains and curtain rods.
Window Sizes:
Bedrooms: 98" wide by 40" high
Living room: 66" wide by 56" high
Kitchen: 26" wide by 40" high
Back door: 24" wide by 36" high (bottom floor apartments only)
Resident will need to provide a microwave if they would like one.
Unfurnished Apartments
You may request that your apartment be unfurnished. Items provided in these units include:
Resident will need to provide a microwave if they would like one.
Wall Decorations
You are welcome to personalize your apartment with pictures and posters, but you may only use poster putty or tape that when removed does not harm the paint or wall. If you use nails or screws or harm the paint or wall surface, you will be charged for the cost of patching and painting the walls. That charge will be documented on your room inspection sheet when you check out.
Housing Transfers
If you are unhappy with your apartment, you may request a transfer to a different unit. Transfers will not be granted unless you have a zero balance, but there is no additional cost for a transfer.
Termination of Occupancy by the University
Eastern New Mexico University reserves the right to terminate occupancy (by giving advanced written notice) for the following reasons:
You are not an ENMU student
You fail to pay rent
You are unable to get along with other tenants or ar guilty of creating repeat disturbances
You can find additional information about living on campus in the Campus Living Guide.