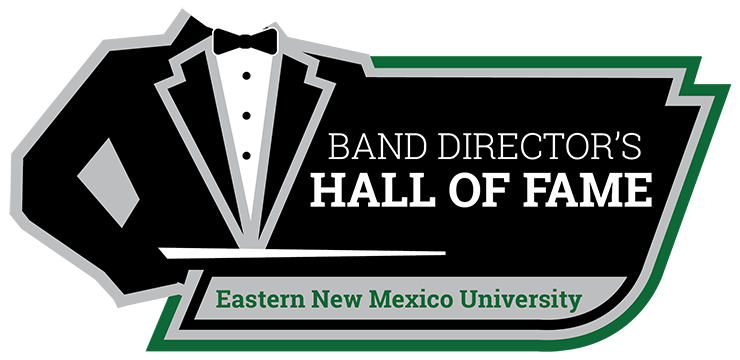 Background and Purpose
Established in April 2019, the ENMU Band Director's Hall of Fame recognizes retired high school, middle school or elementary school band directors who have demonstrated excellence in the field of instrumental music education over a sustained period.
Each year, the ENMU Band Director Workshop invites public school band directors and hosts an esteemed clinician/conductor on campus for clinic sessions and a formal concert. The Hall of Fame induction ceremony will be held during the culminating concert, generally scheduled for the first Sunday of the month of March at 3 p.m. in Buchanan Hall.
The plaque and photo gallery for the ENMU Band Director's Hall of Fame is located in the Floren Thompson Jr. Band Hall in the Music Building (MB), Room 136.
Sponsoring Organizations
ENMU Bands and Beta Lambda Chapter, Kappa Kappa Psi National Honorary Band Fraternity
Inductees
| Year | Inductee | School Affiliation(s) |
| --- | --- | --- |
| 2020 | Mr. Pat Henry | Carlsbad and Portales Municipal Schools |
| 2020 | Mr. Norvil Howell | Clovis Municipal Schools |
| 2021 | Mr. Van Ragsdale | Clovis Municipal and Alamogordo Public Schools; Ector County, Midland, Klein, Eanes, and Arlington (TX) Independent School Districts |
| 2021 | Mr. Jim Young | Los Alamos, Alamogordo, and Las Cruces Public Schools; Durango (CO) Public Schools |
Nomination Process
To nominate a candidate for induction in the ENMU Band Director's Hall of Fame send a cover letter and complete resume listing the candidate's service and achievements to:
ENMU Band Director's Hall of Fame
ATTN: Dustin Seifert
ENMU Station 16
1500 S Ave K
Portales, NM 88130
or
Email This email address is being protected from spambots. You need JavaScript enabled to view it., use subject line: ENMU Band Director's Hall of Fame.
Eligibility Requirements
Candidate must be a graduate (with a bachelor's and/or master's degree) of Eastern New Mexico University.
Candidate must be a retired director with the majority of their teaching occurring at the elementary, middle or high school level – not at the collegiate/university level.
ENMU Band Director's Hall of Fame Selection Committee
Tracy Carr
Emily Salgado
Richard Schwartz
Dustin Seifert, chair
Pamela Shuler
Sidney Shuler
---
Connect with us on Social Media
---
For More Information
Department of Music
ENMU Station 16
1500 S Ave K
Portales, NM 88130
800.FOR.ENMU (800.367.3668)
Phone: 575.562.2377
Fax: 575.562.4480