ENMU's Student Government Association (SGA) provides students a voice in University governance and helps to enhance the overall student experience. Student government is comprised of three branches: the executive branch, the legislative branch and the judicial branch.
The executive branch is led by the student body president and is comprised of other executive officials and directors. The legislative branch is led by the student body vice president (president of student senate) and is comprised of the legislative cabinet and student senate. The judicial branch is led by the chief justice and is comprised of other justices and support staff.
Tamia Smith
Student Body President
---
It is a pleasure and privilege to serve the student body of Eastern New Mexico University as the student body president. I am currently in my senior year at ENMU, majoring in criminal justice and minoring in psychology. I am originally from Arlington, Texas, and I graduated from Mansfield Summit High School. I was actively involved in powerlifting, track and field, and cheerleading in high school. I am the 2019 powerlifting championship in the state of Texas for 6A athletics.
I am currently a student-athlete at ENMU, and I compete in track and field. I have qualified and competed in seven meets during the 2021 outdoor season. I finished fourth in the shot put at the Lone Star Conference Championships with a personal best and program record throw of 13.27 meters (43-6.5). Finished fourth in the discus with a personal best distance of 41.02 meters (134-7) and sixth in the hammer throw with a personal best distance of 40.47 meters (132-9) at the Corky/Crofoot Shootout. I own the top five program records in the shot put.
I have served the ENMU student body as a senator, chief of staff, and student body vice president. I have served time on the ENMU Student Athletic Advisory Committee (SAAC) and have participated and chaired the Student Fees Board. I have also been involved in various University committees that are actively involved in governance. My goal after completing college is to become a law enforcement officer, eventually specializing in behavior analysis.
My goal as the student body president is to increase student involvement with senate and all organization on campus and get the students involved in something out of their comfort zone. It is important for students to come together and be actively involved in the university, not just those they are familiar with. This is an important component of bringing organizations and students together on campus.
I am honored and very excited to serve you as the student body president, to facilitate a wonderful and healthy time here at ENMU. I strongly encourage and welcome all students at Eastern to come to me with any questions, comments and/or concerns. I can be contacted at any time at This email address is being protected from spambots. You need JavaScript enabled to view it..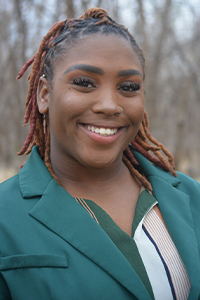 Payton Santillanes
Student Body Vice President
---
I am extremely grateful to have the opportunity to lead the 56th student senate and speak on behalf of the student body. I am currently in my junior year at Eastern New Mexico, majoring in Communications with emphases in broadcast production and broadcast journalism. I am a local student, born and raised right here in Portales, and graduated from Portales High as well. During my high school career, I was highly involved with extracurriculars such as media arts and theatre production.
I am currently a member of the Kappa Sigma fraternity on campus, where I hold multiple chairmanships and leadership roles. I also work at KENW on campus, where I am currently the lead weather anchor for News 3 New Mexico. I have served on the Student Fees Board and helped with other student life activities, such as participating in Dawg Days as a counselor.
My goal as student body vice president is to promote unity among all the organizations on campus, in order to increase overall student involvement. This university has many opportunities offered to anyone who takes them, and my main task is to make sure students on campus have the best experience possible during their time at Eastern.
I am honored and very excited to serve you as the student body vice president, to facilitate a wonderful and healthy time here at ENMU. I strongly encourage and welcome all students at Eastern to come to me with any questions, comments and/or concerns. I can be contacted at any time at This email address is being protected from spambots. You need JavaScript enabled to view it..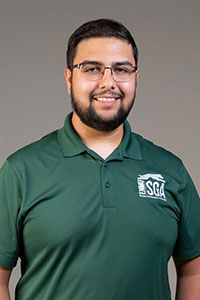 About SGA
Student government at ENMU is honored to serve the campus community. There are several opportunities for you to get involved. For more information, please feel free to contact the Student Government Advisor John W. Crates at This email address is being protected from spambots. You need JavaScript enabled to view it. or call 575.562.2122.
---
Connect with us on Social Media