State Requirements for Distance Education
Attention ENMU student:
Do you live outside of New Mexico?
Are you currently enrolled or do you plan to enroll at Eastern New Mexico University?
If you answered yes to both questions, the following state authorization information applies to you.
ENMU delivers online education programs and courses throughout the United States and abroad. ENMU has been continuously accredited by the Higher Learning Commission (HLC) since 1922. The HLC accreditation covers all of ENMU's campuses and programs. Additionally, The New Mexico Higher Education Department (NMHED) oversees and regulates all postsecondary institutions operating in New Mexico and recognizes that ENMU is authorized to offer programs in post-secondary education at both the undergraduate and graduate levels.
Recent amendments to the Higher Education Act of 1965 include changes to a regulation on state authorization that impact online and distance education providers. The regulation states:
If an institution is offering postsecondary education through distance or correspondence education to students in a State in which it is not physically located or in which it is otherwise subject to State jurisdiction as determined by the State, the institution must meet any State requirements for it to be legally offering postsecondary distance or correspondence education in that State. An institution must be able to document to the Secretary the State's approval upon request. (Authority: 20 U.S.C. 1001 and 1002)
In other words, ENMU must seek authorization to deliver distance education outside New Mexico borders. The regulation changes are designed to address the growing population of students residing outside the state in which they are pursuing university-level online education.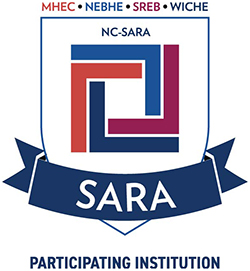 Eastern New Mexico University has been approved to participate in the National Council for State Authorization Reciprocity Agreements.