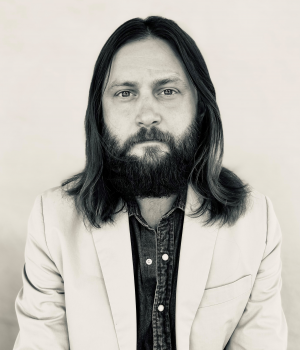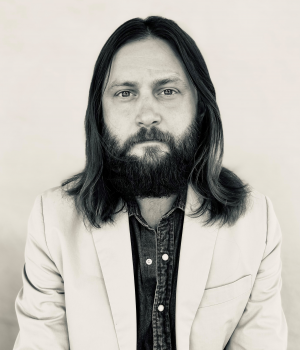 Julian Francolino
Title: Assistant Professor of Art
Office Location: AA 107
Phone: 575.562.2652
Education
Ph.D., Visual Studies, University of California, Irvine, 2021
M.A., Visual Studies, University of California, Irvine, 2018
B.F.A., Studio Arts: Drawing, Painting, Biola University, 2011
Bio
Julian Francolino is energized by teaching students how their lives and individual studio practices intersect with larger histories of art, spanning time periods, regions, and cultures. As a visual studies scholar and art historian, his research hinges on concepts and discussions of size, scale, and monumentality within visual cultures, especially in the 20th century. A practicing artist, Dr. Francolino enjoys the messy tasks of dovetailing his scholarly research with artistic production, investigating visions of dimension, scale, and monumentality within landscapes and built environments. Acknowledging the act of picturing a site and ecological environment as an entry point into preexisting and fraught histories of human fabrication, his more recent small scale landscape paintings usually address large scale human interventions in and manipulations of land, particularly those involving human-made water systems (canals, aqueducts, reservoirs, etc.). When he is not teaching or researching, you might find him plein air painting in some field, making a mess in his kitchen, or sitting on his porch.
Research Interests
Modern art, modernisms, monuments and monumentality, figuration and abstraction, landscape painting, theories of landscape, realism after modernism, interwar art, Retour a lordre, Socialist Realism, modern art in Central and Eastern Europe, Russian and Soviet avant-gardes, representations of labor in art, American art programs of the 1930s (PWAP, WPA, TSFA), Byzantine art and iconography, 16th- and 17th-century church painting in the Danubian principalities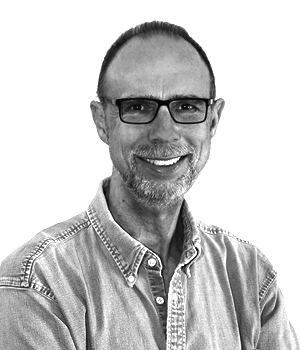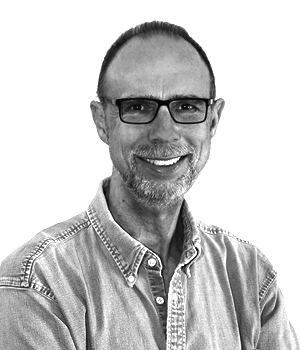 Scott Golem
Title: Assistant Professor of Art (Graphic Design)
Office Location: AA 108
Phone: 575.562.2162
Education
M.F.A., Graphic Design, University of North Texas (1993)
B.A., Graphic Design, Michigan State University (1981)
Bio
Influenced by his childhood in industrial Detroit, Scott describes his work as digitally abstracted and photographically-based collage with recurring subject matter such as distressed architecture, substrates, machinery and typography. His professional credentials include in-house packaging and visual merchandising design for Fortune 500 companies such as Dr. Pepper and J.C. Penney & Co. His publishing background encompasses both children's book designs for Pearson Education and art direction for technology trade magazines in the Richardson, T.X. Telecom Corridor.
Scott teaches graphic design, motion graphics, publication design, senior portfolio, and web design.
Research Interests
-Photography
-Graphic Design in Print
-Environmental Design
-Motion Graphics
-Community Art and Workshops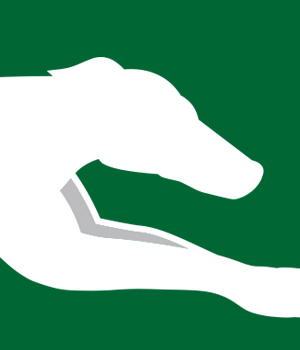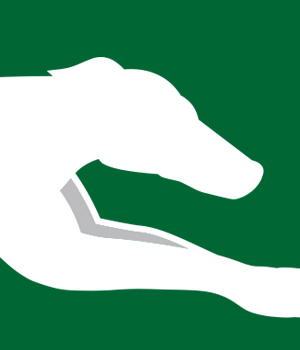 Brianna Schilling
Title: Administrative Assistant, Art
Office Location: AA 111
Phone: 575.562.2778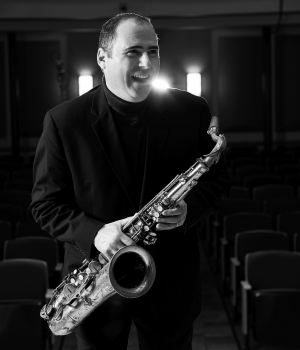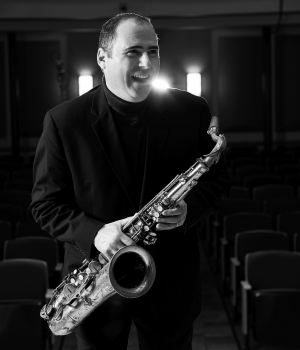 Richard Schwartz
Title: Professor of Music; Chair, Art Department
Office Location: MB 203
Phone: 575.562.2471
Education
D.M.A., Music Performance, Boston University (2010)
M.M., Music Performance, University of Michigan (1997)
B.M., Music Education, Temple University (1994)
Bio
Grammy considered saxophonist Dr. Richard A. Schwartz has commissioned and or premiered nearly thirty new works for saxophone, performed for regional, national and international events in North and South America and Europe and is the grand prize winner of the 1997 International Henri Mancini Institute Concerto Competition and recipient of the 2010 Southeastern Louisiana University Presidents Award for Excellence in Artistic Activity. After performing the Boston premiere of Jan Curtis Transformations for voice, piano, and alto saxophone in Jordan Hall, The Boston Globe declared, Richard Schwartz displayed extraordinary talent on the saxophone, sympathetically mirroring the voice and contributing his own improvisatory imagination.
Awarded three United States patents, Schwartz founded the music publication company SilverKeyMusic.com authoring the internationally recognized intonation tool The Tuning C.D. and many instructional guides in music education.
Research Interests
Research Interests
Faculty research interests include saxophone performance and pedagogy, jazz ensemble pedagogy, jazz history, jazz improvisation, jazz composition, musical intonation, advanced woodwind techniques including multi-phonics, circular breathing, double-tonguing, the altissimo register, and more, entrepreneurialism in music, sight-reading techniques, recruitment techniques and more.
Gregory Senn
Title: Professor of Art (Three-dimensional Studio Art)
Office Location: AA 103
Phone: 575.562.2687
Education
M.F.A., Studio Art: Ceramics, West Texas State University (1985)
B.S., Comprehensive Art, University of Wisconsin-Platteville (1982)
A.S., Art, University of Wisconsin-Marathon County (1977)
Bio
Greg grew up in a rural area in northern Wisconsin where he developed a lifelong interest in the outdoors, and specifically fishing with the flyrod and "poppers" - surface baits which he makes himself. He has built custom rods as well as developed custom patterns in his pursuit of both bluegills and bass, and has been a confirmed catch and release fisherman since 1974. He is also an addicted scuba diver and skin diver - even though this seems a little silly considering he lives on the high plains desert.
Greg teaches three-dimensional design, sculpture, and jewelry.
Research Interests
-Portrait/Figure Sculpture in Concrete, Glass, and Iron
-Commission Jewelry/Metal Casting
-Fiberglass/Resin Casting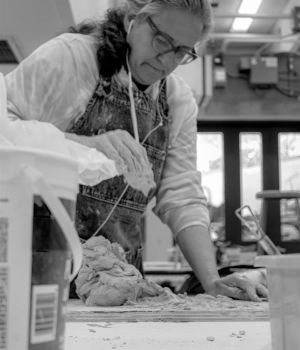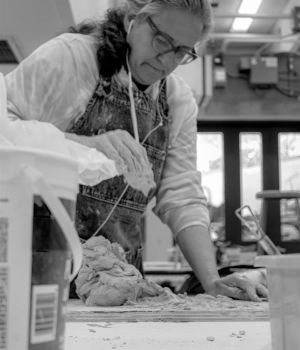 Ann Underwood
Title: Assistant Professor, Art and Graphic Design
Office Location: AA 109
Phone: 575.562.2729
Education
M.F.A., Studio Art, West Texas A&M University (2022)
B.F.A., Graphic Design, West Texas A&M University (1999)
Bio
Ann?s recent work is about contemporary society?s expectations of people in their gender roles, but her particular focus is on women and the struggles they endure in a world that still lacks equity and equality. Her work responds to the subtle, and sometimes not-so-subtle, expectations of gender roles; dealing with domesticity, body image, workplace power struggles, and violence against women. Ann explores these social constructs and constrictions through the concept of ?boxes? and ?labels?. To counteract this limiting aspect, she focuses on surface treatment and distorts a standardized box label with words that echo words of conditioning received starting at a young age. Showing how the standardization and commercialization of the common box must be overridden to find one?s voice. By reacting to those oppressive verbal labels and the confinements of being put into a box in a figurative sense, she engages the audience to experience the words meant to have power or control. Satirizing the original standard text in ways that challenge and rewrite the labels she creates in her work forces the audience into an intimate space to deal with or fit into these ?social norms?. She primarily uses screen and relief printing to express herself but also draws, collages, and plays with photography and ceramics.
Ann has 25 years of experience as a graphic designer and eleven years as a director of a creative shop. She is a recent empty-nester with three adult children. She loves her plants, pets, visiting art galleries and museums, and attending live music. She received her B.F.A .in Graphic Design (1999) and M.F.A. in Studio Art (2022) both from West Texas A&M University.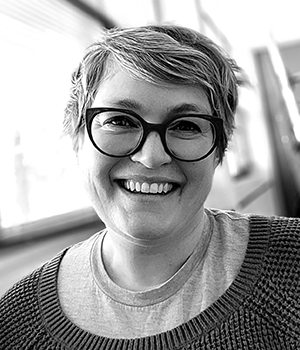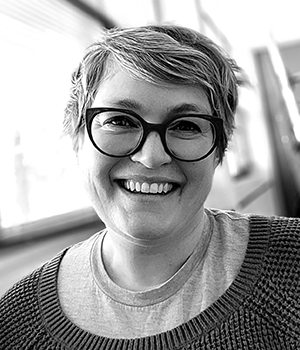 Britta Urness
Title: Assistant Professor of Art
Office Location: AA 105
Phone: 575.562.2515
Education
MFA, Painting and Drawing, Printmaking minor, University of Iowa (2008)
MA, Painting and Drawing, University of Iowa (2007)
BFA, Studio Art, Painting emphasis, University of Wisconsin-Madison (2004)
Bio
Britta Urness investigates drawing, painting and printmaking language, often combined to layer ideas, atmospheres, and figures within two-dimensional works (and sometimes ventures to the third-dimension). She has shown her work in the Midwest in places such as St. Ambrose University, the Ann Arbor Art Center, Delta College in Saginaw, MI, the Grand Rapids Art Center in Grand Rapids, MN, The Scarab Club in Detroit, Buckham Gallery in Flint, and the University of Nebraska-Omaha. Britta often participates in national print exchange portfolios, an accomplished community workshop instructor and a lifelong student of all art processes. She is a self-professed Word Nerd consumed by crossword puzzles and trivia, strength sports enthusiast, and an avid traveler thrilled to be living in the Southwest.
Prof. Urness teaches all levels of painting and drawing courses.