Master of Science in Nursing (MSN)
Flexible, accredited, 100% online MSN degree with a nurse educator emphasis.
Complete the form below to get more information about the Master of Science in Nursing Program
Our online Master of Science in Nursing (MSN) program offers opportunities for professional nurses to become nurse educators and to directly impact our current and predicted national nursing shortage. Our program is designed for you if you are a nurse and wish to complete your MSN degree in two years or less. The program is designed to foster motivation, self-directedness and setting of personal and professional goals, at your own pace. Our master's in nursing online program fulfills the following needs student learning outcomes:
Prepares you to assume the role of nursing instructor in associate and baccalaureate degree nursing programs in the state of New Mexico and beyond
Prepares you for the role of educator in a Nursing Professional Development (NPD) program
Qualifies you to sit for the National League for Nursing (NLN) Certified Nurse Educator (CNE) Exam right after you complete the MSN Program
Addresses the national and statewide nursing shortage by providing a larger pool of nursing instructors to enable the expansion of, increase, graduate output of nursing schools in the region and throughout the U.S.
Provides you the opportunity to achieve a master-level nursing degree without leaving your community, while working full-time, and through a quality, low-cost, public institution of higher learning
MSN Application Graduate School Application
End-of-Program Student Learning Outcomes
By the end of the program, graduates will be able to:
Evaluate contemporary nursing curricula in both academic nursing education and professional staff development programs.
Implement leadership principles in response to the growing complexity of health care instructional needs at all levels.
Appraise nursing philosophy and methods of qualitative and quantitative research to make evidence-based nursing practice decisions as an educator.
Formulate personal and professional ethics regarding health policy decisions, planning, and actions to be undertaken to achieve quality health care delivery within a society.
Design a contextual nursing program curriculum.
Develop culturally sensitive and evidence-based teaching strategies, addressing the needs of diverse learning populations.
Affordable
Eastern New Mexico University has the second lowest bachelor's and master's-level tuition in the state, and is one of the most affordable advanced degree nursing programs in the United States. If you are an out-of-state student enrolling in six or fewer hours per semester, you'll pay tuition and fees at the low in-state rate.
View Graduate Tuition and Fees
Scholarships and Financial Assistance for MSN Students
A variety of sources of financial assistance are available to graduate students at Eastern. In addition to Foundation scholarships, we have scholarship funding available specifically to nurse educators in our Master of Science in Nursing Program.
New Mexico Nurse Educator Scholarship
The New Mexico Higher Education Department provides our MSN Program priority scholarship funding annually, with the goal of increasing the number of nurse educators within the state. Nurse educators are needed to provide instruction to nursing students to help address the critical nursing shortage throughout the state.
To qualify for this scholarship, you must be a resident of New Mexico and maintain a GPA of 3.0 or higher. The amount awarded each semester by the Nursing Program is based on available funds and the number of hours in which you are enrolled. For more information about this scholarship, contact , administrative assistant for the Nursing Program.
Structure
The MSN degree at Eastern New Mexico University is comprised of:
Thirty-six total credit hours, including 12 credits in the master core and 24 credits in the education emphasis
The completion of two classes (6 credits) each spring, summer and fall semester to facilitate degree completion within two years
View additional information in the MSN handbook
Accreditation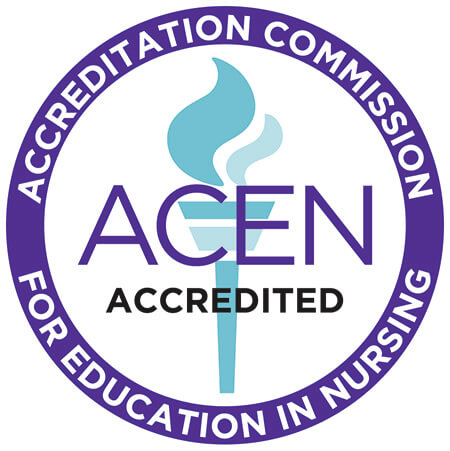 The Eastern New Mexico University Master's of Science in Nursing (MSN) program at 1500 S. Ave K., Station #12, located in Portales, NM 88130 is accredited by the:
Accreditation Commission for Education in Nursing (ACEN)
3390 Peachtree Road NE, Suite 1400 Atlanta, GA 30326
404.975.5000
The current accreditation decision made by the ACEN Board of Commissioners for the Master of Science in Nursing (MSN) program is: Continuing Accreditation.
View the public information disclosed by the ACEN regarding this program
Master of Science in Nursing – Student Achievement Data
Students Completing the Program:
Graduates complete the MSN program within an average of 2.5 years. Students taking 6 or more credit hours per semester can complete the program in 16–20 months.
Part-Time enrollment: 100% (under 9 credit hours per semester).
Employment:
94 percent of students who received their MSN degree in the 19-20 academic year are employed in nursing and/or nursing education.
MSN Course Rotation
Note: Degree information shown on this page is based on the 2020-22 Graduate Catalog.
| Course | Fall | Spring | Summer |
| --- | --- | --- | --- |
| Nursing 502 Research Methods in Nursing | Yes | Yes | No |
| Nursing 506 Ethical and Legal Views of the Changing Health Care System | No | No | Yes |
| Nursing 508 The Nurse Leader: New Perspectives on the Profession | Yes | Yes | No |
| Nursing 510 Nursing Concepts and Theories | Yes | Yes | No |
| Nursing 512 Teaching Strategies for Nurse Educators | No | Yes | No |
| Nursing 514 Curriculum Development, Assessment and Evaluation | Yes | Yes | No |
| Nursing 516 Roles, Responsibilities and Relationships of the Nurse Educator | No | No | Yes |
| Nursing 517 Integrated Concepts of Disease Management | No | No | Yes |
| Nursing 540 Research Applications in Nursing | Yes | Yes | No |
| Nursing 544 Clinical Capstone | Yes | Yes | No |
| Education Foundations 503 Educational Psychology | Yes | No | No |
| Education Foundations 538 Instructional Design for Educators | Yes | Yes | Yes |
---
As New Mexico's largest regional comprehensive university, ENMU offers students more than 90 undergraduate, graduate and certificate options. On our campuses you will find a diverse student body made up of individuals of all ages, backgrounds, interests and points of view. With affordable tuition and flexible course schedules we offer an education that fits your lifestyle and puts your career goals within reach. Apply now or contact us to learn more about our Master of Science in Nursing.