Carlos Bueno, an online student pursuing a Master of Science in Nursing (MSN) from Eastern New Mexico University, would like to become a nursing instructor to "encourage and support" students pursuing a nursing degree.
"I think it is important that all experienced nurses advance the nursing profession by helping the nursing students and novice nurses," said Carlos, who has been a registered nurse for over 22 years.
He earned an Associate Degree in Nursing from Santa Fe Community College in 1996 and a Bachelor of Science in Nursing from the University of New Mexico in 2011.
Carlos was inspired to pursue nursing after he became "fascinated" with the human body when he took an "Anatomy and Physiology" class in 1992. "Prior to taking that course, I had never imagined pursuing a career in the medical field. It had been my assumption that someone had to be really smart to be a medical professional," he shared.
As a full-time employee with a family, Carlos decided to get his master's degree online. "I chose ENMU because of the online program design and its very affordable tuition. After being accepted to the program, I was surprised to find out nursing scholarships were available every semester!
"In addition, I liked the smaller school atmosphere. My family and I visited the campus for the annual scholarship award ceremony and found it to be a warm, student-centered community."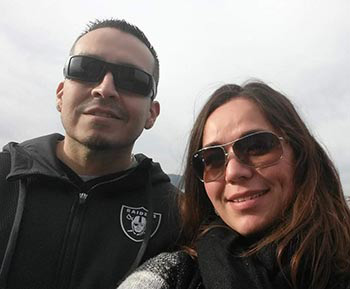 The MSN student is the nurse manager of Outpatient Mental Health clinics at the Albuquerque VA Medical Center. "I supervise 24 nursing personnel in eight clinical settings. As an integral part of the Outpatient Mental Health multidisciplinary team, our nursing team provides triage, care coordination and disease management of mental health disorders to ensure patient safety, improve patient access and patient outcomes" he shared.
"I am happy in my new role as a nurse manager but I will consider pursuing a chief nurse position should the opportunity arise in the next ten years. And after retirement, I will like to become a full-time instructor. In the meantime, I would like to be a part-time instructor or serve in an adjunct faculty role.
"I have been fortunate to serve the diverse patient populations in several areas of New Mexico and plan to remain in the state, to continue serving New Mexicans."
Carlos, who will graduate this December, acknowledges the excellent guidance he has received from his professors, including Dr. Kristin Kuhlmann, Dr. Susan Bassett and Dr. Cynthia Nuttall, during the two years he has attended ENMU. "Overall, I have had a pleasant online experience at ENMU. I found all the nursing program staff to be consistently supportive, approachable and understanding."
When asked about his favorite class, the graduate student said he felt that all of the classes were "important in achieving the program goals. The 'Clinical Capstone' course brings it all together and allows the student to apply the knowledge in clinical environments."
He reflected how vital a support system is to one's milestone achievements: "If you are working full time with a family, I highly recommend surrounding yourself with a strong support system. My wife, daughters and parents have been encouraging and extremely supportive.It can be difficult to juggle work and school, but I work for an excellent supervisor and with excellent coworkers who are very supportive of each other."
He encourages students interested in nursing to "pursue this diverse field, especially racial and ethnic minority males. After taking that 'Anatomy and Physiology' course, I decided that I wanted to help people and I chose nursing because it is a very diverse field. The profession can be applied in numerous clinical settings for private and government agencies nationally and worldwide.
"Nurses have the firsthand introduction to the healing process in the lives of patients, from being sick to a healthier state. Patients also recognize the vital roles that nurses play, providing healthcare during their entire hospital stay. As a result, for almost 20 straight years, nursing has been considered the most trusted profession in the U.S."
Carlos was born and raised in Santa Fe, New Mexico, to Hispanic and Native American parents. His parents have been married for 48 years, and he has two younger brothers. His father is a retired plumber, and his mother was a housewife. They now sell synthetic turf together. "My parents have always worked well together in business and ensuring optimal customer satisfaction," explained the Greyhound.
With the end of his MSN program in sight, Carlos shared that he looks forward to resuming his hobbies after graduation. He enjoys playing softball, exercising and spending time with his family.
"Our daughters keep my wife and I busy with their softball and swimming schedules," said Carlos, who is a coach and umpire for Little League softball with his wife. They also like taking road trips, camping, hiking, going to movies and watching the Raiders on Sundays.