The Music Building
---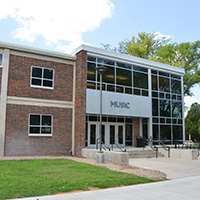 Originally constructed in 1957, the Music Building underwent a $12 million renovation and expansion in 2009 yielding a state-of-the-art facility.
Buchanan Hall
---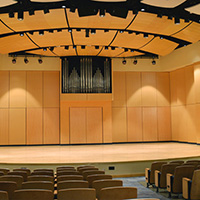 Dedicated to longtime faculty member Ms. Gillian Buchanan, Buchanan Hall is the Department of Music's signature performance venue. The 250-seat recital hall is lauded as one of the finest performance halls in the southwest. All performances in Buchanan Hall are live streamed via superior recording, audio, video, and computer technology.
Floren Thompson, Jr. Band Hall
---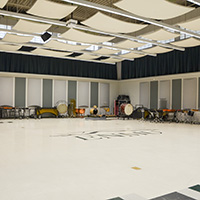 Named after legendary band director, Floren Thompson Jr., the Band Hall is the largest smart classroom on campus. Notable features include a superior ceiling and wall treatments, which contain fully-retractable acoustical curtains.
George Umberson Choral Rehearsal Room
---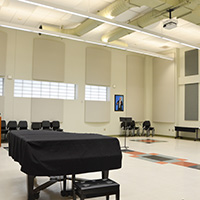 With the addition of the band hall, our choirs gained a rehearsal room, which was dedicated to Dr. George Umberson. The Umberson Choral Rehearsal Room is also a smart classroom, featuring outstanding video, audio and computer technology.
Outdoor Concert Stage and Green
---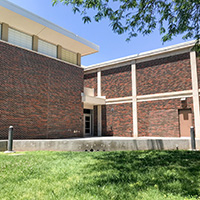 The Outdoor Concert Stage is well-suited for performances by the Steel Band, Jazz Ensemble, Jazz Combo, and chamber groups. The Green provides a wonderful picnic area for concertgoers.
Classrooms
---
Students receive instruction in smart classrooms which are fully-integrated with the recording studio. The instructional mission of the department is achieved in four primary classrooms. All of the classrooms are comfortable and well-equipped. MB211, MB212 and MB237 are fully-integrated smart classrooms. All classrooms are connected to our recording studio, allowing flexibility in the many recording projects that our students and faculty undertake during the academic year.
Midi Lab
---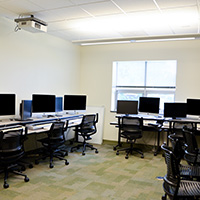 The Midi Lab is outfitted with Mac computers featuring the latest composition, recording, and music editing software.
Teaching Studios/Faculty Offices
---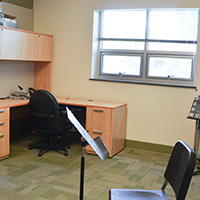 Students receive a weekly lesson from their primary Instructor in a spacious (280 square feet with 9-foot ceilings) studio.
Practice Rooms
---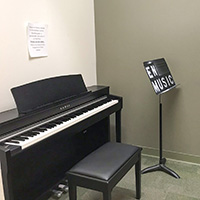 The Music Building contains 18 practice rooms and 2 sound labs, furnished with pianos/keyboards, music stands, seating, and adjustable upright mirrors for personal observation during practice. University Friends of Music Student Lounge
University Friends of Music Student Lounge
---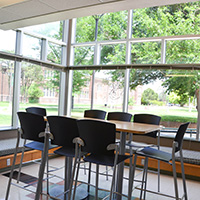 The University Friends of Music Student Lounge is located on the northeast side of the Music Building. The student lounge is a popular place for students to gather for lunch, informal meetings and study. Like the rest of the Music Building (and most of campus), the University Friends of Music Student Lounge has free Wi-Fi access.
Piano Inventory
---
The Department of Music maintains an inventory of concert grand, grand, upright pianos, and digital keyboards. The Piano Lab features digital Kawai keyboards that are integrated with a KLCS Music Lab System and a Key/Note Visualizer.
Security
---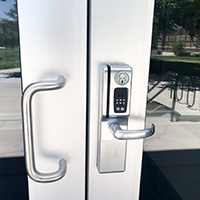 During hours when the Music Building is closed to the public, students, faculty, and staff gain entrance to the facility via card-swipe locks that are positioned on two exterior doors.