You can work in many of our studio and lab spaces outside of regularly scheduled class time, making access to essential equipment, supplies, software and space much more convenient and supportive of your education.
Costume Shop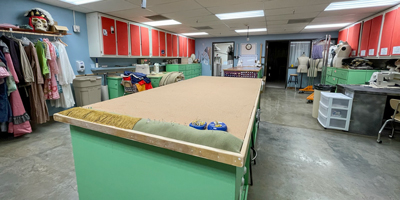 Inside our Costume Shop is a space that allows you to design and build costumes for theatre and film productions. The space features sewing machines, fabric dyeing equipment, tall work tables, a fitting space and laundry equipment, just to name a few things. In addition to our costume shop, we have an off-site costume storage facility that holds thousands of articles of clothing and accessories.
Dance Studio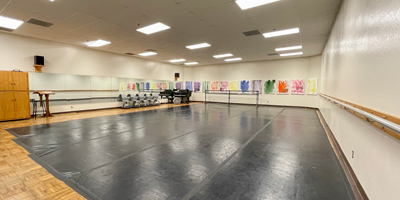 The Dance Studio is a spacious facility with tall ceiling, mirrors, sound system and Marley dance floor. You'll have the opportunity to study movement for the actor in the space as well as some dance classes. The space is often used for pre-show physical and vocal warm-ups.
Green Room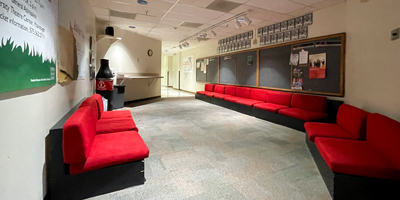 Our Green Room is snuggled between our Mainstage and Studio Theatre and allows you a place to relax and focus yourself while you wait to take stage. Between productions, the Green Room serves a communional space for you to relax, study or visit with your friends.
Mainstage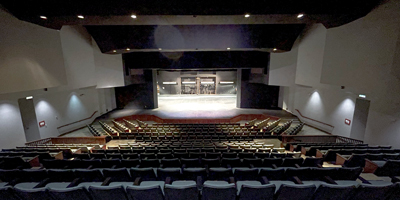 Our premier performance space, the Mainstage, comfortably accommodates 400 theatre goes and is one of the largest modern theatre venues in the region. With the use of the fly system, orchestra pit, lighting, sound and projection system, and sizeable two-story-tall barn doors (for moving set pieces in and out), innovative and creative set, lighting, and costumes designs come to life for the plays and musicals produced in this pace. You'll have the opportunity to audition and perform in a variety of shows that put you center stage.
Makeup Studio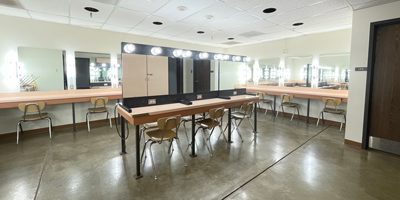 Transforming yourself through the application of makeup and hairstyle is made easier by use of our Makeup Studio. This space features 20 well-lite makeup stations and men and women's lock rooms. During productions, performers often find a sense of community while in the Makeup Studio as the cozy space encourages conversation, collaboration, and creativity.
Scene Shop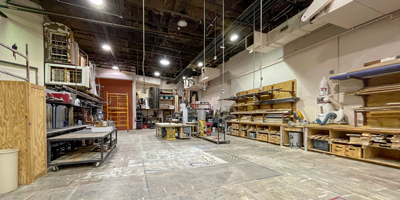 Our large and well-lite Scene Shop allows you to build and assemble flats, platforms, scenery and any number of other items needed to bring your set designs to life. Although personal safety is paramount while working the Scene Shop, it is perfectly accepted to get messy while in pursuit of your creative vision. Your finished work will be wheels through one of two, two-story tall garage doors (one leading to the Mainstage and the other the Studio Theatre) where you're set design will be fitted into place and lit.
Smart Classroom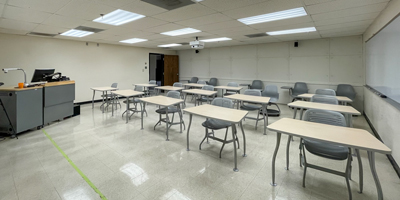 Used primarily for lecture classes and student meetings, our smart classroom is a welcoming space to all that come into it. The room has a projection system and surround sound, elevating your visual and auditory experience. You can also access wireless internet within the room.
Studio Theatre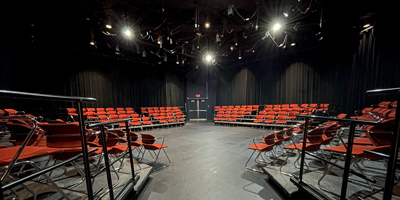 Our Studio Theatre, also called the "Black Box," is a performance space that accommodates up to 200 theatre goes and can be used for theatre in the round or as a thrust stage. Known for its intimacy, the Studio Theatre allows audience members to be up-close and personal with the actors. The Studio Theatre often premieres new works from faculty, students, and guest artists and provides student directors an opportunity to flex their creative muscles. You'll have the chance to audition and perform in various shows in this exciting space.
The Dr. R. Lyle Hagan Commons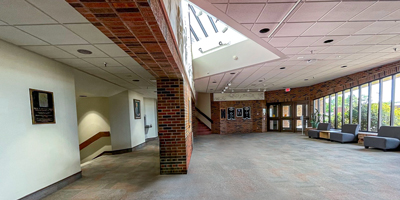 Named after ENMU Professor Emeritus, Dr. R. Lyle Hagan (who is credited with advocating for the construction of the UTC and founder of Drama Festival), our bright and cheerful lobby space, with costume art installation and box office windows, allows theatre goes a space to congregate in while waiting for the house to open, during intermission or after the show when the cast and crew comes out for meet and greets.