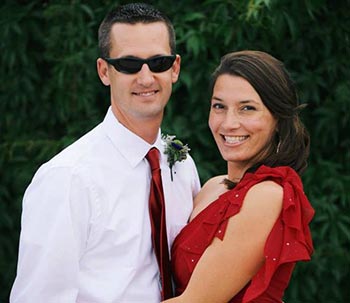 "Be prepared to give it your entire heart and life. It is time and energy-consuming, and it probably frustrates you beyond anything you've ever done," says Sabrina Daniel, a student in the Eastern New Mexico University system, about the field of nursing. "It will take all your heart and dedication to do well and succeed. But it is the most fulfilling, amazing and rewarding career choice,"
"I love caring for others. I have a desire to do so in the most effective, efficient way I can. Attaining my BSN is the next step in this journey. I will begin the nurse practitioner program in January 2020," she says.
Sabrina is currently employed as a registered nurse at the Lovelace Regional in Roswell, New Mexico. Her primary unit is the catheterization laboratory, but she has the opportunity to work in several units, including labor and delivery, intensive care, cardiac catheter and medical-surgical. This year, Sabrina was the first Lovelace Regional Hospital nurse to receive the Daisy Award in nursing, a distinguished award for exceptional nurses.
She states, "My job gives me a vast knowledge of disease processes and health and wellness. I am going to attain my certified family nurse practitioners license and degree. I will focus on women and children."
Sabrina started college at the age of forty, but didn't pursue nursing until forty-three. Prior to attending ENMU-R, Sabrina was a student at Grand Canyon University, but she felt that her education was lacking. "I decided to check out ENMU, and I was hooked," she says. "I made the best decision. I love knowing how applicable the classes and teaching is to my career choice."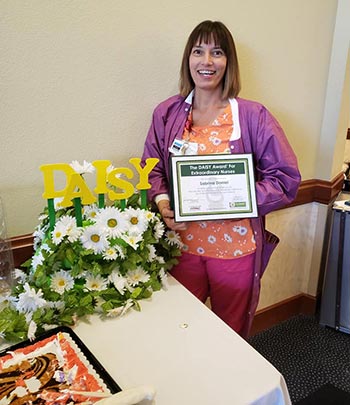 While she has appreciated all of her professors, Sabrina names two instructors of nursing at ENMU, Judith Piepkorn and Dr. Susan Bassett as being especially impactful on her educational career. "They have advised and supported me throughout this year, helping me to make wise and beneficial decisions in classes and direction," Sabrina explains.
"Integrative Care Concepts" has been Sabrina's favorite course. She states, "I love how it shapes my nursing perspective, showing me how to implement various types of modalities to benefit my patients."
While in college, Sabrina has been involved in a multitude of activities. She tutors biology, anatomy and physiology, microbiology and nursing students. She also created the tutoring program for nurses at ENMU-R.
She is a member of Phi Theta Kappa, an honors society for nursing students, and a member of the National Honor Society. She has been on the Dean's List since she started college and received a Who's Who Award at ENMU-R. Sabrina has received various scholarships throughout her associate's and bachelor's degrees, including over ten Foundation scholarships.
Off-campus, Sabrina loves to run. She regularly partakes in marathons and can be found running anywhere from three to 12 miles on a regular basis. In addition, she is a worship leader at her church and mentors younger women and single moms.
Sabrina was born in Houston, Texas, but has lived in San Diego, California; Chicago, Illinois and Florida with her mother, who is retired from the Navy. Sabrina and her husband, who is a police officer, have lived in Roswell, New Mexico for sixteen years. She has two siblings, a half-sister who lives in Dallas, Texas and a brother who passed away in 2013. Along with her four children, she helped raise her niece, who started as a track and field athlete at ENMU this semester. Sabrina has two grandchildren.