Professional Licensure Disclosures
The information below is intended to help prospective and current students determine whether the following programs lead to professional licensure in each state. Even if a program does not lead to licensure in your state, it may still be possible to obtain licensure via reciprocity with New Mexico. Licensure information is collected and updated annually by each program's department chair or director. Please contact the appropriate person below if you have any questions about professional licensure.
View ENMU's Professional Licensure Disclosures
Disclaimer: Eastern New Mexico University cannot confirm whether any particular course or program meets requirements for professional licensure in states other than New Mexico. If you are planning to apply for licensure in a state other than New Mexico after completion of your program, contact that state's appropriate licensing board to determine whether the ENMU program meets licensure requirements in that state. If you need assistance finding contact information for your state, or if you need additional information regarding professional licensure, please contact us toll-free at 800.FOR.ENMU (800.367.3668).
State Authorization Reciprocity Agreement (SARA)
The following is a list of states where ENMU is authorized to provide online courses. A State Authorization Reciprocity Agreement (SARA) is an agreement among member states that establishes comparable national standards for interstate offering of postsecondary distance learning courses and programs. SARA is intended to make it easier for you to take online courses offered by postsecondary institutions in a state other than the one in which you currently reside.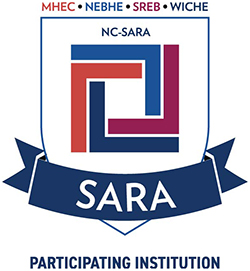 Eastern New Mexico University has been approved to participate in the National Council for State Authorization Reciprocity Agreements.
New Mexico
To access the NC-SARA Student Complaint Process for New Mexico kindly click on the link below::