At ENMU counseling services we know that mental health is a complex and important part of your holistic health. When talking about mental health we focus on eight factors that affect your mental health. We call these the Eight Dimensions of Wellness.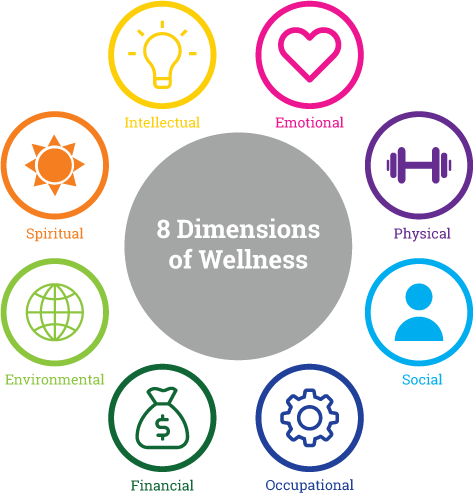 Emotional
Being emotionally well means that you have high self-esteem, a strong sense of self, and you are able to cope effectively with the events of your life. You are in tune with your feelings and are able to express them in a constructive way.
Environmental
Being environmentally well means that you find your surroundings to be pleasant. You are able to create home, work, and play environments that make you feel creative, safe, and inspired.
Financial
Being financially well means that you are satisfied with your current financial situation and are pleased with the steps you have taken to plan for your financial future.
Intellectual
Being intellectually well means that you feel you are using your knowledge and creativity to their fullest potential. You think critically, you are open to new ideas, and you seek out ways to expand your knowledge, learn new skills, and utilize your creativity.
Occupational
Being occupationally well means that you are satisfied with your work and feel that it is enriching your life (If you are a student, this means your major, classes, homework, etc.). You find your work interesting, enjoyable, and meaningful.
Physical
Being physically well means that you care for your body through healthy eating, physical activity, proper hygiene, and sleep.
Social
Being socially well means that you are able to build healthy relationships. You have established a strong support system and feel a sense of connection and belonging with the people you interact with.
Spiritual
Being spiritually well means that you find purpose and meaning in your existence, as well as the existence of all humankind. You spend time reflecting on and appreciating your life and purpose, whether this is through religion, meditation, yoga, journaling, spending time in nature, enjoying the arts or any other activities that you find meaningful. Your actions reflect your personal beliefs and values, and you feel calm and at peace with who you are.
If you're struggling with any of these parts of you, please come visit us at ENMU Counseling and Career Services.
---
Connect with us on Social Media

---
For More Information
Counseling and Career Services
ENMU Station 34
1500 S Ave K
Portales, NM 88130
Office Location: Student Academic Services (SAS), Room 232
800.FOR.ENMU (800.367.3668)
Phone: 575.562.2211
Fax: 575.562.2215
---
Our mission in Counseling and Career Services is to provide the University community with comprehensive, high-quality personal and career counseling as well as multiple resources and educational training to enable students, faculty, staff and alumni an opportunity to secure personal wellness and achieve employment goals.