Jane Christensen
Mrs. Jane Christensen was appointed to the Board of Regents in February 2013 and was elected vice president for the board in March. She is a Portales native and ENMU alumna, earning her bachelor's and master's degrees in business administration (1981 and 1983). Mrs. Christensen is an avid supporter of ENMU sports, fine arts, student groups and clubs. As owner of Portales Homes LLC DBA Homespot in Portales and Clovis, she sponsors a business scholarship through the ENMU Foundation. Active in the community as well, Mrs. Christensen has served as commissioner on the Alamogordo Museum of Space History Board and as a member of the ENMU College of Business Advisory Committee; she is currently a member of the Portales Military Affairs Committee. Mrs. Christensen was an exchange student to Japan while attending ENMU, and she has continued that international experience by hosting five high school exchange students in past years, one of whom later graduated from ENMU. Mrs. Christensen and her husband Scott raised two children who graduated from New Mexico universities and are working in New Mexico.
Terry Othick
Terry Othick of Albuquerque joined the Board of Regents in March 2015. Mr. Othick has more than 40 years of experience in the information technology field through a career in the private, public, and education sectors. He was Chief Operations Officer for the Los Lunas School District, Chief Information Officer for both the New Mexico Department of Labor and the Department of Workforce Solutions, and worked 25 years with the Public Service Company of New Mexico. Mr. Othick served on the Board of Directors for the New Mexico Golden Apple Foundation and the ENMU Alumni Association. He earned the ENMU Distinguished Service Award in 2013 for his success in raising scholarship funds for the University. Mr. Othick has taught undergraduate and graduate technology courses at both Eastern New Mexico University and the University of New Mexico. He holds a Bachelor of Business Administration and a Master of Business Administration, both from Eastern New Mexico University.
Kekoa VonSchriltz
Mr. Kekoa VonSchriltz was appointed for a two-year term as student regent for ENMU's Board of Regents in January 2017. He is a sophomore Psychology and Criminal Justice major. A graduate of Las Cruces High School, Mr. VonSchriltz is a native New Mexican and is interested in pursuing a career in law enforcement. Mr. VonSchriltz is active on the ENMU campus as a President's Ambassador, Safe-Ride driver and member of Kappa Sigma Fraternity. He has been involved with civic events such as Eastern in Action and helped organize the St. Jude Children's Research Hospital fundraiser on the ENMU-Portales campus in 2016.
Dr. Dan Patterson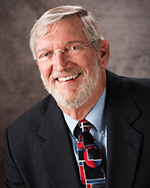 Dr. Dan Patterson was appointed to the ENMU Board of Regents in April 2015. Dr. Patterson is a noted educator and Human Resource professional in New Mexico and Colorado with 48 years in education that includes terms as superintendent or assistant superintendent. He has previously served on the Board of Directors of the New Mexico Public School Insurance Authority and as a regent for Western New Mexico University. Dr. Patterson was twice named as "Personnel Administrator of the Year" by the New Mexico Coalition of Educational Leaders. He has been recognized by numerous governmental agencies, civic organizations and professional associations for his contributions to communities and education in New Mexico and Colorado. In 1998, he was recognized by Governor Gary Johnson for his anti-violence education program in the Las Cruces Schools. Dr. Patterson also served on the Board of Directors of the El Pomar Foundation, a philanthropic organization in Colorado Springs. He holds a Bachelor of Science degree in English and speech from Edinboro University in Pennsylvania, a Master of Education Degree in secondary education from Northern Arizona University, an Educational Specialist Degree in administration from the University of Arizona and a Doctorate of Educational Administration from California Coast University of California. Dr. Patterson is also a U.S. Navy veteran.
Edwin B. Tatum
Regent Edwin B. Tatum joined the ENMU Board of Regents on August 1, 2017. Mr. Tatum is a partner at Tatum & McDowell law firm in Clovis, NM. A native Oklahoman, Mr. Tatum graduated from the University of Oklahoma in 1965 with a Bachelor of Arts degree and with a Juris Doctorate degree in 1968. He also received a Masters of Laws in Taxation degree from Southern Methodist University in 1981. He was admitted to the Oklahoma Bar Association in 1968, the New Mexico Bar Association in 1972 and the Texas Bar Association in 1992. Mr. Tatum served on active duty as a Judge Advocate in the United States Air Force at Cannon Air Force Base, New Mexico from 1968 to 1972 and continued his military service ultimately as the Mobilization Augmentee to the Deputy Judge Advocate General of the Judge Advocate General Corps, United States Air Force Reserve from 1972 to 2001 when he retired with the grade of Brigadier General. He currently serves as a member of the Board of Directors of the Judge Advocate General School Foundation, Maxwell Air Force Base, Alabama. He is a recipient of the Air Force Distinguished Service Medal, the Legion of Merit Award and the Air Force Meritorious Service Medal. He was a member of the New Mexico Corrections Commission from 1977-1980 and has been active in the Clovis community serving on the Executive Committee of the Curry County United Way and as president and director of the Clovis Chamber of Commerce.