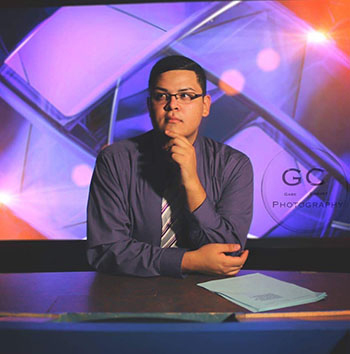 Leonard Cisco Tapia, who graduated from Eastern New Mexico University with an associate degree in general studies in December 2015 and a Bachelor of Science in Communication with an emphasis in broadcast journalism in December 2016, is a public relations manager and public information officer for the New Mexico Department of Cultural Affairs (DCA). He manages and coordinates the public relations and media efforts for multiple state museums, historic sites and cultural institutions.
Cisco shares that his favorite part of the role is "being able to see so many amazing and interesting pieces of artwork. There is so much to appreciate, whether it is a sculpture or ancient artifact."
He previously worked for the New Mexico Higher Education Department as a public relations and outreach coordinator for a federal grant program. His first job out of college was with KOB Eyewitness News 4, where he served as the bureau news chief and reporter for the southwest part of New Mexico and covered stories across the state.
Cisco was born and raised in Santa Fe, New Mexico, and currently lives in Pecos, New Mexico. He chose to attend ENMU because of the "wonderful scholarships I was offered and the exceptional Department of Communication, which has some of the best instructors in the state!"
The Greyhound Grad "always knew" he wanted to have a career in the media and public relations field and says the decision to study communication and broadcast journalism "came naturally."
Cisco was very involved in campus life and other activities while attending ENMU, serving as a President's Ambassador, a student senator for the College of Fine Arts and an anchor for News 3 New Mexico. He also worked with the University's former live greyhound mascots, Vic and Tory.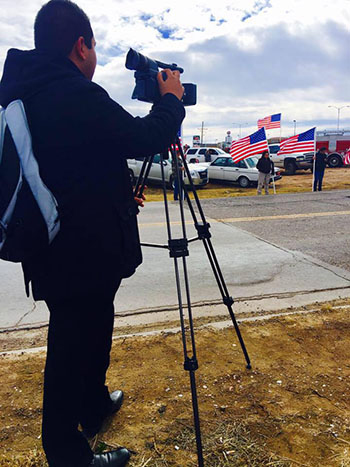 He describes the skills he acquired at Eastern as a helpful asset in his communication-based career. "ENMU was very hands-on when it came to my studies," he shares. "I was able to gain experience that a lot of other colleges and universities don't offer to first-time freshmen. I worked at the KENW Broadcast Center and learned what it was like to work in a 'real-life' newsroom. This allowed me to have the skills it takes to land a career in my field, which might not have been possible if I didn't attend ENMU.
"My time at ENMU was very rewarding," he continues. "I learned so much and met so many wonderful people along the way. Just about every moment I spent there was memorable. I am thankful for ENMU and the foundation it laid for my current success."
Cisco offers advice to students looking to pursue a similar career path: "I would say don't give up! A lot of people tend to get discouraged when it comes to pursuing a job in media or PR. It takes time to break into the field and work your way up, but the time you put in is well worth it in the long run."
The PR professional's role model is his father. "He is one of the biggest reasons why I chose to attend college," Cisco explains. "I am a first-generation college graduate and wanted to make my dad proud – and I did!"
Cisco's favorite hobby is exploring the state. "New Mexico has so much to offer and see," he says. "I like to visit our state parks, kayak, hike, and admire wildlife."
An interesting fact about Cisco is that he is a self-proclaimed social media influencer. "I really enjoy social media and have a pretty large following on TikTok," he shares. "I have nearly 30,000 followers and over 3 million views!"