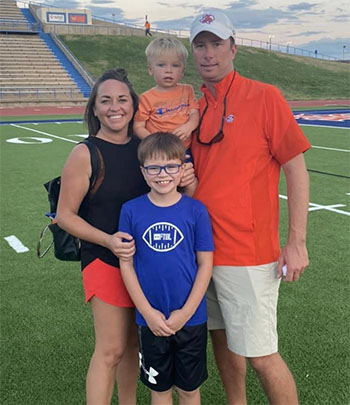 Kevin Crane, who graduated from Eastern New Mexico University with a Bachelor of Science in Physical Education in 2003, was recently promoted to campus athletic coordinator and head football coach at San Angelo Central High School in San Angelo, Texas. He has been with the district for 12 years, serving as an assistant head coach and offensive coordinator for Head Coach Brent Davis.
"My whole life, I was surrounded by coaches," Kevin says of his career motivations. "I knew at an early age that is what I wanted to do."
Kevin was born and raised in Portales, New Mexico. His parents were educators. His father served as a teacher, assistant and then head coach of football, athletic director and assistant principal at Portales High School and principal of Lindsey Steiner Elementary School over the span of 30-plus years, and his mother worked as the registrar at ENMU for 25 years. Kevin describes his parents as his "biggest role models. I could not have asked for a better set of parents. They are terrific people, and I would not be in the position I am today without their support."
Kevin's brother is an educator and Greyhound Grad, as well. He is the athletic director and head football coach at Caddo Mills, Texas, just outside of Rockwell, Texas. His brother's wife, Leslie, is a teacher in Caddo Mills and a Greyhound Grad, too. Kevin is married to Ashlie Baumann Crane, who grew up in Lubbock, Texas, and attended Texas Tech. She is the elementary literacy coordinator for San Angelo Independent School District. They have two sons, Konnor, eight, and Hudson, two.
Kevin graduated from Portales High School in 1999 and attended New Mexico Junior College in Hobbs for two years, where he played golf at the collegiate level. He transferred to ENMU to finish his degree in fall 2003.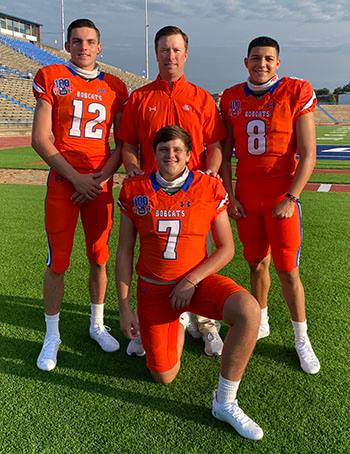 He discusses his experience at Eastern and the lifelong connections he made: "Dr. Elder was my favorite professor. He was a rock star. I loved his history classes. I took every one of them I could. I keep up with him to this day. Also, I am personal friends with retired basketball coach Wayne Moore. He has been my dad's best friend for 50 plus years. He is one of my mentors to this day. Retired Coach Phil Clabaugh was a favorite. Also, I had a good relationship with the football staff; Coach Bud Elliot, Mark Ribaudo (who is now the defensive coordinator at Frenship High School in Lubbock, Texas), Mike Walton and current head coach, Kelly Lee. Also, retired athletic Trainer Bill Joy remains a close friend."
Kevin found that his time at ENMU prepared him for a career in coaching and education. "ENMU was a great place to go to school," he explains. "In my opinion, college is all about managing stress. The educational field can certainly be stressful at times. Attending ENMU and managing stressful situations in college helps prepare you for a career in education."
He greatly enjoys his role as an athletic coordinator and coach, sharing, "Working with the student-athletes every day is the most rewarding experience. Developing relationships with them and watching them mature into valuable members of a team is what's most rewarding."
His goal for the position is to "improve every day, to make our program and our team better daily. That is the focus of our entire athletic program."
Kevin advises students interested in working in his career field to "make sure you get certified to teach a core subject. Then, once you get hired, come to work with a great attitude and have a great work ethic. More experienced coaches and teachers can help you along the way showing you the ropes."