"When I met the students, department colleagues and then-dean Patrice Caldwell, they really made me feel at home at the university and in Portales," said Dr. Ayala on her decision to join Eastern after it had advertised a position that matched her area of expertise.
She had two majors in college, business and Spanish. Dr. Ayala was awarded a full ride to pursue graduate studies in International Business, and was awarded a Fulbright scholarship that gave her the opportunity to study in Mexico.
She decided to accept the Fulbright and stayed in Mexico for five years. During that time she was doing research, running a business and traveling the country.
"My five years in Mexico, along with a couple of full-time job experiences in business, convinced me that my real passion was in Latin American Literature and Culture, so I pursued a doctoral degree in that field," said Dr. Ayala.
Although her primary expertise is in Latin American literature and culture, she also studied Second-Language Acquisition and worked in the field of translation and interpretation.
"I love languages, reading, travel and culture, and I like the kind of intellectual challenge and true artistry involved in skilled translation. My first contact with these areas of study came about because I am adopted and my parents always encouraged me to explore my Hispanic roots and traditions, so I did," said Dr. Ayala.
She has students as far back as her first year at Eastern still in touch, and she finds that rewarding. She loves hearing about her students' successes.
"In particular, students who travelled with me to the Yucatán to study in our Summer Immersion Program usually recall that experience as life-changing in the best of ways and that is very gratifying. Those trips are the source of many cherished and crazy memories. Some years ago, I felt extremely honored when my students and colleagues supported my recognition from the Carnegie Foundation as the New Mexico Professor of the Year," said Dr. Ayala.
She has enjoyed working on translating a short story by Argentine writer Alberto Rojo recently and it has been one of her most rewarding challenges.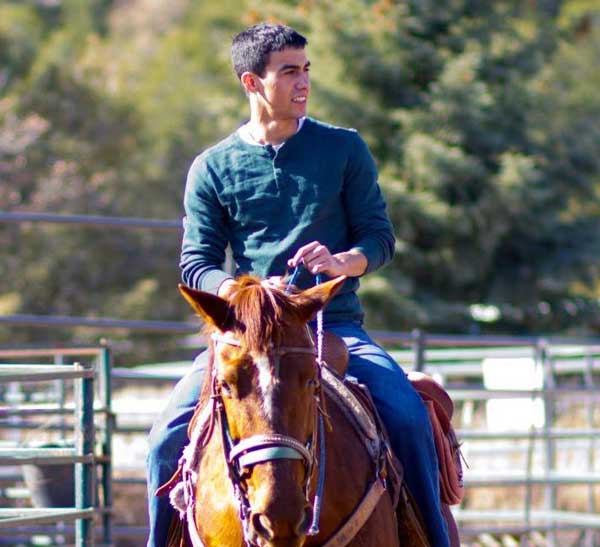 (Dr. Ayala's son)
"Alberto is a true 'Renaissance man' and he was the second Jack Williamson Endowed Chair at ENMU. He is a physics professor, a world-renowned classical guitarist, an artist, a writer, a regularly contributing journalist and an inventor. When I found out that he had written a Sci-Fi story--and, of course, that fits right in with Jack's legacy—I was thrilled to have the opportunity to translate it from Spanish to English," said Dr. Ayala.
This professor adores the students at Eastern and says she is lucky that her classes have always been full of dedicated, engaged and appreciative students.
"I have generally found that as long as we understand and value their potential and provide them with the necessary tools and guidance, they will rise to our expectations," said Dr. Ayala.
Every year, the Languages and Literature Department holds a regional competition called "Festival Románico" that brings hundreds of students to campus. According to Dr. Ayala, it seems like most of the teachers who come to it with their high school students are Eastern alumni.
"Their students are talented and enthusiastic –even in a day and age when it seems like they spend most of their school year taking standardized tests. When I look out into the community, the most successful and sought-after court interpreters are also our former students. In some small way, we know we've contributed to a 'ripple effect' of inspiration through the alumni who leave our program and make a positive impact in our community," said Dr. Ayala.
Her mentors include her current and past colleagues, and some of her students.
"My mother and my sister, however, are probably the best mentors I could ever have: both of them have a rock-solid work ethic, great compassion and generosity, and an innate commitment to helping others. Like my grandmother, they are strong women and they also love to laugh –even at themselves. If you can't do that, you are lost," said Dr. Ayala.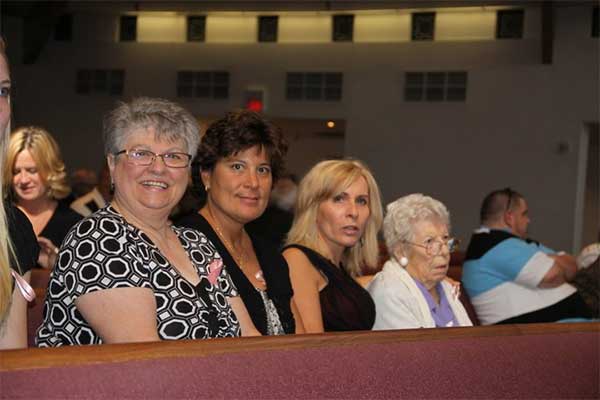 (Dr. Ayala with her mother, sister and grandmother)
Her greatest accomplishment has been raising, mostly by herself, her two children "who are quirky, talented, generous and hard-working."
Her second greatest accomplishment was "not letting my husband, Jon Barr, slip away when he came back into my life again after 20 years."
She was raised by first-generation Italian-Americans who adopted three children.
"We were a bit of a United Nations; my brother is Filipino and Irish, my sister is Chinese and Italian, and I am Hispanic with some Irish. Our parents always encouraged us to explore our heritage, but we still grew up with great Italian traditions and food. It will always be my go-to cuisine," said Dr. Ayala.
Her children, Gabriel and Veronica, are both graduate students at ENMU in the Communicative Disorders program. Veronica is the student regent.
"Their father is from the Yucatán, so they are both bilingual and bicultural, as well as talented athletes, musicians and dancers," said Dr. Ayala.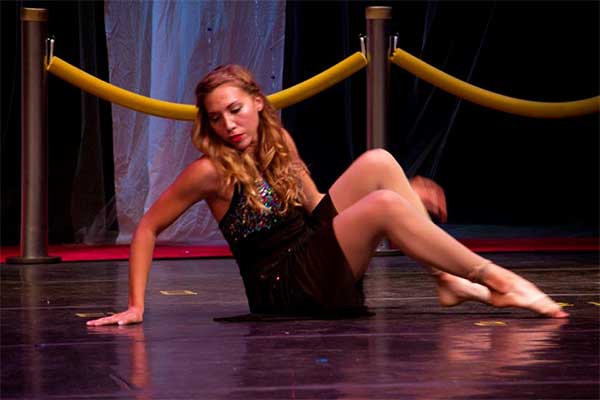 (Dr. Ayala's daughter)
Her husband, Jon Barr, teaches in the Digital Film-Making program at Eastern and is also a magician and musician.
"I also think he probably was a comedian in some previous life because laughter is a constant when he is around," said Dr. Ayala.
She said her parents always taught her that all work, done well, was respectable, and that she should be self-reliant.
"So, going through school I had a lot of quirky jobs, ranging from working in a spice factory, to driving big trucks, working in fast food, banking, retail, translation, and running my own business designing and manufacturing clothing," said Dr. Ayala.
She said she gained important life skills in every one of those positions.
She grew up just outside of Philadelphia.
"There was always a lot to do there and it was within close driving distance to New York, D.C., and Baltimore. We also had historical sites, beautiful state parks, mountains and beaches nearby. There were plenty of cultural and multicultural opportunities in town," said Dr. Ayala who doesn't miss the traffic and snow shoveling that came with that location.
Her hobbies include traveling, reading, listening or making music, going to the theater, visiting art galleries, doing yoga, cooking and eating good food.
"Well, it wasn't the money; it was the students," said Dr. Ayala, "Honestly, this is the one career where you can continue to pursue and research what you love, you can network and collaborate with colleagues from across all disciplines, both locally and around the world, and you keep growing and learning new things for the rest of your life. Teaching at a university keeps you 'plugged-in' to new people and fresh ideas in ways that just aren't possible in other professions."