Cecilia Torres, a double major in criminal justice and forensic science with an emphasis in forensic biology, plans to become a forensic technician for a local or state laboratory after graduating with a bachelor's degree from Eastern New Mexico University this semester. "I would love to work my way up and work as a forensic technician for a federal agency like the Federal Bureau of Investigations or the Department of Homeland Security," she shares.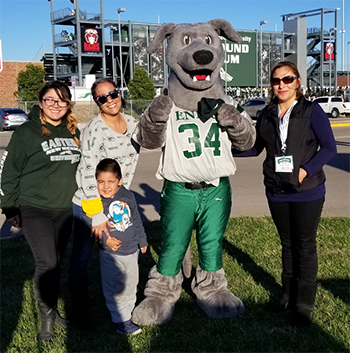 Her dream is to be both a professional woman and a mother someday. Cecilia says, "As important as my future career is, I hope to balance it with family life."
The soon-to-be Greyhound Grad discovered her passion for her fields of study at a young age: "I have always loved science and been fascinated with crime investigations. I took a forensic science class in high school and discovered all the ways science can be applied to criminal investigations. The longer I was in the class, the more I knew I wanted to study forensics and make a career out of it. Later, I took criminal justice classes and declared a second major to strengthen my understanding of crime and the criminal justice system."
Cecilia was born and raised in La Puente, California, moved to Rio Rancho, New Mexico, when she was six, and moved to Portales, New Mexico, 12 years later. She is the oldest of three, with a 16-year-old sister and a 14-year-old brother. She also has a four-year-old foster brother. Her father is a truck driver for Creamland Dairies, and her mother does treatment foster care. "My family is my everything, and I do it all for them," shares Cecilia.
She chose to attend ENMU because "it was a small campus, close to home that offered a degree in my chosen field of study. It is one of the best decisions I've ever made!"
During her time at Eastern, Cecilia has been a member of the Forensic Science Society and the ENMU Spanish Club and president of the ENMU Criminal Justice League. She is also a President's Ambassador. "I love being involved on campus, and my job as a President's Ambassador has allowed me to connect with current and future Greyhounds," she says.
Cecilia's "absolute favorite thing" about being a Greyhound is the "close, tight-knit community. Everyone always feels welcome, and everyone is super friendly!"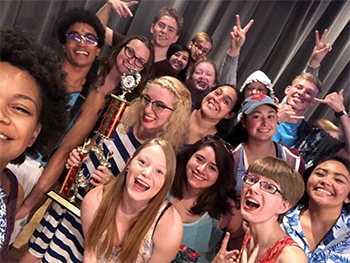 The dean's list honoree, who has maintained a 3.96 cumulative GPA, explains why the Golden Student Success Center is her favorite place on campus: "It is a great place to study or grab a coffee with friends. I spend so much time there it is practically another home."
The 3-time Alva C. Carter Memorial Scholarship recipient has several mentors at Eastern. "Dr. Omar Camarillo has been a great professor and mentor," she shares. "He took part in the research project with the Department of Homeland Security and has been a great mentor and friend. I have also worked with Dr. Kenwyn Cradock and Dr. Matthew Barlow, who offered great advice for classes, research and future careers."
The senior enjoyed taking Anatomy and Physiology with Dr. Barlow. "it allowed me to learn so much about the human body and work with cadavers, which is both morbid and fascinating," says Cecilia, who also liked Dr. Camarillo's Border Crimes course.
Cecilia advises students interested in pursuing her fields of study to "study hard, be resilient and develop connections! If you dedicate yourself to your studies, it can be incredibly rewarding. Don't let yourself be discouraged when you struggle with certain classes, as those can actually be the classes where you learn the most. Also, take the time to get to know your professors and classmates, as they can be your support systems and your references when taking courses and pursuing your career."
In her free time, Cecilia enjoys reading. Her favorite book series is "The Hunger Games."
When asked to share an interesting fact about herself, Cecilia says, "I am a Hispanic first-generation college student, which has made this experience and my upcoming graduation all the more rewarding!"
The ENMU Criminal Justice League at Trunk or Treat 2019.