Li Zheng chose to major in wildlife and fisheries sciences at Eastern New Mexico University due to his lifelong love of animals and a desire to help them. "I hope I can do something to improve the relationship between humans and wildlife," says Li, who wants to find a job at the New Mexico Department of Game and Fish after he graduates in 2023. Another one of Li's goals is to go to the Amazon rainforest to study the native fish.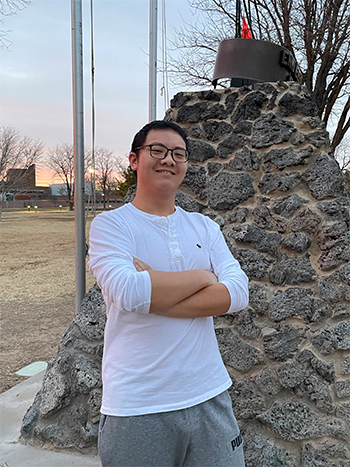 To prepare for his wildlife-focused career, Li works at the Dr. Antonio "Tony" Gennaro Natural History Museum in Roosevelt Hall. He enjoys spending time with the diverse array of creatures the museum holds.
Li loves the biology courses the University offers because of his interest in that field of study. "It is fun to learn something [about biology] that I didn't know before," he adds.
He shares that the professors in the Department of Biology have served as mentors to him, especially Dr. Ivana Mali, an associate professor of wildlife biology.
The dean's list honoree encourages students interested in his field of study to get involved in wildlife-focused events. He says, "Try to join different events. They can help you gain experience."
Li was born and raised in China and moved to the United States after graduating from high school. His sister graduated from ENMU, his mother is retired and his father plans to retire soon.
The Greyhound chose to attend ENMU because "the people are so nice. Also, the learning atmosphere is really good. Overall, it is the perfect place to study."
Li's favorite part of life at Eastern is how "nice and friendly" the community is. "No matter if someone is a professor or a student, when you have trouble, they will help you as much as they can," he explains.
The sophomore is in his second semester at ENMU. Due to the pandemic, he hasn't joined any student organizations but hopes to do so when classes resume in-person this fall.
Li's hobbies include taking care of his pet fish tank and looking after other animals.