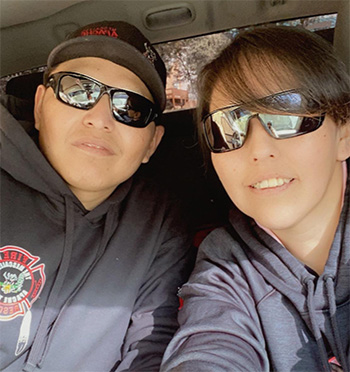 Isaiah Spitty is pursuing a Bachelor of Applied Arts and Sciences (BAAS) in Emergency Management with a focus in fire and emergency services administration at Eastern New Mexico University and plans to graduate in spring 2023.
Isaiah aspires to become a fire chief or emergency manager; he has been in the fire and emergency services field for over 13 years. He is currently the fire lieutenant for Mescalero Apache Fire Rescue, a role he enjoys.
The 35-year-old non-traditional student was born in Alamogordo, New Mexico, on the Holloman Air Force Base and raised on the Mescalero Apache Indian Reservation, located in New Mexico. Isaiah is Native American Chiricahua/Mescalero Apache. He is the eldest of two brothers and one sister.
The first-generation college student has been married to Melony Spitty for 14 years. The couple shares four sons, Pierce, 12; Jayden, 9; Daniel, 6; and Ender, 4.
He chose to attend ENMU because the University offered all the classes for his degree online, which allows him to work while attending school.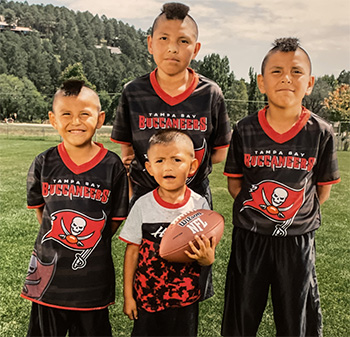 "I've always liked firefighters since I was a kid, and I wanted to be one, so I did, and now it's time for me to move up in my career, and the only way was college," he shares. "I saw that ENMU had a fire and emergency management bachelor's degree program, and I immediately knew I had to get into the program because it ties into what I already know and what I've been doing."
His favorite part of being a Greyhound is having access to a variety of helpful resources, like tutoring. "The tutors are awesome," he shares.
Isaiah's mentors at Eastern are Dr. Donald Elder, professor of history, and Lawrence Nelson, director of the Emergency Management Program, because they have been "very helpful academically."
His favorite class at ENMU so far was History 305 with Dr. Elder. "The way he taught and did his lectures were different and caught my attention; he included various ways to tie in what is going on now to what happened in the past, and it was very interesting," says Isaiah.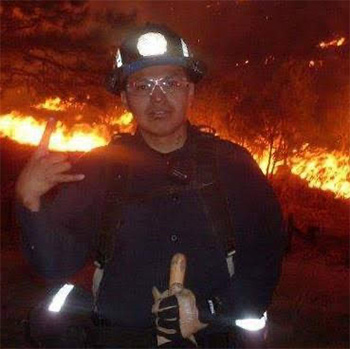 The junior, who made the president's list for fall 2019 and spring 2020 for having a 3.5 GPA during his time at ENMU-Ruidoso, shares advice to students who may be interested in pursuing his field of study: "If you are new to emergency management, go see your local emergency manager, and ask questions. If you have been in the field, pay attention and ask questions; a lot of stuff has changed."
Isaiah's hobbies include hiking with his sons and looking for fossils and arrowheads to take home and add to their collection. He also enjoys playing Call of Duty and Fortnite on his PlayStation. He practices his culture by attending local ceremonies and participating in them so he can teach them to his sons.
He dreams of going to space to "hopefully see an alien. I probably won't see one, but I can dream. Also, I would like to travel the world and see other countries and cultures; there are so many different cultures out there, and I would like to see some of them."