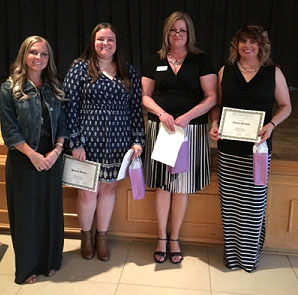 The ENMU Social Work program recently held their annual pinning ceremony to recognize graduating seniors, honor community social workers and to induct new members into the Phi Alpha Honor Society.
The highlight of the ceremony was recognizing social workers in the community who have provided leadership to the department and students. Carolyn Tollett, Field Director, said, "It is important to recognize
the social workers in our community; they are an integrative part in preparing students to enter the profession of social work."
The Social Worker of the Year Awards were presented to Yvette Gardner-Pickett, Director of the Glu Factory, and the late Robin Miller of the Curry County Drug Court. Miller's husband, Tom Ferguson, accepted the award on her behalf.
The Phi Alpha Honor Society honored eight graduating seniors, and inducted 22 new members.
"Phi Alpha Honor Society aims to promote humanitarian goals in social work students while aiming for academic principles, "said faculty advisor Melissa Hardin. Social work students must meet high standards to be inducted. Invited members are required to have attained academic excellence as well as relevant social work achievements in order to join.
The 2016-2017 officers of the Omicron Rho chapter consist of Wendy Moffett, president; Terese Gallegos, vice president, and Hannah Borden, secretary/treasurer. In addition, Susan Chambliss, a social worker with Clovis schools, was inducted as an honorary Phi Alpha member.
The banquet culminated by recognizing graduating seniors. Program Director Patricia Saylor said, "Our annual event honors graduating seniors to pay respect to our students who spent the past two years in our program to go into the field of social work... Social workers give voices to those who don't have a voice."
The ENMU Social Work program had 36 seniors graduating on May 13.