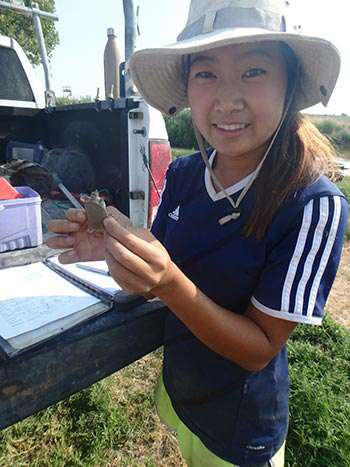 Thanchira Suriyamongkol, a graduate student studying biology at Eastern New Mexico University, is working on a grant project funded by the New Mexico Water Resources Research Institute (NM WRRI) titled "Monitoring Basking Activity and Assessing Water Conditions in Relation to Basking of Rio Grande cooters along the Black River." Her faculty advisor is Dr. Ivana Mali, assistant professor of wildlife biology at ENMU.
The project began in August 2018 and will be completed in August 2019.
Thanchira's research focuses on monitoring basking behavior in the Rio Grande cooter on the Black River, a tributary of the Rio Grande River located in Eddy County, New Mexico. "Black River is one of the very few locations where this threatened freshwater turtle species occurs in relatively high densities," explained the graduate student, who studies the turtles' daily basking activities in relation to environmental conditions, such as ambient temperature and time of day, and seeks to assess seasonality pattern (active period vs. hibernation period).
The ENMU student considers being able to observe the turtles' behaviors through game cameras to be a highlight of her research. "[Using the cameras] can give unique insights to turtles' daily behavior," she said. "Typically, Rio Grande cooters are easily startled by humans, which makes it difficult to observe their basking activities. Interestingly, game cameras have documented a turtle basking on a cold day in November (between 9-11 degrees Celsius), which was highly unexpected. I have also observed inter-taxa basking (turtles sharing a log with ducks or cranes), and inter-species basking (between Red-eared sliders and Rio Grande cooters)."
Thanchira decided on this research topic because the Rio Grande cooter is an "important part of the Black River ecosystem. Although it is currently listed as threatened, little is known about this species."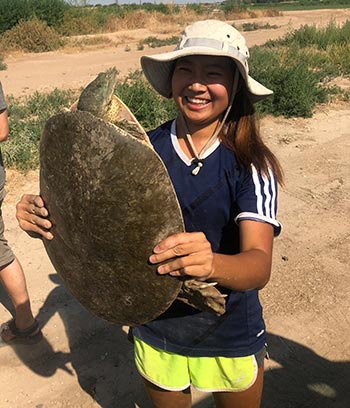 She highlighted the importance of learning about the turtles' basking behaviors (a process that is important for the thermoregulation process in turtles) and active periods, since an increase in anthropogenic activities on the river, such as boating, fishing, and oil production, may create disturbances to the turtles' activities and behaviors. "Studying basking behavior in the Rio Grande Cooter can aid in understanding the dynamic of the population and planning appropriate conservation strategies," she explained.
Thanchira credits the NM WRRI grant with improving her field skills. "I learned how to use game cameras to study behavior. I also learned new programs and statistical models for analyzing the data I gathered," she said.
The grant also gave Thanchira the opportunity to learn how to write a grant proposal, which she calls "an invaluable skill for my future successes in the field." She was able to purchase equipment needed for research, build her leadership skills by conducting her own study with help from her advisor and lab mates, and gain new statistical skills.
"This grant provides an opportunity for students like myself to conduct this research. This not only benefits young researchers, but information gained from their studies can contribute to the scientific community," she shared.
The graduate student will give a presentation about her research at the 2019 New Mexico/Arizona Wildlife Society meeting in February. She plans to present the preliminary basking behavior data from August 2018 to January 2019. She will also present data comparing the daily basking pattern of the turtles within the six months in regards to the change in seasonal pattern.
Thanchira, who is from Thailand, plans to find a job in the field of research or outdoor education in the United States through an Optional Practical Training (OPT) program for international students after graduating from ENMU. Upon completing the OPT, she plans to pursue a Ph.D.