Members of Eastern New Mexico University's student chapter of the Wildlife Society made an impact at the 52nd Joint Annual Meeting of the Arizona and New Mexico chapters of the Wildlife Society and the American Fisheries Society from Feb. 7-9 in Albuquerque, New Mexico. They won the Quiz Bowl, gave presentations, attended workshops, volunteered and more.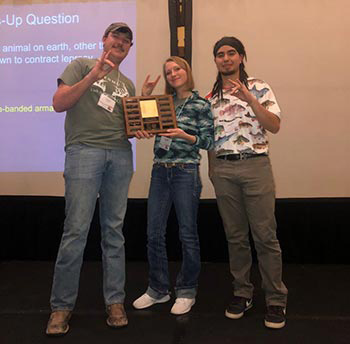 ENMU undergraduate students Laramie Mahan, Kodi Waddell, Curtis Madsen, Luis Espinoza, Michael Gregory, Jeremiah Olivas, Jared Seff and Alissa Kreikemeier and graduate students Thanchira Suriyamongkol and Vinicius Ortega-Berno were in attendance with Dr. Ivana Mali, assistant professor of wildlife biology, and Dr. Jesse Filbrun, assistant professor of aquatic ecology.
Laramie, Curtis and Jeremiah won the Quiz Bowl competition. To get there, they beat Bosque High School, Northern Arizona University, New Mexico State University (semi-finals) and the University of Arizona (finals). This is the first time in history ENMU made it to the finals.
Vinicius, who is advised by Dr. Mali, won a student travel grant, a biodiversity scholarship and best poster in the wildlife category. Jeremiah, who is advised by Dr. Filbrun, and Alissa, who is advised by Dr. Mali, also presented posters at the meeting. Thanchira, advised by Dr. Mali, gave an oral presentation.
The students attended numerous workshops, with topics ranging from venomous snake handling to turtle conservation and monitoring.
Five students volunteered at the event. Laramie and Kodi covered the registration desk, and Luis, Jared and Michael helped with different sessions.
All of the students attended a student mentor luncheon, where they had the opportunity to talk with potential future employers.
Four students won third place in a photo contest among various categories: Jeremiah, Thanchira, Vinicius and Alissa.
Dr. Filbrun gave an oral presentation on the use of stable isotopes to quantify the contribution of zooplankton to catfish growth in ponds.
In collaboration with the New Mexico Department of Game and Fish and Texas State University, Dr. Mali held a workshop on turtle conservation and monitoring. Dr. Mali is also a board member of the New Mexico Chapter of Wildlife Society; she helped organize workshops for the conference and helped find student volunteers.
ENMU established a collaboration with Dr. Tomasz Giermakowski, herpetology curator at the Museum of Southwestern Biology at UNM. Dr. Giermakowski donated around 30 large jars to help with preservation of specimens at the Gennaro Natural History Museum and will be collaborating with ENMU on data digitization.
Daryl Ratajczak with the United States Forest Service invited the ENMU student chapter of the Wildlife Society to help with designing, building and installing visitor signs on the forest service lands. The signs will have the ENMU logo and the ENMU student chapter logo.
Laramie Mahan, chapter secretary at ENMU, was invited to represent New Mexico student leaders at the Student Wildland Adventure Program organized by the United States Forest Service. Students from Tennessee will be visiting New Mexico in July for a one week adventure.
Attendees shared their thoughts on the meeting experience: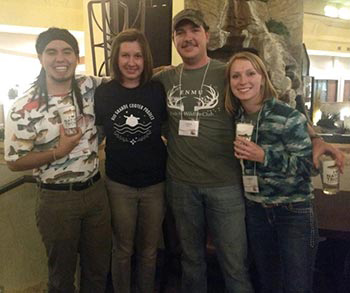 Dr. Mali:
I've been attending this conference annually since my arrival to ENMU in 2015. Every year, I take juniors and seniors from the ENMU Fish and Wildlife Club (also now known as the ENMU student chapter of the Wildlife Society). For me, this is a great opportunity to talk to academics from other institutions and state agencies about priority research.
As a board member of the New Mexico Chapter of the Wildlife Society, I was in charge of putting together five workshops for the conference (finding appropriate topics for workshops, finding experts in that field and inviting them to hold a workshop) and gathering student volunteers.
The biggest highlight of this year's conference was winning the Quiz Bowl competition! We had a fantastic group of three undergraduate students that "stole the show" (words from the president of New Mexico chapter of the Wildlife Society) beating New Mexico State University (previous champions) in the semi-finals and the University of Arizona in the finals. I was not physically present for the Quiz Bowl because it is just too nerve-wracking for me and I did not want to make my students nervous. However, I was constantly getting updates.
Thanchira:
At the joint annual meeting (JAM), I attended the occupancy modeling workshop held by Dr. Duarte. I also presented an oral presentation on the reproductive biology and basking behavior of Rio Grande Cooter on the Black River, New Mexico. This was my second time attending JAM, and I really enjoyed it.
I think the conference was a great platform that gathered all the experts and students in the field of wildlife and fisheries together to discuss their research. I got to learn, network and share experiences with other people with the same interests which gave me ideas for my future career choice and how to improve myself as a wildlife biologist. The conference also provided so many opportunities for students like me to learn and obtain new skills through workshops at an affordable cost.
I would say that the occupancy workshop was my favorite part of the conference. It was a very intensive class on occupancy modeling using R software. However, I learned a lot about this model which I can later apply to my research. Plus, the workshop leaders, such as Dr. Duarte, were very knowledgeable and helpful.
Alissa:
This was my first time attending this conference. I attended with the intention of doing a poster presentation on my undergraduate research which investigates box turtle occupancy within Roosevelt County, New Mexico. It was a new and great experience being able to present my own research on a platform outside of the University. I enjoyed interacting with my peers and mentors, and receiving constructive feedback on the project.
I also attended the occupancy modeling seminar lead by Dr. Duarte. I specifically chose to attend this seminar because we aspire to use the program to develop an occupancy model to further analyze the data of my undergraduate project. It was a very informative crash course, and I left with a better understanding of the software and its capabilities. It was very helpful to have access to a seminar such as this to gain experience with the program, for my own future use.