Eastern New Mexico University faculty members Dr. Mark Viner, assistant professor of educational technology, and Jessica Gerlach, assistant professor of art in graphic design, recently participated in the Consortium for North American Higher Education (CONAHEC) Faculty Exchange Program.
The primary mission of CONAHEC is to foster academic collaboration among institutions, organizations and agencies of higher education in Canada, Mexico and the United States. CONAHEC also promotes linkages between North America and higher education entities around the world.
The professors discuss their experiences in the CONAHEC Faculty Exchange Program:
Dr. Mark Viner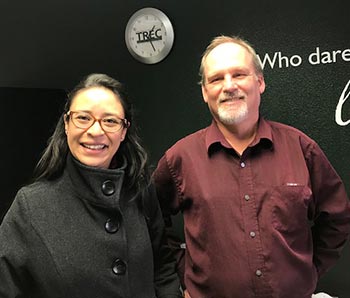 How did you get involved in the program?
I initially became involved in the CONAHEC Exchange Program after Dr. Penny Garcia, the dean of the College of Education suggested there may be an opening in my field of educational technology within the exchange program. I inquired about the program through Dr. Mary Ayala, dean of the College of Liberal Arts and Sciences, who directed me to submit my profile and a list of classes I teach at ENMU to the CONAHEC Program. I was then paired with Ivonne Lujano from the Universidad Autonoma del Estado de Mexico, located in Toluca, Mexico, about 100 miles southwest of Mexico City.
Describe your experience in the program.
During the fall of 2017, I traveled to Toluca, Mexico for one week. There, I worked with Ivonne's students in instructing them how to recognize and validate websites. Next, we spent several class periods developing and creating fake websites (topics of their choice). These sites were evaluated by my students at ENMU.
In addition, I also taught two other courses for Ivonne. One was a higher education class (students learned about higher education around the world) and the second was an advanced English class. While the main emphasis was an academic one, it was also a cultural exchange.
Ivonne was a wonderful host and drove me to several small towns, introducing me to the culture of Mexico. Examples included museums, pyramids and small-town market places. My last night was in Mexico City where I was able to experience Mexican Independence Day.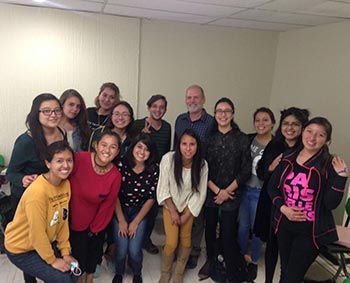 Discuss your collaboration.
The initial contact with Ms. Lujano was over the summer of 2017. Ivonne and I Skyped several times over the summer to prepare for our exchange and to specify the curriculum we would teach to our new prospective students. Our decision was to develop a curriculum for web literacy.
Our academic goal was to instruct students of both cultures to recognize the validity of online materials. Ivonne and I both felt this was an important topic because in an online environment it is often difficult to determine the validity or the accuracy of information. We wanted our students to critically analyze the information they come across in online journals and websites.
For example, we wanted them to think about who is creating online information and why. Students from ENMU and Mexico created fake websites and then evaluated each other's' webpages using a grading rubric that Ivonne and I created to access believability of a website. Students from Mexico created their websites in Spanish and my students created sites in English. Through the use of Google Translate both groups of students could view, read and assess each other's websites.
In December of 2017, Ivonne traveled to ENMU for one week in order to instruct my education students and several faculty members on the topic of validating and understanding appropriate uses of open access journals for education. Open access journals are free online research publications and are growing in popularity worldwide. There is a need to validate these journals as being appropriate and valid for legitimate research. The week also consisted of Ivonne and me traveling to Roswell and the visiting the alien museum, the town of Ruidoso and a day trip to Carlsbad Caverns.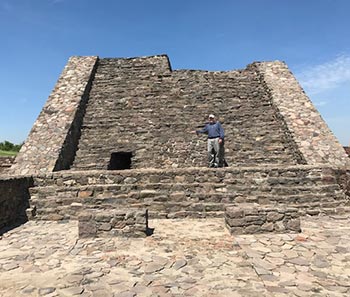 What did you learn from the program and how will you use those lessons in your role at ENMU?
For me, I learned that teaching students in Mexico is relatively the same as teaching my students here at ENMU. While I did not speak Spanish and our two cultures may have been a little different, the students were eager to learn and were interactive with me. They were curious about me personally, and how education in the United States works. They were great students to work with.
Currently, I continue to teach web literacy here at ENMU for both my graduate and undergraduate level classes. I still have my undergraduate face-to-face (F2F) classes continue the practice of creating "Fake Websites" for learning how to validate online information.
What was your favorite part of the program?
Working with the students from Mexico. Initially, I think the students and I had to get to know one another. When I first met them, I ask them if they were as nervous about me as I was of them? They broke into laughter and became just like my students here at ENMU. Most of them could speak English but were too intimated to do so. Ivonne would often translate for both of us. The next best thing was traveling around the Toluca area to visit various sites such as pyramids, small town market places and being able to sample great Mexican food and drink.
Why would you recommend the program to others?
I would definitely recommend the CONAHEC Faculty Exchange. I would participate again. Meeting the people and experiencing the culture was a wonderful experience. My only trepidation before going was that I did not speak Spanish. However, with a few downloadable apps on my iPhone, I was able to communicate when needed and the people of Mexico were wonderful and always willing and proud to share their history and culture with me.
Jessica Gerlach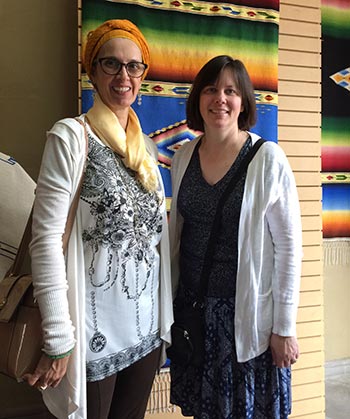 How did you get involved in the program?
We had a CONAHEC exchange student in the art department in the fall of 2017, and it began a conversation with Dr. Ayala and others about the opportunities to create a dual degree option between ENMU and Escuela de Artes Plásticas (School of Plastic Arts), Universidad Autónoma de Coahuila, Arteaga. I applied to have the faculty exchange with Ana Isabel Pérez Gavilán A., the director of the school and an art historian.
Describe your experience in the program.
It was a wonderful opportunity for me to experience the culture and environment of teaching at the School of Plastic Arts in Mexico. It was also a good chance to create ties between our two schools. My students had the opportunity to learn about the history of textile designs from Mexico. We have been able to create a bi-national exhibition of the student's design that was shown in Saltillo, Mexico in April 2019 and will be shown in the Runnels Gallery in May-June 2019.
Discuss your collaboration.
Our virtual student group activity paired the students from classes in their home university with each other to work on a research and design project. The students created a graphic design project with Mexican art motifs, in particular looking at traditional Native American New Mexican and Saltillo Sarape blankets (including research, writing, and creating designs inspired by this style of art). We chose this topic because we saw commonalities between the two styles of design and art in these textiles.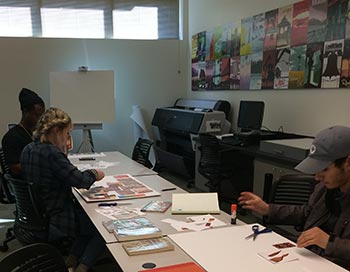 What was your favorite part of the program?
My favorite part of the program was the opportunity to meet and work with the students in Mexico.
Why would you recommend the program to others?
I would recommend the program because it gives you and your students a global experience of how we fit into the world. It teaches us about how we are not so different from each other.