Laramie Mahan, a senior at Eastern New Mexico University, participated in the Student Wildlands Adventure Program (SWAP) for two summers.
The wildlife and fisheries science major discussed her experience in the program and how she developed a love for her field of study:
How did you get involved in SWAP?
We have a group chat for the ENMU Fish and Wildlife Club, and our advisor, Dr. Mali, sent out a flyer for the application for SWAP during the summer of 2018. I have participated for two years now. The first year I attended with other New Mexico college students, and we learned about wildlife in eastern Tennessee. This summer, Tennessee students came to New Mexico, and our theme was "walking in the footsteps of Aldo Leopold," who is known as the father of wildlife conservation.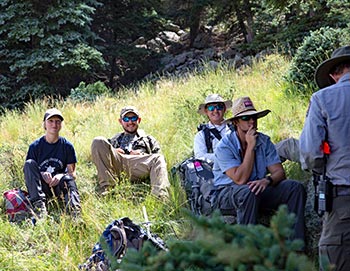 Describe your experience in the program.
The program has been nothing short of amazing. I never expected I would be able to travel that far east, let alone learn about my passions from a new perspective and diverse area.
The first year I was able to hike in the Great Smoky Mountains, go snorkeling in the Ocoee River, visit the Hiwassee Wildlife Refuge and learn about Tennessee hunting regulations as well as problems they face with non-native species. It was amazing to see how different it was compared to New Mexico or Arizona.
Being able to act as a host when the Tennessee students came to New Mexico was amazing, too. Even though I am a student in New Mexico, I still haven't seen all of the state. This summer, I was able to do that. We traveled throughout the Gila Wilderness and the Carson National Forest. We visited the Rio Grande Gorge, Valles Caldera, Taos and many more locations. We traveled through places that Aldo Leopold worked, and even lived. Recognizing the beauty of the wildlife and issues facing it makes you really want to do what you can to become educated in order to do everything you can to conserve what is left.
Which skills did you acquire or strengthen from participating in the program?
From the trip, I learned to keep an open mind, especially with this field. I know now that you don't have to be restricted to a certain area for your whole life. There is more than where you grew up, and everywhere you go there will be different opportunities and different challenges facing those areas.
What was your favorite part of the program?
I don't there is any part that stands out more than any other. Every aspect of it is so eye-opening that you're just trying to take in every little moment before the next one starts. I do enjoy the relationships that we were able to build with other students. There are about 20-plus people all passionate about the same thing, and with that, you are able to have conversations about your ideals, your opinions on conservation and wildlife; whether we disagreed or agreed, we all are there for the same reason. And just seeing new things is always awe-inspiring, like coming from the southwest with little biodiversity and going to the east where the biodiversity is so spectacular, and everything is so green and full of life.
How did ENMU prepare you to participate in the program? What lessons did you bring back to ENMU for other students?
I'd say the ENMU Fish and Wildlife Club prepared me for the program. With the volunteer events that we do, we interact with representatives from the New Mexico Department of Game and Fish, the U.S. Fish and Wildlife Service and more. Knowing how to communicate with these representatives and putting yourself out there to make connections is something that will help you when you're building your career.
For the rest of the club members, I will definitely be telling everyone to apply to the program, as well as try to encourage them to involve themselves in every opportunity they can, even if it is out of their comfort zone. This degree is more than just the classes; there is so much to learn outside as well.
Which organizations and extracurricular activities have you been involved in at ENMU?
My junior year, I worked as a President's Ambassador for Enrollment Services. Currently, I am part of the STEM research program, working with Dr. Mali. My projects have included work with the Rio Grande Cooter turtle, and now Ornate Box Turtle movement.
This year, I am president of the ENMU Chapter of the Wildlife Society (aka the ENMU Fish and Wildlife Club). The club participates in numerous volunteer events around New Mexico, including spawning Gila Trout with the Mora National Fish Hatchery, releasing Cutthroat Trout in the Rio Grande Gorge and helping work on enclosures for wildlife at the Desert Willow Wildlife Rehab Clinic in Carlsbad.
We also attend a Joint Annual Meeting (JAM) for the members of the Wildlife Society of Arizona and New Mexico. JAM holds a variety of wildlife workshops, opportunities to present research and a quiz bowl competition (which ENMU won in February).
Why did you choose to study wildlife and fishery science as a major?
My high school Ag class volunteered with our local parks service quite a bit. We did various things, such as leading little kids around the parks during a BioBlitz event or helping with clean-ups. When I graduated, I participated in a summer internship/scholarship program with the Arizona Youth Conservation Corps in the Verde Valley of Arizona. We went to various parks around the area and helped with the removal of invasive plant species, trail maintenance, general park clean-up and native plant seed dispersal. These opportunities really had me interested in parks and conservation of wildlife.
Which academic honors have you received at ENMU?
I received the transfer academic scholarship in 2017, a scholarship from the National Intercollegiate Rodeo Association in 2017 and the Dr. Gennaro and Tony Salb Memorial Scholarship in 2019.
When do you plan to graduate? What do you hope to pursue as a career?
May of 2020. However, I will be staying for two more years for a master's in biology under Dr. Mali.
I honestly don't have a set career plan yet. I am currently trying to be involved with new opportunities and internships like SWAP that will show me different aspects of the wildlife field. I am waiting for the right thing to speak to me.
Where were you born and raised?
I was born and raised in Camp Verde, Arizona. It's a small rural community, and I graduated with only 60 other students.
What else would you like for us to know?
During SWAP this year, the New Mexico and Tennessee students were playing a friendly game of volleyball, and I ended up tearing my ACL, partially tearing my MCL and partially tearing my meniscus. There was still eight days of the trip left, so I toughed it out and kept hiking with a knee brace on. I just got surgery on Sept. 12, but it was all worth it. The trip was too much fun to leave; I didn't want to miss out on the experiences.