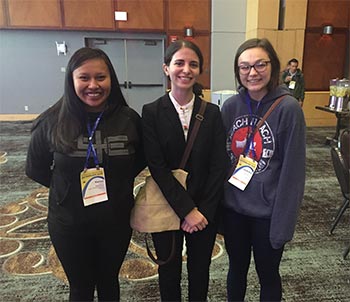 Three Eastern New Mexico University students traveled to St. Louis, Missouri, to attend the annual Entomological Society of America conference from Nov. 17-20. With over 3,600 attendees, the conference is considered one of the largest entomological meetings in the world.
Colin McKenzie, a senior majoring in biology with an emphasis in ecology, evolution and organismal biology, gave an oral presentation covering his work with robber flies (Diptera: Asilidae) in the genus Microstylum. Kaniya Sandoval, a senior majoring in wildlife and fisheries science, and Sarah Kist, a senior majoring in biology, presented a poster covering their work on how ticks (Acari: Ixodidae) respond to flooding events. The poster was awarded second place in the Medical, Urban and Veterinary Entomology student poster section.
The students share details about their presentations:
Describe your experience at the Entomological Society of America conference.
Kaniya and Sarah: With this being our first entomology conference, it was such a great experience. We interacted with many individuals around the world who share the same passion and interests as us. It was interesting getting to learn about so many different projects everyone was/is studying/working on, as well as learning their background. We sat in on a few student presentations that discussed the importance of flies, forensic entomology, as well as viewing many other interesting student posters that were related to our poster presentation, which was ticks.
Colin: I had a fantastic time at the conference. I'm hoping to study ants in the future, so I went to sessions discussing Hymenoptera, social insects, and how social insects are impacted by the changing environment. I met some professors from Arizona State University who are doing research on ants, including Bert Hölldobler, a renowned myrmecologist.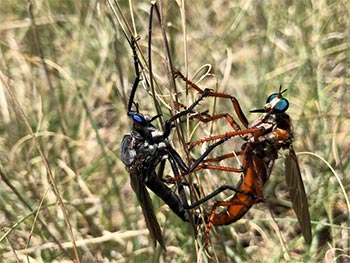 Discuss your presentation/poster topic and how you prepared for the conference.
Kaniya and Sarah: Our poster presentation was over detecting the effects of flooded environments on deer ticks (Ixodes scapularis) and lone star ticks (Amblyomma americanum). We wanted to see how long these two species of ticks were able to survive while being submerged in water as they are found in the eastern region of the U.S., in which flooding events occur. Our results indicated that they survived one week, but mortality was 100 percent at two weeks, which means that the ticks are able to stay underwater without added oxygen for a long period of time.
To prepare for the conference, Sarah and I had practiced presenting the poster over and over, and read articles on different species of tick to see whether this type of research has been done before and to see what insight we could gain. We are still not aware of any published studies that have investigated the response of the survival of ticks being submerged in water.
Colin: My presentation was on Microstylum, a genus of Asilidae. Asilidae are commonly called robber flies and are predatory flies that eat other insects. I presented on their distribution and their predator-prey relations.
What does it mean to you to be recognized for your research?
Kaniya and Sarah: Being recognized for our research is an incredible feeling. The hard work and dedication that has been put into this research all paid off. We have uncovered a behavior of these ticks that has not been studied or observed, and we are so thankful for the recognition!
Colin: It feels good to contribute to science, especially as an undergrad. Research can be tedious at times, and being recognized for the work put in is always appreciated. My work may not change the world in huge ways, but it is expanding our knowledge of the natural world in a small way.
Which lessons did you learn at the conference? How will you take those lessons back to ENMU and use them in your career?
Kaniya and Sarah: We gained a lot of knowledge from this Conference. We learned that there is no limit to research and that there is not a "perfect" research. It takes time and dedication, along with trial and error. Each and every study that was being presented was a beneficial step towards knowing our world a little better, and that was a great encouragement for us. We got a lot of constructive criticism on our research that is going to help us in our future studies.
For our future studies, we want to continue this research on ticks and provide more information on the behavior of the ticks and exactly how many ticks are dying on exactly what days. We also want to study how they react to other environmental conditions, such as a fire nearby. This will help in our careers by giving us needed experience in the labs, field and simply with typing up our own scientific articles to be published, regarding our research studies.
Colin: There is lots of impressive work, and you may never be the best in your field, but everyone brings something to the table, and there is always room for improvement. I also learned that many of the bigger names in entomology are quite friendly, approachable and excited to share their passion.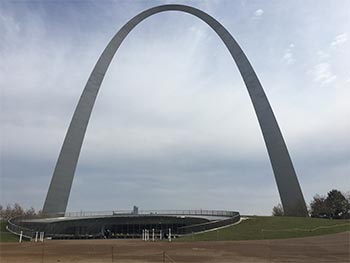 Did you do any sightseeing in St. Louis? What were some of the highlights of the trip?
Kaniya and Sarah: We did go sightseeing! We went to the St. Louis Arch and not only got to admire it and stand in awe at its beauty from the outside, but we were also able to ride to the very top, which was absolutely incredible. The scenery was so beautiful, we walked through parks and were able to see different statues symbolizing several different events. The food was so so so good, and we all got to try out a Peruvian restaurant for the first time. The weather was perfect; it wasn't too hot, nor was it too cold. This trip was an amazing experience, and we are very thankful to have been given the opportunity to go.
Colin: I mostly stayed around the area that the conference was in, but we did go up the Arch. The highlight of my trip was definitely meeting Bert Hölldobler.