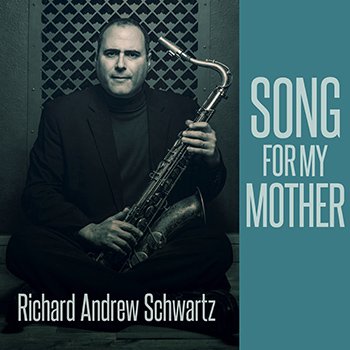 Grammy Award® considered saxophonist and songwriter Dr. Richard Andrew Schwartz, an associate professor of music at Eastern New Mexico University, recently released his new album "Song for My Mother." The album features two of the last recordings with jazz legend Ellis Marsalis, the patriarch of the Marsalis family who passed on April 1 from the coronavirus. As a fan of Mr. Marsalis, Dr. Schwartz felt that getting the opportunity to record two original compositions, "Alpha Cat" and "7-11 Blues," with Ellis for the album was a dream come true.
"Ellis was not only an extremely talented musician and a major inspiration in my life, but a class act human being. We had a great time hanging out while working on the recordings," says Dr. Schwartz. "I was excited about releasing these two songs knowing that Ellis enjoyed playing my compositions and devastated when I heard how Ellis lost his battle with the coronavirus. It's a tragic blow for not only the jazz community, but for the music industry as a whole. Ellis loved recording these tunes, and I wish he was here to help me cross the finish line."
On the 11-song album, distributed by SONY/The Orchard via WHOMAG Distribution, there are two versions of "Alpha Cat" recorded with Ellis; a shortened, or abridged, version and an unabridged version. The second and funky tune they recorded together is "7-11 Blues."
Dr. Schwartz dedicated the album to his mother, who recently had a stroke and still suffers from its side effects. "My mother has always been my number one supporter through my musical journey," he shares. "She made sure each of her children received piano lessons. She also would also take the time to drop us off or pick us up from music rehearsals."
Dr. Schwartz, who has been teaching at Eastern since the fall of 2013, says that his time in Portales has played a big role in the album's creation.
"Five of the ten original compositions heard on the album had already been composed before I arrived here at Eastern, so I composed the other five while here in Portales. My wonderful colleagues and students at Eastern are actually a big inspiration. In particular, Dr. Mark DalPorto has been very gracious with his time and compliments. My department chair, Mr. Dustin Seifert, has also been very supportive. He is like this with all music faculty and we are very fortunate to have him here at Eastern. Mr. Neil Rutland and Mr. Travis Erwin have always been willing to collaborate on faculty jazz recitals. I enjoyed collaborating with ENMU colleagues Scott Golem and Donnie 'Dean' O'Hare. Dean took the cover photo of the album and Scott Golem designed the cover of the album.
"Our administration is also very supportive through funding guest artists that inspire, or simply finding the dollars to make inspirational events occur for our students. In general, I enjoy sharing my original works with students and colleagues whether in jazz combos classes or on a faculty recital. We are very lucky here at Eastern and in Portales."
Dr. Schwartz reflects on the inspiration for the album's tracks: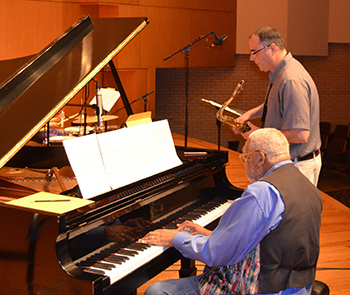 "'Alpha Cat' was composed in memory of my family's two deceased male cats that acted like alpha cats to the rest of the group. 'Dear John' was composed in memory of a very close family friend, John Braud, that passed due to pancreatic cancer in 2018. 'Without Words' is dedicated to my wife and son, Marian and Thallan. 'Song for My Mother,' the title track to the album, is dedicated to my mother who suffered from a stroke, and is now in recovery. The other tunes are creative endeavors in which I explore compositional techniques or simply have fun exploring musical soundscapes."
He offers the following advice to those in the ENMU community who may be interested in creating an album: "It takes a lot of patience. This is my third compact disc. The album 'Song for My Mother' took me about ten years to complete due to working full time, family obligations, etc. It also takes a significant amount of time to compose ten works, write up contracts, schedule the recording dates/times, complete edits, select artwork, etc. One has to think about how they wish to distribute the album. Will it be in physical form like a compact disc, in a digital format available through iTunes, Amazon Music, etc., or a combination of both?
"When creating an album, or any project, one may need to ask 'what is the point of the effort?' This is because the task of creating a professional album can be a monumental task. Is the point of the album to showcase the talent of the performer(s), demonstrate original compositions, to get gigs, or other? Those who wish to create an album may need to keep that in mind."
The professor's previous album, "Embers," distributed by Centaur Records, was Grammy considered for Best Classical Instrumental Solo in 2017. His intonation training tool, "The Tuning C.D.," has been popular with tens of thousands of noted professional and student musicians and music educators around the globe, including Dave Brubeck and Paquito D'Rivero. Dr. Schwartz was awarded three United States patents for his musical intonation training tool and method of jazz improvisation.
Dr. Schwartz has performed as a freelance musician with some of the most recognized names in the music business, including Ray Charles, Aretha Franklin, Linda Ronstadt, Johnny Mathis, Dennis Green (of The Temptations), Ben Vereen and others. As a member of the select Henri Mancini Institute, Schwartz has performed with jazz luminaries Tom Scott, Byron Stripling, Diana Krall, Steve Tyrell, Ernie Watts, John Clayton, Dave Grusin, Roy Hargrove, Bob Mintzer, The Turtle Island String Quartet, Paquito d'Rivera, Justo Almario, Don Menza, Bud Shank and Bill Watrous and recognized musicians Nathan Scott, Johnny Mandel, Peter Boyer, Jack Elliot, Mitchell Glickman, Frank Proto, Charles Floyd, Ray Pizzi and Patrick Williams. He has performed in venues ranging from the Playboy Mansion and Hollywood Bowl to Boston's Symphony Hall, Tanglewood, PNC Arts Center and more.
As a classical musician Dr. Schwartz has performed with noted orchestras including the Mobile, Gulf Coast and Boston Pops and has worked with well-known composers and conductors including Keith Lockhart, Frank Battisti, H. Robert Reynolds, Gwyneth Walker and Samuel Adler. Armed with an earned Doctorate in Music from Boston University, Dr. Schwartz has been awarded artist and teaching awards through a multitude of universities and has successful students in the teaching, performing and music industry fields.
Listen to "Song for My Mother" on Spotify, Apple Music, Deezer, Amazon Music, iTunes, YouTube, Tidal and other digital music outlets.
William "Bill" Kelley (recording engineer), Iuliia Akers (vocals), Richard Schwartz (saxophone), Ellis Marsalis (piano), William "Bill" Grimes (double bass), Mike Esneault (piano) and Troy Davis (drums).