Dustin Seifert, chair of the Department of Music and director of bands at Eastern New Mexico University, was appointed to the New Mexico Music Commission (NMMC) by New Mexico Gov. Michelle Lujan Grisham.
The NMMC consists of a "diverse cross-section of New Mexico citizens representing all facets of our state's unique and diverse music industry. As is befitting of New Mexico, the commission embraces and reflects all musical genres gracing our state's multicultural tableau."
Mr. Seifert's term commenced on August 5 and will conclude on May 6, 2022.
The professor has a Bachelor of Music Education from the University of Akron and a Master of Music Education from the University of Illinois at Urbana-Champaign. He started his teaching career as a concert band conductor for St. Vincent-St. Mary High School in Akron, Ohio, and a graduate teaching assistant for the University of Illinois before becoming the assistant director of bands at Iowa State University. He started teaching at ENMU in the fall of 2000. He and his wife, Meredith, have two children, a 13-year-old son named Stratton and a 7-year-old daughter named Sawyer Jean.
Mr. Seifert discusses what his appointment to the NMMC means to him.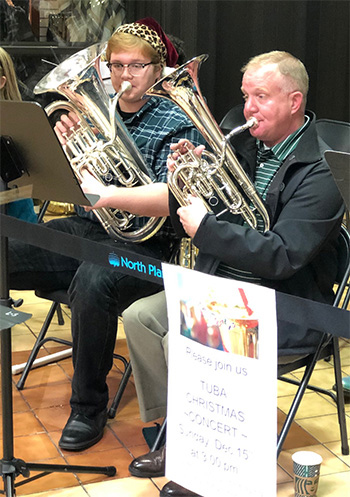 What was the appointment process?
Last year, the executive director solicited applications for commission openings. I submitted an application, was vetted and was humbled and honored to be appointed to the commission by Governor Lujan Grisham.
What does being appointed to the NMMC mean to you?
I am pleased that the music education community will be represented on this statewide commission. I feel that every child in New Mexico should have the opportunity to experience the life-changing benefits associated with creating, performing, responding to and connecting with music. These experiences should be guided by a highly-qualified and licensed music educator. Not every child is interested in athletics. Often times, music courses and ensembles are the only reasons students go to school. They give them something to look forward to each day. Based on the current climate in our country, I think it is easy to identify music as a solution to obvious cultural challenges and instability. Ensemble means "together, at the same time," after all. It is time to come together.
Which other organizations are you involved in?
I offer most service to the band profession. I am an active member of numerous professional music education organizations; I serve as Southwest Division chair for the National Band Association and on the Social Media Committee for the College Band Directors National Association. In the past, I served as president of the New Mexico Music Educators Association. I enjoy networking with fellow professionals, and I have drawn on this network since I moved to Portales.
Which accomplishments and awards have you earned?
I was named the 2015 Music Educator of the Year by the New Mexico Educators Association and a Distinguished Alumnus in Music Education from the University of Akron's School of Music in 2014. I was the recipient of the Presidential Award for Excellence in Teaching in 2005 and the Spirit of Eastern Award in 2004, both from Eastern New Mexico University.
What drew you to your position at ENMU in 2000?
I wanted to be the director of bands at a regional comprehensive university. I have always had a sense of adventure. I thought it would be cool to live in the American Southwest. It certainly has been. My family loves ENMU, Portales and New Mexico.
(L-R) Dustin Seifert, Julie Giroux, Ray Cramer, Sid Shuler