Dr. Marshall Swafford, an associate professor of agricultural education and chair of the Department of Agriculture, Food Science and Kinesiology at Eastern New Mexico University, was recently named the 2020 Western Region Outstanding Early Career Member for the American Association for Agricultural Education (AAAE).
Dr. Swafford shares what the honor means to him.
What is AAAE? When did you become involved in the organization?
The American Association for Agricultural Education is a professional organization devoted to fostering excellence in the discovery and exchange of evidence-based solutions for social science challenges in agriculture and related sciences. The primary members of the organizations are faculty members in agricultural education, agricultural communications, agricultural leadership and agriculture extension education. I have been a member of this organization since I started at ENMU in August 2015.
What are your duties and responsibilities as a member of the AAAE?
Currently, my membership is that of simply a member of the organization. During the 2018-2019 academic year, I was the chair-elect of the national Program Improvement Committee. That responsibility required me to manage the research and innovative poster competition at the National Agricultural Education Research Conference. During the 2019-2020 academic year, I was the chair of the national Program Improvement Committee. In that role, I was responsible for enhancing existing programs, like the poster competition and the Special Interest Groups, and supporting new program initiatives.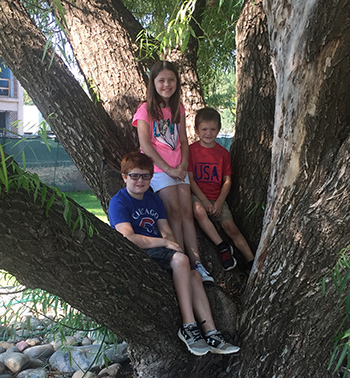 What does it mean to you to be recognized as the 2020 Western Region Outstanding Early Career Member?
Being selected as the 2020 Western Region Outstanding Early Career Member means a lot. I am the first faculty member to ever win this award from a non-research-oriented university, unlike Texas A&M, Texas Tech, University of Arizona, Idaho, Oregon State University, New Mexico State University, etc., which are more research-oriented institutions. Previous winners of this award are current and past leaders in our profession. To be associated with those professionals with this award is very humbling.
How was a winner selected?
The winner is chosen using an application process. I was nominated for the award by a colleague at Texas Tech University, Dr. John Rayfield. He wrote a nomination letter which outlined what I do at ENMU and for the larger agricultural education profession. I was also required to provide a curriculum vita to the selection committee. The selection committee comprised past winners and members of the Western Region AAAE leadership team. I was recognized as the winner at the 2020 Western Region AAAE virtual conference on Sept. 23.
Tell us about your education and previous job positions.
I received a BS in Agricultural Education from Northwest Missouri State University, an MS in Agricultural Education from the University of Missouri and a Ph.D. from Louisiana State University. Prior to my arrival at ENMU, I was a high school agriculture education teacher in Missouri and Oklahoma.
What drew you to ENMU? What do you enjoy the most about your role at Eastern?
I was drawn to this position as ENMU resembled my undergraduate institution, Northwest Missouri State University. The most enjoyable part of my job at ENMU is teaching. I really enjoy the time I spend in the classroom with students. Whether it's teaching methodology, agricultural economics or metal fabrication, I enjoy the relationships I have built with my current and former students. Ask any of them; you never quite know what to expect when you walk into my classroom.
Which organizations are you involved in?
In addition to AAAE, I am a member of NACTA – North American College Teachers of Agriculture. I also do volunteer work with local 4-h groups and FFA chapters.
Which other awards have you received?
In 2001, I was recognized as the most outstanding first-year agriculture teacher in Missouri.
Since coming to ENMU, I have been recognized with eight Outstanding or Distinguished research conference presentations, two United States Department of Agriculture (USDA) grants totaling $1.3 million, the Eastern New Mexico University Presidential Award for Excellence in Advising for 2020 and two Leader of Leader's Awards from the New Mexico FFA Association.
Tell us about your background and family.
I have three children, Caroline, 12; Carson, 11, and Reid, eight, and they live with their mother in Kingfisher, Oklahoma. I grew up raising a few hogs in Savannah, Missouri, which is about 60 miles north of Kansas City. My father was a high school agriculture education teacher, and my mother was a special education teacher. I have two younger brothers. My middle brother works in cyber-security in the finance industry in New York City. My youngest brother is a commodity buyer in Greeley, Colorado, for JBS, the largest livestock producer in the western hemisphere.
Dr. Swafford at the Four Corners Monument.