Vincent Goodman, who is majoring in biology with an emphasis in pre-medicine and minoring in sociology, plans to graduate from Eastern New Mexico University in spring 2021 and begin optometry school that fall. He has been accepted to the Southern College of Optometry in Memphis, Tennessee, and will attend in August. The 4.0 student was also accepted to the University of Birmingham Optometry in Alabama and the Midwestern University's Arizona College of Optometry in Glendale, Arizona.
Vincent discusses his career plans and his Eastern Experience.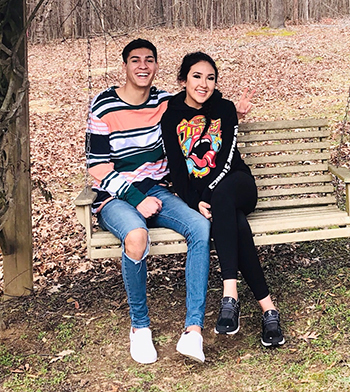 What inspired you to go to optometry school?
I was inspired to go to optometry school after seeing what optometry has to offer. For me, optometry is a perfect fit. Optometry is an optimistic field that allows me to find solutions for those who feel there may not be one. In addition, it is the challenges and close-knit community that optometry offers that I believe will keep me motivated, never complacent and always caring about what I am doing throughout my career.
Which part of optometry school are you looking forward to the most?
I am most looking forward to the classroom and lab settings of optometry school, where I will learn the practices of optometry while also developing relationships with people who share a common passion.
How has ENMU prepared you for optometry school?
ENMU has prepared me for optometry school through the teachings of their professors. The professors were great about helping me learn not only the material, but the skills needed to become successful as an optometry student/optometrist.
What do you hope to pursue as a career?
I will pursue becoming an optometrist while keeping the door open to teaching at optometry schools later on in my career.
What do you hope to ultimately achieve in your career?
I will achieve success. I will achieve a comfortable living for myself and my family by always striving to be better in my career. Within my career, I will achieve the knowledge of how to best care for my patients, and I will achieve the respect of my future colleagues by being a person who always puts my best foot forward within my practice.
Which academic honors have you received?
Dean's List
4.0 Cumulative GPA
New Mexico Lottery Scholarship
Pell Grant
Academic NM4
Acoma Higher Education and Educational Grant Recipient
$60,000 Scholarship Recipient at Southern College of Optometry
Which activities are you involved in in the local community?
I help with town cleanups and have served as the Portales Recreation Center sports coordinator, a Portales Youth League referee and a manager at the Portales City Pool.
Who are your mentors at ENMU?
Dr. Manuel Varela, Dr. Matthew Barlow, and Dr. Youngkoo Cho were especially great in mentoring me while at ENMU.
Which class has been your favorite?
My favorite class at ENMU was Anatomy and Physiology 2 because we were able to dissect a cadaver in the lab, and the curriculum of the endocrine system was especially interesting in that class.
Why did you choose to attend Eastern?
I chose to attend ENMU because they offered a large curriculum with small classroom sizes and professors who typically always had an "open-door" policy. The sense of community at ENMU shined as well.
What advice would you give to students who are interested in your field of study?
I would advise students who are interested in biology or pre-medicine fields to take the leap. Often, it seems daunting and scary to take on a workload with such grueling curriculum and practices. However, it truly will make you a better student as it not only provides great learning, but it also makes one much more organized with work and time. In addition, the Department of Biology at ENMU truly does open so many doors and opportunities, often times when one is not even looking for them! I would not be the person I am today without the biology pre-med field and all of those involved in the program, so I would advise anyone interested to enter the field of study.
Tell us about your family and background.
I was born in Albuquerque, New Mexico. Growing up, I lived with my mom and my two younger sisters. However, I did spend time with my dad whenever we got the chance to. My mom was a waitress in hotels, and my dad installed carpet and flooring. My younger sisters are four and nine years younger than me and are currently in high school and middle school, respectively. I was the first in my family to attend a four-year college university and will be the first to graduate with my bachelor's degree.
Anything else you would like to have included?
I would like to especially thank Dr. Varela, Dr. Barlow, Dr. Cho, Mrs. Kimberly Potters and Dr. Ivana Mali for always helping me throughout my time at ENMU. From writing recommendation letters to letting me study in their offices to hearing me stress and overthink big exams, I cannot express how extremely grateful I am. Thank you!