Roger Kemp, a senior trombonist majoring in music education at Eastern New Mexico University, performed for the College Football Playoff National Championship Game's virtual halftime show on Jan. 11. 1,500 nominated performers from 200 bands across 45 states and Puerto Rico participated in the event as part of the College Band Directors National Association (CBDNA) Intercollegiate Marching Band (IMB).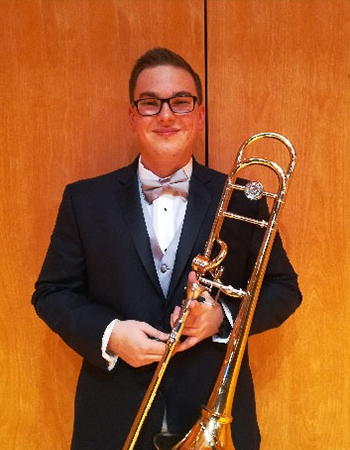 The IMB's halftime performance of "End of Time" by Beyonce is available on the CBDNA YouTube channel.
Roger reflects on the once-in-a-lifetime experience.
How did you prepare for this performance?
In preparation for this performance, I practiced a lot with the recording, primarily for time and style. Also, I practiced slowly, making sure to get accurate notes, rhythms and style.
Discuss your performance experience.
The overall recording experience is something that was enjoyable, especially since they had a recording that you listened to while playing. However, even though you could hear the other parts, it wasn't as enjoyable as playing in person. The overall outcome I thought was powerful; with so many musicians across the country, it really highlighted the importance of music as well as many musicians' desire to continue even in difficult circumstances.
What did performing for the halftime show of the College Football Playoff National Championship Game mean to you?
Performing in the College Football Championship Game was incredible! I think it, again, just highlights the power of music and how beneficial it can be even though we are under the current circumstances. It is personally enjoyable because I enjoy football and to perform during the halftime show of the most important game of the season was such an incredible honor to be able to perform at such a high stage.