Marilyn Upchurch, a senior majoring in communication with an emphasis in broadcast production and broadcast journalism with a minor in graphic design at Eastern New Mexico University, was selected for the prestigious Television Academy Foundation's 2021 Summer Fellows Program. She is one of just 50 students chosen from across the country to participate in the program.
Marilyn, who expects to graduate this fall or next spring, discusses the program and her Eastern Experience.
What does the Television Academy Foundation's 2021 Summer Fellows Program entail, and which aspect are you looking forward to the most?
The fellows program includes one-on-one visits with professionals in my field of study, as well as online panels with leaders in the television industry and seminars which are said to help build our personal brand and help us with navigating the job market. This will give me the opportunity to network with professionals and make relationships with other fellows/interns. I'm excited to build my career in this industry and learn from the best. I love gaining wisdom from others.
Tell us about the application process for the program.
I actually applied last year and made it pretty far in the application process and was selected as a finalist for the internship program in the broadcast news category. But then plans changed due to the pandemic. If it had worked out, I might have gone to intern in Los Angeles.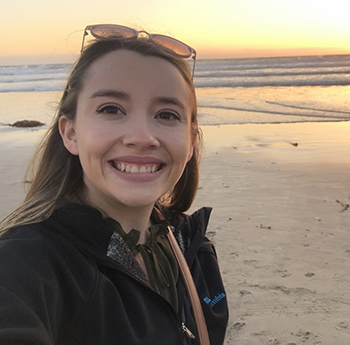 Why did you choose to study broadcast production and broadcast journalism?
I chose it after walking into the Communication Building one day, where I saw historic journalistic photos on the wall. I realized that was what I wanted to do with my life – help document history through journalism. Ever since I was a little girl, I would rather watch the news than watch cartoons. I have a passion for sharing information with others.
What do you hope to pursue as a career? What do you hope to ultimately achieve in your career?
I hope to work for a news station as a producer, anchor or reporter. I hope to be a journalist who does not shy from reporting truth and information that people need to hear. I have a passion for sharing information with people. I hope to either work for a news station or a production company.
What other dreams do you have?
I hope to ride horses in a western movie one day – I know, so random, right? I've always wanted to ride horses in the background of a western. If all else fails, I have a weird goal of becoming a jockey. But on a serious note, I hope to have a career in journalism as a multimedia journalist where I report on topics that others are too scared to report on. I do plan/dream to have a family one day too.
Tell us about your family and background.
I was born in Albuquerque, New Mexico, but moved to Edgewood, New Mexico, in middle school. We moved to get away from the city and live a country life. I have two older brothers who have taught me a ton about work ethic and grit. My parents are my best friends who have supported me and been there for me in everything. There have been times in my life where I didn't believe in myself, but that's okay because they did.
Why did you choose to attend ENMU?
It was a God thing. Things just sort of fell in place, and I truly believe I was meant to be here for my college career. The school does not look at students as numbers; they look at them as valuable human beings who are pushed to achieve their goals. The school is a hidden gem.
Which professors have helped mentor you during your time at Eastern?
There are amazing professors at ENMU who have impacted my life tremendously - to name a few Ed Caffrey, Penny Ortega, Dr. Mali, Dr. Roe. I also have to shout out all of my mentors/bosses at KENW who have given me amazing opportunities.
What has been your favorite class at ENMU?
Law and Ethics with Mr. Caffrey. I loved learning about my rights as a journalist, the importance of being a public servant (journalist), the history of journalism and interesting political accounts.
What advice would you give to students who are interested in your field of study?
Care about your education and push yourself. Take all of the opportunities and always ask for help from professors. Don't waste any time.
Tell us about your academic honors.
I made the dean's list every semester. I also came into ENMU with a music scholarship – singing in the choir. When I was a biology major, I received the Dr. Tony Gennaro Biology Scholarship, as well as the J Williamson FR Excel, the Golden Voice Scholarship, the Garland Tillery Scholarship and the Steve Rooney Memorial Scholarship. More recently I received the Reid Allen Isler Memorial Scholarship in Fine Arts and Garland Tillery Memorial Scholarship again. I've also received the Outstanding Student in Broadcast Journalism in my department for 2 years in a row. I have also served as an intern at KOAT Action 7 news. In high school I received many amazing opportunities including a scholarship through the Smithsonian Latino Center where I learned about leadership.
Are you working on any research or academic projects like presentations at conferences?
Not currently, but I did get first place in the ENMU Student Research and Creativity Conference for my news package about Xcel Energy wind turbines. I hope to apply for the New Mexico Broadcast Association student reporter awards, and I recently finished a 15-minute news package at KENW about human sex trafficking.
Where is your favorite place on the ENMU campus?
I love hanging out near the Administration Building – it is so beautiful and green. I used to hang out and do homework at the library and hide in one of those study bays a lot, but I didn't do much of that this semester due to the pandemic.
What is your favorite aspect of life as a Greyhound?
I love the kindness of my fellow students. I miss seeing them on campus every day. But my favorite part is being able to share the news at News 3 New Mexico to the surrounding area and my fellow classmates. I have truly met the best people here – from teachers, friends, community members in the small town and bosses.
Which activities have you been involved with outside of the classroom?
My hobbies include horseback riding, spending time with family, singing in my car and writing for national online newspapers. For volunteer service, I donate to the Cares Net for mothers in need.