Lorynn Guerrero, who will graduate from Eastern New Mexico University this May with a master's degree in education administration, was named the 2022 New Mexico Teacher of the Year by the New Mexico Public Education Department for her role as an English teacher at the New America School in Las Cruces, New Mexico.
The Greyhound discussed this incredible honor and her Eastern Experience with the ENMU News.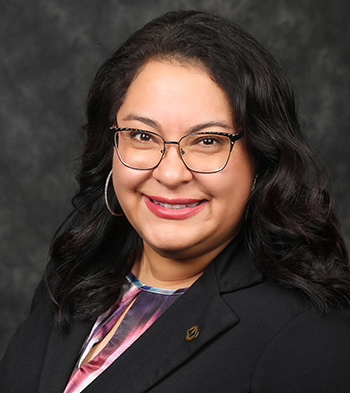 What does it mean to you to be selected as the New Mexico Teacher of the Year?
Being selected as the 2022 New Mexico Teacher of the Year is a huge honor. I am excited to be representing teachers this year and be a voice. I want to bring attention to the work that teachers are doing in the classroom with their students. I want to share my ideas about personalized education where teachers work with students to help them get their educations. Students have obstacles that pop up and prohibit them from going through a "traditional path" that many students take. In working with disenfranchised students, I am able to see what obstacles come up and have students take different paths to graduate from high school.
Tell us about your career and goals.
I am currently teaching high school English/Language Arts at New America School-Las Cruces. It is a state charter school. I started at New America teaching adults. New America had an adult program that would allow adults over the age of 18 to get a high school diploma. With some changes in legislation, only adults from the ages of 18-22 can get a high school diploma. Before that, I work in the Las Cruces Public School district at Organ Mountain High School and in the Hatch Valley Public School district. I have been teaching for 15 years. I've worked with grades sixth through twelfth grade.
What inspired you to choose your field of study?
I am studying education administration. As a teacher, I like working with students in the classroom. My dad was an educator for over 35 years. I watched him when he was a teacher, assistant principal and then a principal. I have always liked being around an educational environment.
What advice would you give to students who are interested in your field of study?
I would tell students that the field of education isn't easy but working with students is well worth it. For me, the students make me enjoy my job. Every day we have a good time in class, and the whole time, the students are learning.
Why did you choose to attend ENMU?
I chose to attend ENMU because I was offered the opportunity to get certified as a TESOL (Teaching English to Speakers of Other Languages) teacher. I attended and got certified, but then I wanted to continue and enroll in the master's program. I liked the people I worked with. Any time I needed help, the staff was always helpful and got me what I needed or guided me.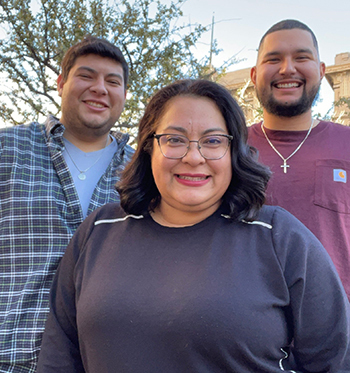 Which professors have helped mentor you during your time at Eastern?
At Eastern New Mexico, I have had some really good professors. I have enjoyed working with Dr. Patrone. I took three or four of his classes, and he is so knowledgeable about education and what is going on in the field and how it is continually evolving. I appreciated him sharing the stories of his educational experiences. I still stay connected with him even though this past semester I did not have him as an instructor.
What has been your favorite class at ENMU?
My favorite class so far is my Education 597. It is my education administration class. I had to do an internship under my school principal. I was able to shadow her around, and I participated in a lot of activities in our school. I was able to see a lot of what happens in the front office that helps the school run.
Which aspects of being a Greyhound do you enjoy the most?
I really like the accessibility to my professors. I like that the University keeps all the students up to date on events through email and social media. The website is easy to use, and if I ever have any questions, I do call the HelpDesk, and someone is always there to help me in a friendly tone.
Are you working on any research or academic projects, such as conferences?
I have several upcoming events.
I will attend a State Teacher Conference. I will meet the other state teachers of the year. There are 56 state teachers. The U.S. territories have teachers they nominate, and the Department of Defense also has a teacher they select. I will travel to Washington, D.C., to meet the president and first lady. I will also attend Space Camp, where I'll get my own spacesuit. Those are some major events I'll be attending. Plus, in-state conferences or meetings that I want to attend.
During the legislation in Santa Fe, I will be there to speak on educational issues in New Mexico.
Tell us about your family and background.
I have always lived in New Mexico. I am from Las Cruces. I graduated from Las Cruces High School in 1999 and New Mexico State University in 2005. I am excited to be attending ENMU and looking forward to getting my master's degree.
I have two children. My youngest son, Jarod, is a senior at Las Cruces High School; he is a varsity, heavy-weight wrestler. My oldest son, Jalen, is attending Fresno State as a graduate transfer on a football scholarship. He will be getting his master's degree in curriculum and instruction.
My parents are my biggest support. They encourage me to accomplish my goals and support me and my children in our education.
What are your hobbies?
I enjoy crafting, sewing and reading.
Lorynn with her colleagues at the New America School.