Molly Covington, who is pursuing a Master of Science in Nursing (MSN) with a nurse educator emphasis at Eastern New Mexico University, is currently working with Dr. Kristin Kuhlmann, director of the ENMU Nursing Program, on COVID-19-related research.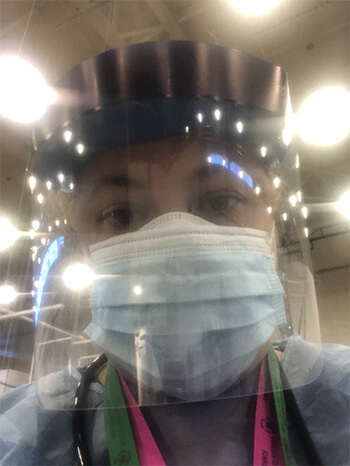 The ongoing research has already led to a literature review from Molly that was published in the Journal of Clinical Cases and Reports about people's perceived wellness while returning to work during the COVID-19 pandemic.
The literature review was one of Molly's assignments in Dr. Michael Shaughnessy's educational psychology class. She shares, "He was absolutely instrumental in getting the article published. He really did all the leg work and just notified me that it was published after there was some back-and-forth business of editing.
She continues, "Dr. Shaughnessy has been published many, many times and is an excellent resource to anyone who would like to know more about how to get things published and how to be a big-time academic."
Molly muses on what it meant to her to have her literature review published, sharing, "It felt wonderful to know that something you wrote is out there in the world. I have had a couple of children's books published, but this felt very different. Exciting in a different way. To have something published for the academic community ignites a sense of accomplishment and pride in the hard work and brainpower it took to get to that spot.
"Though I may not be reading my literature review to my kids at night, I am extremely proud of the article and thankful for the help and support of Dr. Shaughnessy and Dr. Kuhlmann."
Molly, who lives in Albuquerque, New Mexico, works as a nurse in a school district. She applied for a director position but did not have the required master's degree, which helped inspire her decision to pursue an MSN at ENMU. She feels having an MSN would help her in her current position to educate and provide professional development to staff.
The MSN Program has strengthened her love of teaching. She is considering being involved in a university program in the future, teaching students.
Ultimately, Molly wants to "make a difference in the lives of individuals, families, communities and the profession of nursing as a whole. I often dream of what leadership opportunities the future holds and sometimes imagine dabbling in politics to create overarching meaningful changes to healthcare, though I am not sure I have the stomach for politics."
She decided to attend ENMU to help her dreams come true. "I wanted to advance my practice and knew a friend that attended the program at ENMU and had great things to say," she shares. "This degree will help battle the nursing shortage by producing more nurse educators.
"ENMU has a reputation for having a small, friendly and kind community, and the scholarship opportunities were fantastic. I truly feel like a valued member of a community," adds Molly, who is a recipient of the New Mexico Nurse Educators Scholarship.
Her program is 100% online, so Molly hasn't been to the ENMU campus yet. She is looking forward to visiting and meeting her mentors in person for the first time for her graduation in December 2022.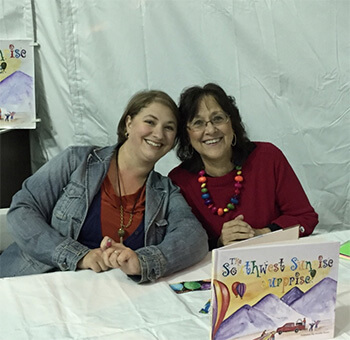 The 4.0 student is a graduate research assistant to Dr. Kuhlmann and has also done graduate assistant work with Dr. Susan Bassett, instructor of nursing. Those faculty members have served as Molly's "biggest motivators and mentors at ENMU. I will never be able to thank them and the rest of the nursing faculty for the knowledge and experiences they have given me. Dr. Shaughnessy also was instrumental in getting a literature review of mine published and is a fantastic resource to his students."
Molly shares that she has enjoyed all of her classes at ENMU, especially EDU 538 Instructional Design. "I had never had an education class before, and I loved the material," she explains. "The reading was light, and the projects were very hands-on. I think for the most part that classes are classes, and they are interesting, and I learn a lot, but it is really the instructors and their investment in their students that is the most impactful."
She offers advice to students interested in pursuing an MSN: "I would say that ENMU is an excellent program with great scholarships and faculty who mentor and care about their students.
"They also cultivate peer-student relationships more than I would have ever thought possible in an online program. The faculty is leading the way in many aspects of online education and strives to be the best at what they do. If you are looking for an online program that fits with your schedule but would also like the feel of a small school community, ENMU is where you should go.
"I would also recommend taking advantage of any graduate assistant opportunities as you really get a helpful peek into the realities of nursing education."
Molly was born in Albuquerque and has lived there for most of her life; her mother's family has lived in the city for generations. "[My mother's] grandfather and grandmother on her father's side, Oreste and Maria Bachechi, came to Albuquerque in 1885 and built the historic Kimo theater and the El Rey in Albuquerque," Molly says. "Her mother's side has been traced back to Fransisco Vazquez de Coronado. She is kind of big time."
Molly has two brothers and one sister, "whom I love very much and who now all live in New Mexico." Her father worked in communications and is now retired.
She has been married for almost 22 years and has three children. Her son is studying computer science in college. Her daughter is a junior in high school with aspirations to attend ENMU to study forensics. Molly's fifth-grade daughter loves math, gardening and crafting.
Her goals are to watch her children "grow and thrive, and have a work-life balance to enjoy dates with my hubby."
Molly with her husband and children.