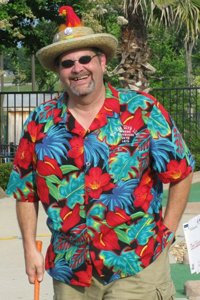 by Desiree M. Cooper
Communication Services
"I owe so much to the remarkable people I worked with and learned from at ENMU." – Ed Pothul
Radio reporter Ed Pothul, also known as "The Sports Doc," will be inducted into the Brenham Cubs Football Hall of Honor for career contributions to Brenham High School football on Oct. 30 in Texas.
Mr. Pothul jokes that the honor is proof that if you "stick around long enough they have to do something for you." The Eastern New Mexico University graduate's 50th birthday was declared "Sports Doc Day" by the Brenham mayor in 2011. He received a proclamation signed by Governor Rick Perry and Representative Lois W. Kolkhorst for "Contributions to High School Sports in Texas."
He was also given "one of his proudest possessions:" the State of Texas flag that flew over the State Capitol in Austin on his birthday.
Mr. Pothul received the "Award for Career Appreciation" from the Gulf Coast Blood Center in 2011, too.
In 2010, he received the "12th Man Award" for lifetime contributions to Blinn College Buccaneer football and became an honorary lifetime member of the Buccaneer Lettermen's Association.
Born to Ed and Hazel Pothul, Mr. Pothul was raised on a dairy farm in Sheffield, Mass. His mother still lives there, but his father passed away in January.
His brother John is a truck driver and runs the family farm. Jennifer, his sister, is the director of a group home for the mentally disabled and volunteer EMT. His brother Steven was a farmer who died in February after a motorcycle accident.
The Kappa Sigma member, who received a bachelor's in communication with an emphasis in radio and television broadcast and political science in 1987, attended ENMU after spending three years working in radio after graduating from high school.
He chose Eastern because of its affordability and the reputation of its communications program. "I wanted to get into the on-air broadcast side of the business," he explained. "It seemed that ENMU would offer me the best opportunity for that career."
The former ENMU "Information Services" student worker was employed at the campus radio station and on the TV station's newscasts starting his freshman year. "The hands-on experience right from the start was invaluable," said the reporter, who did play-by-play for Greyhound football and basketball games as a junior and senior.
He "learned so much" about football and basketball from coaches Don Carthel and Earl Diddle.
"I always knew I wanted to be a sportscaster. My degree gave me the tools and education I needed to reach my goal," he said, joking that he "wasn't smart enough and lacked the patience" for a master's or doctorate.
Mr. Pothul produced his daily morning broadcast, "Round Mound of Sound Power Hour," where he "unabashedly ripped off Don Imus and Howard Stern before they were household names.'
He was in a couple of minor theatre productions, participated extensively in intramural sports and played Sunday afternoons in ENMU Information Services' touch football games.
"I owe so much to the remarkable people I worked with and learned from at ENMU," the Greyhound graduate explained. "From the classroom education, to the experience I received from Wendel Sloan at Information Services to the outstanding staff at KENW radio and TV; from people like Duane Ryan, Don Criss, Larry Ahlstrom, Sheryl Borden, Gary and Barb Kishi.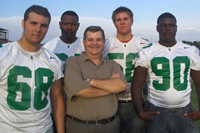 "I made friendships that will last a lifetime," said Mr. Pothul, who "got a taste" for Texas high school football while attending Eastern. "A good friend, Rusty Ray, former Greyhound linebacker, took me to a game between his alma mater Odessa Permian and Midland Lee. After that, I was hooked.
"Portales will always have a special place in my heart—from the old Eddy Hall to Greyhound Arena and Blackwater Draw; to the old La Hacienda, Cattle Baron and Tastee Freeze to Los Arcos.
"I owe any success I've ever achieved, real or imagined, to ENMU."
For the past 26 years, Mr. Pothul has worked as the sports director and news anchor/reporter for KWHI/KTEX-106 in Brenham, which is almost directly between Houston and Austin.
He took the job in 1989 because he had family that had moved to the area and the job was "exactly" what he was looking for.
"I had intended to stay in Brenham for just a couple years then move on, but that has turned into 26 years and hundreds of friends later," he explained. "I also bought a house, so I couldn't afford to move."
His job duties are to host daily sportscasts and newscasts, as well as play-by-plays for Brenham High School and Blinn College football, baseball, basketball, volleyball, soccer, baseball and softball.
He also hosts a weekly talk show on Monday nights and, during the football season, a Saturday morning round-up show featuring extensive scores and interviews from high school and upcoming college games.
"My favorite part is the play-by-play. It really allows me to have fun and let my personality come through," he said. "It's truly old-fashioned community radio the way it used to be. The same family has owned the station for over 60 years and still places vital importance on local news, sports and events."
Through the play-by-play, he's broadcasted games involving future college and pro stars Cam Newton, Andy Pettitte, Sam Cassell, Limas Sweed, Michael Bishop, Quincy Morgan, John David Baker, Johnny Manziel, Brandon LaFell, Jarrett Lee, Kat Osterman, Clay Buchholtz, Josh Beckett and this year's first-round pick for the Patriots, Malcom Brown.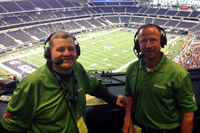 "I get to use cool phrases like 'snot-bubble' and 'kick the pig' and 'leave it squealin' from the feelin'," he said of the other perks of his position, while the most challenging part is "trying to keep from cussing on-air.
"I also owe the people of Brenham so much," said Mr. Pothul, who received the community's "incredible help and support" after suffering a minor stroke in December. "I am truly blessed."
His hobbies include reading extensively, watching college football (he tries to go to as many games as he can when he's not working), participating in Fantasy Football, cooking (especially Cajun food, chili and ribs) and listening to music (he is a "huge Parrothead').
When asked about his goals, Mr. Pothul said he was "very happy doing what I'm doing—unless I win the lottery. Eventually, I want to be able to live my life like Jimmy Buffett: t-shirts, shorts and barefoot on the beach."