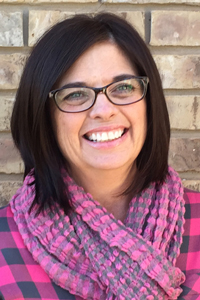 by Desiree M. Cooper
Communication Services
"I have always had a heart for the men and women who sacrifice so much in order to serve our country. This is a gesture of our community's appreciation for their service." – Esther Steinle
Esther Steinle, an Eastern New Mexico University graduate, helped form Angel Arms, which provides single airmen from Cannon Air Force Base with airline tickets to visit their families during Thanksgiving and Christmas. Angel Arms, a ministry of Central Baptist Church, finds eligible airmen when they are identified by their first sergeants as needing financial help to purchase airfare. Many of the young airmen, usually ranging in age from 18-25, have not been home in over a year or, in some cases, as many as four or five years. Since its inception in November 2011, Angel Arms has made it possible for approximately 90 airmen to be with family during the holidays. "I have lived in Clovis all my life, so Cannon Air Force Base has always been a presence," explained Mrs. Steinle. "I have always had a heart for the men and women who sacrifice so much in order to serve our country. This is a gesture of our community's appreciation for their service."
There is a reception for the airmen that benefited from this ministry each January. During the reception, recipients are given the chance to tell their story and give thanks to the community for their support. "The stories they tell make it evident each was chosen, by God, for a reason," said Mrs. Steinle. 'They were appreciative to be given the opportunity to spend time with family they haven't seen in quite a while." For some, it was the last time they had an opportunity to spend time with a terminally ill family member who has since passed away. One airman saw his brother for the last time, because he was killed in a tragic situation a few weeks after Christmas. "I have been so blessed by each of these recipients and plan to continue this ministry, as long God will allow," explained Mrs. Steinle, who attended ENMU from 1979-1990 and received a bachelor's in education with minors in business and math and a master's in education.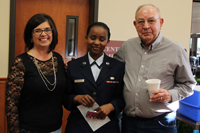 The former city league softball player and work study student for Golden Library chose to attend Eastern because it has "always been known for its superior education program, my older sister had attended and I wanted to remain close to home. "Even as a young girl, I always enjoyed playing school with my neighborhood friends," she said of her interest in pursuing a degree in education. "I always chose to be the teacher. "In school, I enjoyed helping the other students with their class work and it became apparent to me that
I should go into the education field." That's exactly what Mrs. Steinle did, teaching math and business for Clovis Schools for 14-and-a-half years, from 1984–1998. During that time, she coached junior high volleyball, cheerleading and track. At the high school-level, she sponsored Student Council and DECA. She became an assistant principal in 1998 and remained in administration until retirement in May 2010. ENMU prepared her for the field of education, because her "teachers instilled in me the characteristics of being a good teacher. During my senior year, my education block classes were relevant and offered me many hands-on experiences." Mrs. Steinle been married to the co-owner of Clovis Equipment and Supply, Mark Steinle, for 33 years. "We met during high school in typing class. I later taught typing in that same classroom," the mother of one explained.
The ENMU graduate's daughter, Vanessa, 32, has two children, Asher, 11, and Ashlyn, 10, with her husband, Mark Millender, 35. "I love taking care of my grandkids and traveling with my husband," said Mrs. Steinle. "I also love studying God's word." Donations to Angel Arms are payable to Central Baptist Church and can be mailed to 2501 N. Norris, Clovis, N.M., 88101. To be sure our account is credited with your donation, write Angel Arms on the memo line of your check. For additional information, contact Mrs. Steinle at 575.799.6348