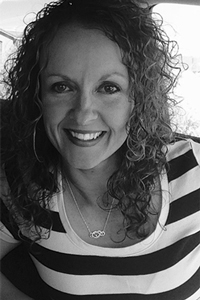 Story by Desiree M. Cooper
Communication Services
"My job is constantly changing and there is always something new to learn." – Holly Barela
Eastern New Mexico University graduate Holly Barela has been named corporate controller at YES Housing, Inc., in Albuquerque, an affordable housing provider for disadvantaged and lower income families and the elderly.
Mrs. Barela began working at YES in 2002, after serving as an assurance and consulting accountant for an Albuquerque audit firm.
"The traveling required for that job was hard on my family. I had heard many good things about YES and knew I wanted to be a part of the organization if an opportunity ever came up," she explained. "When they had an opening for the accounting manager position, I applied immediately."
The former ENMU Accounting Society president was named corporate controller after holding positions as the accounting manager and director of accounting.
Her job duties include overseeing the corporate accounting functions, reviewing and analyzing the fiscal performance of assets, assisting in the acquisition and disposal of assets, monitoring development budgets and preparing construction draw schedules, and fiscal grant management.
She is also responsible for YES's annual financial audit and the audits of 14 partnerships.
"What I love most about my position is the wide range of diverse transactions that I have the opportunity to be involved in," said the former member of the ENMU National Business Policy Team.
"My job is constantly changing and there is always something new to learn. The senior management team at YES makes it a point to do most things using a team approach. This gives me a chance to continually grow professionally."
The former Delta Mu Delta Honor Society vice president said the most challenging part of her career is the "constant need to adapt to change. With change comes new challenges that must be embraced. This is one of the most exciting aspects for me.
"Change means that YES is moving forward and making improvements along the way so that we can better serve our mission: 'To build and revitalize communities with quality, affordable housing, accessible social services and a dedication to being positive agents for change within the community.''
The Clovis-native received a bachelor's in business administration and accounting in 2000 and will graduate with a master's in business administration this December, both from ENMU.
She chose Eastern during her senior year of high school.
"I had narrowed down my college choices to ENMU and Texas Tech University. When visiting the schools, I felt the most comfortable at ENMU and they offered the programs I needed to pursue my degree. So for me, ENMU was the obvious choice."
She initially had plans to major in criminal justice and pursue a career as a criminal psychiatrist
"After one semester, I made a 365-degree turn and began taking some business classes," she explained. "Business, accounting in particular, just made sense to me so I changed my major to business administration and accounting and never looked back."
During her collegiate career, Mrs. Barela served as Personnel Chair of Chi Omega, treasurer and secretary of the Rotary Club, Panhellenic treasurer and Rho Chi (membership recruiter).
She met her husband and fellow Eastern graduate, Jeremy, 19 years ago at ENMU. He works in pharmaceutical sales and specializes in rare disease.
The couple has two children, Madyson, 14, and Austin, 10.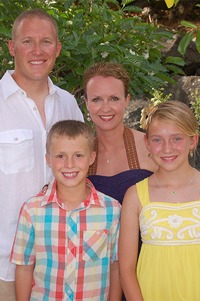 'Spending time with my family is my absolute favorite thing to do," said Mrs. Barela. "I love being outdoors, either camping or spending time at the lake. I have found that I really enjoy CrossFit."
Mrs. Barela is a licensed Certified Public Accountant, a certified Housing Development Finance Professional and holds a Professional Certificate in Affordable Housing.
She is currently serving on the ACI Taxation Committee and previously served as treasurer of the Corrales Soccer Club.
"ENMU provided a solid education with many opportunities," she said. "The professors provided an opportunity to do an internship my last year of school which I found to be very beneficial to my career.
"When I left ENMU, I felt as though I was prepared to begin a career in the accounting field because I had been emerged in both education and my field of work."