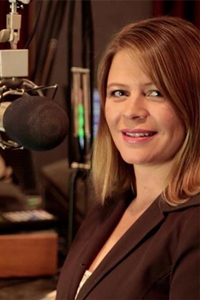 Stroy by Desiree M. Cooper
Communication Services
"My grandmother's family homesteaded near Elida in the early 1900's and some of her brothers and sisters still lived there." – K.C. Counts
K.C. Counts, who attended Eastern New Mexico University from 1991-95, is celebrating 23 years in the radio business. She currently cohosts "Your Morning Show" every weekday on KVLC 101.1 FM in the Las Cruces area and is the vice president of Programming for Bravo Mic Communications, which she helped create.
Counts was born and raised in El Paso, where she graduated from Burges High School. She was active in speech/debate and theater. Her coach was a recruiter for ENMU, which put the university on her radar.
"I didn't make plans to attend until I thought it would be a nice place for me and my grandmother to be together," explained Counts. "Her family homesteaded near Elida in the early 1900's and some of her brothers and sisters still lived there."
Counts studied public relations with a minor in French, a language she "always wanted to learn.
"I thought the PR studies were a good way to feel out a career I could pursue. I continued to participate in theater there – both English and French - as a hobby and was on the dance team one year."
The former Goober's worker found radio in 1993, when she was hired at KSEL to run early Sunday morning programming.
"I had found a career I could certainly be passionate about and when the station was moving toward automation, I found a home at KKYC in Clovis.
"Later, I moved over to KICA with the same company and decided in 1996 that it was time to head back to El Paso where I could get a more lucrative position."
During this time, she got married to her childhood friend, Clint. "Our parents went to high school together," she said.
Shortly after losing a bet in which she had to shave her head, Counts rode in a media rodeo on her mom's horse Sassy.
"We came back to El Paso where he joined the fire department and I took an overnight job at a pop station. I worked my way to a morning show on a country station and was teamed up with Mike McKay, whom I worked with for 17 years."
She started Bravo Mic Communications with McKay in Las Cruces in 2005. They started with KVLC and grew the company to four stations over three years: KVLC with classic hits, KXPZ with country, KMVR with contemporary pop, and KOBE with news/talk. There is also an online rock station atwww.therocketonline.com.
"The most challenging part of the job is staff management; it is also the part I enjoy the most," she said. "Interacting with the listening audience is a close second."
Before forming Bravo Mic Communications, Counts jumped into television as a reporter.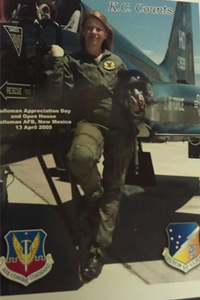 "I really gained a new appreciation for the tough work people in that sector of the media do every day. The tough stories, the deadlines, and the make-up!
"It was a great experience, but I was really glad to get back to radio where we tend to focus more on the lighter side of life and don't need to keep such a big wardrobe."
Counts feels she has a "good ten more years to contribute as an on-air personality. After that I plan to continue with the company as long as they'll keep me and contribute to further staff development."
The radio host lives in El Paso with Clint and her three dogs, two cats and parrot, Murphy. She enjoys traveling "as much as possible," skiing, scuba diving, and spending time with family and friends.
She also has plans for a new hobby: "I hope to take up running someday…maybe."