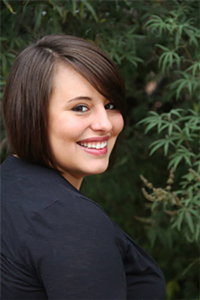 Stroy by Desiree M. Cooper
Communication Services
"If you have completed your degree and had some fun along the way, you have a lot to be proud of."– Katie Merrill
Katie Merrill, who graduated with a bachelor's in music education from Eastern New Mexico University at the 128th Commencement on May 16, will start her career as an elementary school music teacher this fall.
"It is the perfect place to start my career," said the graduate, who will teach general music, recorder, band, choir and orchestra for grades kindergarten through eighth grade at Faith North Montessori Elementary School in downtown Phoenix. "This is a dream job for a first-year music teacher, because I will be full time at one school instead of traveling to different schools."
Ms. Merrill, who found out about her new position at a job fair, recently completed her student teaching course in Arizona.
"Student teaching was amazing. My cooperating teacher has a wonderful music program at her school," she explained. "Her advanced ensemble did great things this past semester that I had the pleasure of being a part of. They received a Superior rating at their festival, won a radio contest with their national anthem and even performed it at a Diamondbacks' game.
"I also conducted in two concerts and went to California on their choir trip. It was an incredible learning experience."
She said the most challenging part of her student teaching experience was figuring out her classroom management style.
"I was worried about being too strict or too lenient and how to gain the respect of the students. My cooperating teacher really helped with finding my balance and gaining the confidence I needed to ask the students to meet my expectations.
"By the end of the semester I really felt like I had found the balance and had overcome the obstacle," said Ms. Merrill, who would eventually like to teach high school choir full time.
Her interest in teaching was sparked by a "love for knowledge and a need to share that with students."
She plans on pursuing a master's in a few years, after she's had time to "teach for a while and bring those experiences to my master studies."
The Silver City-native began attending ENMU in fall 2010, after being attracted by the university's music program.
"I wanted to be in a smaller community similar to my hometown, but I also wanted an education I could be proud of that would challenge me. The music education program more than delivered.
"Eastern has amazing teachers. The music department gave me everything I needed to be successful," she continued. "They challenged me, sometimes past my limits, but it was all worth it."
Her favorite course was "Vocal Pedagogy" with Dr. Jean Ornellas, because she "challenges her students to push past their limits and taught me things about voice and teaching that I had never considered or been exposed to at that point… and it was fun."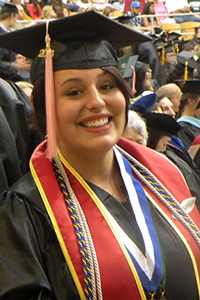 Ms. Merrill pursued music education because she "always wanted to teach and music has been a huge part of who I am. I had wonderful music educators growing up who inspired me to want to be one, too."
Her graduation day plans included attending the Honors Breakfast with her four parents, going to graduation (where her siblings and other family members were in the crowd) and having a BBQ at her best friend's house to celebrate with friends and family.
During college, Ms. Merrill was in Marching Band, Symphonic Band, Wind Symphony, Jazz Band, University Singers, Chamber Singers, Swanee Singers, smaller chamber ensembles for saxophone and had roles in a few of the musical and opera productions.
She was a member of the student chapter of the American Choral Directors Association and served as the student representative of the Portales Arts Council.
Her advice for college students is to "keep going. Sometimes it feels like it will last forever. There are people who will knock you down until you just don't think you are capable. You may wonder if the late nights writing essays are worth it or if the stress level is necessary, but it goes by way faster than you think.
"If you have completed your degree and had some fun along the way, you have a lot to be proud of. Take some time for yourself when it is getting too hard and make sure you have fun when you need to let off steam, but keep going," she explained. "Your time in college will end."