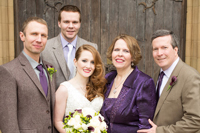 Interview by Wendel Sloan
Communication Services
"And to think……it all started with ENMU!" – Kim Whaley
Editor's Note: Kim Whaley graduated summa cum laude from ENMU in December of 1998 with a BS in elementary education with a minor in social studies. She is currently an assistant principal at Pine Tree Elementary School in Pine Tree Independent School district in Longview, Texas.
In the following interview, she discusses her career and memories of ENMU
Q. What are your memories of ENMU?
Many opportunities to learn and apply the learning. I made many lifelong relationships.
Q. Where were you born, raised, and what was your life like growing up?
I was born in Galveston, Texas, and raised in Texas City, Texas. I graduated from Texas City High School and went to DelMar College in Corpus Christi, Texas, where I graduated with an AAS in Dental Hygiene. After practicing Dental Hygiene for 10 years, I decided to return to college to pursue an education degree since that is what I always dreamed of doing.
Q. Tell us about your own family?
My husband and I now live in Tyler, Texas. We have two grown children who are out on their own. My husband works in the oil industry, and I am an assistant principal in Longview, Texas.
Q. Tell us about your career since leaving ENMU, including your current positions? Did ENMU help you in your career?
I am currently an assistant principal at Pine Tree Elementary School in Pine Tree ISD (Longview, Texas). I have been a classroom teacher, reading specialist, middle school science teacher, elementary science lab teacher, instructional coach and assistant principal.
I have also been an adjunct at ENMU-Roswell, Tyler Junior College, and Grand Canyon University. Since graduating from ENMU, I have obtained a master degree in Reading and Literacy from Walden University and a second master degree in Educational Leadership from the University of Texas at Tyler. And to think……it all started with ENMU!
Q. What are your hobbies?
In our spare time, my husband and I love to travel. I am also an avid reader. I also love photography (many of our trips are built around this—Galapagos, London, African safari).
Q. What is your ultimate career goal?
I eventually want to work for a school district in the area of curriculum and instruction. It is my intention to begin working on my doctorate this fall.
Q. What gives your life meaning?
My family is very important to me. I love to spend time with them.